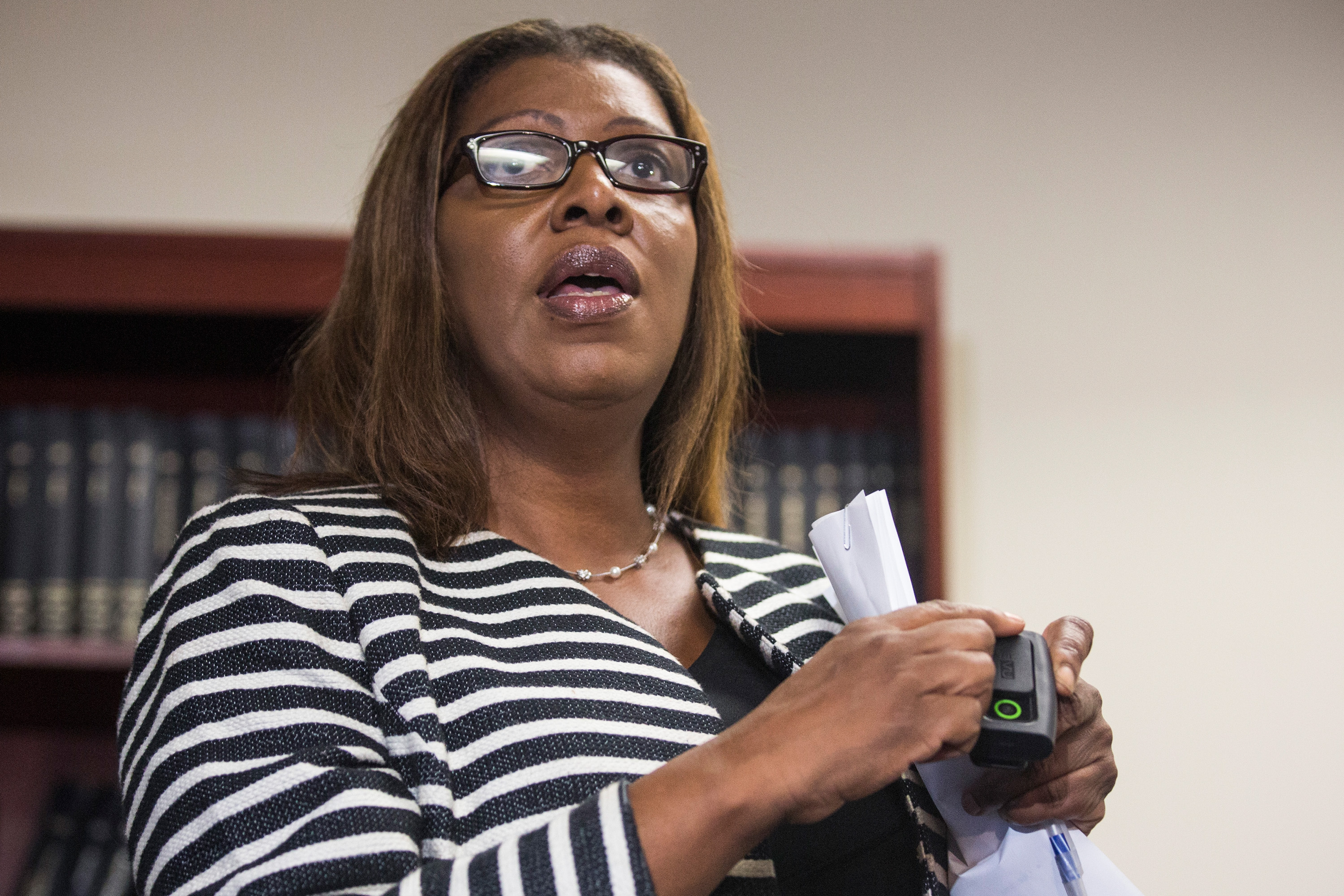 The city's Campaign Finance Board slapped Public Advocate Letitia James was slapped with a $5,705 fine for various violations committed by 2013 campaign to become the city's watchdog.
James—the first woman of color to hold citywide office in New York City—had put in claims for public funds during the 2013 election and received $1,153,058 in public monies. She was fined $1,500 for failing to file pre-election disclosure statements. She got hit with an $875 penalty for taking contributions from unregistered political committees, $825 for accepting over-the-limit contributions.
For accepting contributions from corporations, limited liability companies or partnerships, she will have to pay a fee of $703, and another $703 for making prohibited post-election expenditures. She was also fined $500 for failing to provide merchant account statements, $399 for not reporting transactions and $200 because she did not document transactions.
"We're pleased this routine audit of the 2013 campaign is complete," Anna Brower, James' communications director, said in an emailed statement. "The Public Advocate will continue to build her campaign on the strength of small donors and grassroots support from every corner of New York."
James previously served as a Brooklyn councilwoman from 2004 to 2013, representing neighborhoods such as Fort Green, Clinton Hill, Prospect Heights and Bedford-Stuyvesant. She also served as an assistant attorney general and a public defender.
She has often been cited as a potential mayoral candidate, but she is an erstwhile de Blasio ally and has said that she plans on running for reelection as public advocate. In July, she did appear to be describing what a Letitia James mayoralty might look like when she shared with attendees at City & State's "On Diversity" Conference her policy proposals to tackle the city's diversity issues.
Sources have also speculated she might run for state attorney general should the incumbent, Eric Schneiderman, pursue other opportunities.
James wasn't the only hit with punitive payments yesterday. A candidate for Bronx borough president, Mark Escoffery-Bey, received a whopping $47,449 in penalties for his 2013 campaign.
His biggest fines were $22,240 for failing to respond to the draft audit report; $10,750 for taking contributions from corporations, LLCs or partnerships; and $10,000 for not showing that spending was in furtherance of his campaign. He has to repay $165,422 of the $222,408 in public funds that he received.
If a campaign received public funding, any money left over once the campaign has paid all of its liabilities is presumed to be public funds and must be repaid.