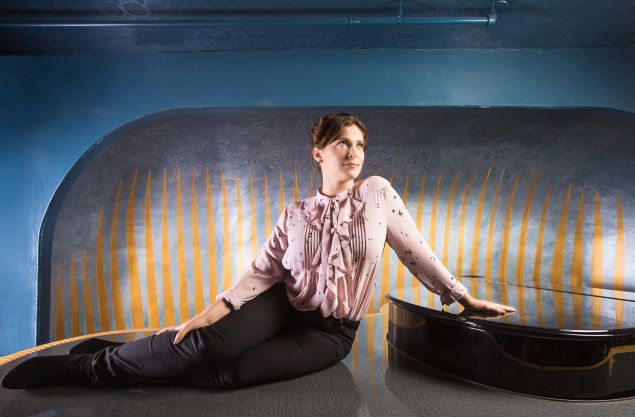 Last fall, the subways in New York were wallpapered with ads featured a young woman with a focused stare and a pink heart balloon clenched in her fist. The tagline was punctuated with periods ("Never. Let. Go.") to represent the tunnel-vision syntax of a woman obsessed. The show was called Crazy Ex-Girlfriend, and I rolled my eyes every time I saw it.
"Really?" I said with gleeful bitterness, savoring the smallest invitation to pontificate to whomever happened to be my unwilling companion at the time. "The CW couldn't think of a worse gender stereotype to exploit?"
And then I watched a single song on YouTube.
"If we were on some sort of edgy cable network, like a Showtime or an HBO, people would automatically deconstruct the title," said Rachel Bloom, the show's co-creator, writer and star, who had originally developed it for Showtime. "But because we're on a network, people assume we're going to present the title at face value, and we never anticipated that because the show has always been from such a feminist perspective."
If you've seen even a single episode of Crazy Ex-Girlfriend, you understand: In the golden age of television, Bloom's musical-comedy on the CW about a girl who quits her job to follow her ex–summer-camp boyfriend to California is a strong contender for the most accurate portrayal of dating, sex, depression and the burden of having heavy boobs.
For the uninitiated, the first season's theme song is a good primer on the plot. The protagonist, Rebecca Bunch, sings in a cartoonified office, "I was working hard at a New York job, making dough, but it made me blue. One day I was crying a lot, and so I decided to move to West Covina, California! Brand-new pals and new career. It happens to be where Josh lives, but that's not why I'm here!"
At this point, backup singers join in: "She's the crazy ex-girlfriend!"
Rebecca turns, her certainty in the song broken. "What? No, I'm not," she says to the celestial voices.
That moment seals Crazy Ex-Girlfriend's tongue-in-cheek approach to the "girl in love" trope—it's a musical, sure, but if that puts you off, it shouldn't. The songs, many written or co-written by Bloom herself, are self-aware and often fourth-wall breaking, spanning (and satirizing) genres from rap to 00's jock rock.  
Even Zadie Smith, the patron saint of women in modern literature, understands.
"I watched an episode of the sublime Crazy Ex-Girlfriend, the one where it finally occurs to the main character that she might not be the hero of her own story. (She has this realization in song.)," Smith wrote in an email interview with Lena Dunham for Lenny Letter.
The song Smith is referencing, aptly titled "I'm the Villain in My Own Story," comes toward the end of Season 1, when Bloom's Rebecca Bunch realizes that sabotaging the relationship between her crush and his girlfriend may not be the heroic act of love she painted it to be in her own mind. "I'm not trying to be cute when I say that I could have written 5,000 words on it—I truly had what the Internet calls 'many feels.' This is what I am looking for in art: feels. Intellectual, emotional, philosophical, religious, existential feels.
The line between high and low culture is forever erased. Rachel Bloom is the visionary genius that has championed all of art—literature and television alike—to feast together in the vast halls of Valhalla as liberal elite, united by the common goal of creating "feels."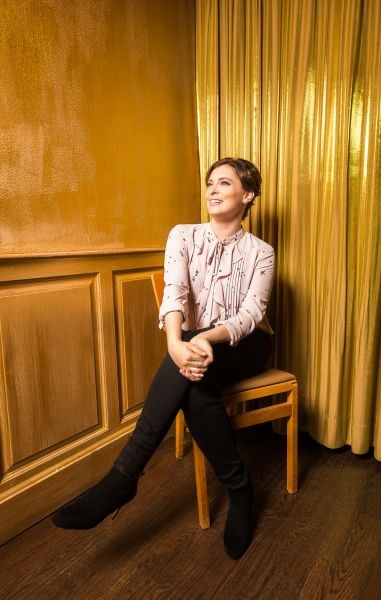 Bloom graduated from New York University's Tisch School of the Arts in 2009 and went on to gain an online fan-base posting parody songs (see: "Fuck Me, Ray Bradbury") to YouTube. Although she and Aline Brosh McKenna originally created Crazy Ex-Girlfriend for Showtime, the network decided not to proceed with it.
But now, with critical acclaim, a Golden Globe, and a second season well underway, Bloom feels fully vindicated against the show's early rejections and doubters.
Season 2 has already tackled issues like abortion and alcoholism with sensitivity and depth, while also delivering some of the show's most creative songs to date—with expert production values that look like the show received a massive budget increase.
"Totally didn't," Bloom says. "We're just stretching it more. We're just good at it. And, if you notice, with the Season 2 numbers, in Episode 2, for instance, there's only one number that takes set in a place that we didn't already have, and that's the ping pong number—[a set] which also a bunch of scenes take place in. Paula's song is entirely in [the law offices], we just added some shrubs. I mean, 'some shrubs,'—the set department went above and beyond, but that's an existing set we didn't have to build and that's the same thing with Greg's drinking song, same set. We added a lot of set decorations and costumes, but that's different than building a whole new set."
I'm interviewing Bloom behind the curtain in the rear of Sid Gold's Request Room, a Chelsea piano karaoke bar. The star is sitting atop said piano—still in place from her final pose of our photo shoot having found the piano to be a comfortable roost.
Bloom is as sharp and funny as her show's best songs in person. She pulls out episode numbers and specific lines like a lawyer with a photographic memory. I ask what she's been most excited for in Season 2. "That Rebecca can admit she's in love so we can do actual love songs," Bloom says. "So much of last season we couldn't do a real love song. And so much of the season she was never have anything reciprocated until Episode 16 when she finally was attracted to Greg because he pulled away from her for one fucking second, so we could do very few love songs. 'Oh My God I Think I Like You' is the first straightforward love song we do in the entire season."
Rebecca's new perspective on love is also apparent in the Season 2 theme song. Gone is the cartoon backdrop and girl denying that she came to West Covina for Josh. In its place is a showgirl number in which Rebecca Bunch bats her eyelids and plays the innocent coquette of "A Girl in Love," finally admitting her feelings to herself and to the audience.
From the beginning, Bloom knew that the Season 1 theme song was eventually going to need an update. "In Episode 15, I think, of Season 1, Rebecca says, 'I really need to update that song,' because when she admits she loves Josh, its whole premise of 'and that's not why I'm here,' doesn't make sense anymore."
If Season 1 was all about denial then, then Season 2 is shaping up to be about what it means when you can finally admit to yourself that you're in love.
"When we pitched the show, we pitched it in four sections, which comes out to four seasons," Bloom said. "And every season's section has its own trajectory." Does that mean the show has an expiration date? "Yeah. At most, four seasons. It's a show that has a finite time."
For a show that centers on Rebecca's mis-navigation of relationships and which temporarily had her the center of a tenuous love triangle, Bloom maintains that the show is not actually about love. "It's about happiness which can sometimes includes love. Part of my personal happiness is my husband, but I went through the biggest anxiety depression of my life when I was with my husband, and as great as he is, I had to figure out my own thing. And so someone can make you better, can make you a better person, but they can't solve your problems if you're not willing to solve them yourself."
It's unexpectedness means Crazy Ex-Girlfriend delivers a sucker punch of (in the words of esteemed novelist Zadie Smith) "many feels." Rachel Bloom did warn us in the Season 1 theme song: "The situation's a lot more nuanced that that." It's a good thing people are finally starting to catch on.