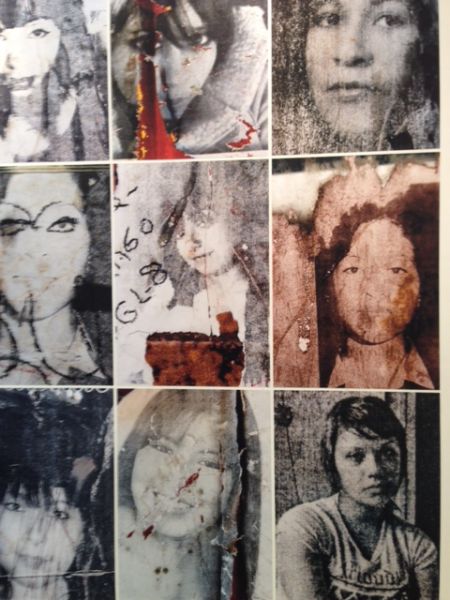 "Narco-traffic drug dealers like these styles," she said, motioning to gold and green glass bracelets, the jagged stones set into glittering chainmail bands. This is Bogota, Colombia, yes, so you might assume she is talking about jewelry in a pawn shop. They're actually art works with an asking price of €20,000 for the set.
The pieces—part of the "Settling of Scores" series by Mexican artist Teresa Margolles—use glass found in the bodies of people killed in the border factories known as Maquiladoras as a medium.
Margolles, who once worked in a morgue, fashioned the, err, reclaimed glass into jewelry as a commentary on the relative value of life, drugs and commodities in embattled Ciudad Juarez, Mexico. The work was shown at Galerie Peter Kilchmann's booth last weekend at Feria Internacional de Arte de Bogotá. ARTBO for short, it's an art fair that is also the city's largest cultural initiative at the moment, part of an ongoing rehabilitation campaign for a place more associated with the Netflix show Narcos than the champagne and caviar of the fine art trade.
It might seem a strange time for a Colombian art fair, with the recent failure of the peace deal and the global art market wincing generally. But in fact, ARTBO functioned as a moment of happy escape from weightier concerns, even though it took many as themes.
"When people hate on art fairs, I think it is probably because they are from the first world."
Other available Margolles pieces included 51 Cuerpos, a sculptural work of string once used to sew up bodies dismembered in violent deaths in Juarez. Its asking price was €50,000. The largest Margolles was a photo collage directly applied to the booth's wall, called Pesquisas (Inquiries). The photos of women who have been murdered in Juarez—despite recent statistics showing murder on the decline there, the number of women killed has remained steady, said Angela Baudin, who represented the Zurich-based gallery—were also asking €20,000 per section.
Despite its international scope, ARTBO caters largely to local collectors. It also boasts one of the most humane price points of any international art fair, and smartly combines a smattering of art from around the globe and a focus on contemporary Colombian, South American and Latin American wares. One dealer was insistent this reporter could buy art there—he had one painting on offer for $400.
"We think Colombian collectors are sophisticated consumers of conceptual art," said Carlos Garcia-Montero, co-owner of Y Gallery, a Lower East Side outpost, which was showing Alberto Boza, Reynoldo Luza, Adriana Ciudad and Summer Wheat. Garcia-Montero, who is of Peruvian decent, said he comes to the fair because of "blood connection" with South America, and has for nine years, with his business and the fair growing in tandem. "When people hate on art fairs, I think it is probably because they are from the first world," he said. In his native country an art fair is a welcome supplement to the limited gallery scene, especially since there are no biennials in the nation, he added.
Indeed, while Bogota is known as the capital of a country at war for 50 years, Bogotanos were clear that the city has begun to change and ARTBO has helped. Ciudad, for instance, recently relocated to the city, her gallerist claimed. After years in Berlin, she was curious where she could happily settle in South America and, at least partially on Garcia-Montero's recommendation, chose Bogota. "Colombia is a really good scene," for such an artist, he said. Ciudad's works, often combining the feminine form and abstract shapes, sometimes in watercolor, she had arranged in a blue stripe on the Y Gallery booth's outer wall. They ran from $1,000 for a smaller one, to $8,000 for all four, Garcia-Montero said.
"They're trying very hard to make a fair with good quality works."
Paris gallery Mor Charpentier showed a number of pieces from Milena Bonilla, a Colombian living and working in Amsterdam. Her research into the growth movements of plants—especially narcotic plants—and how they follow the "path of least resistance" yielded her series "Two Narcotics Tracing a Cluster Inside a Dreaming Spiral," where the plants' patterns look like maps of star constellations. Her series of imagined books, "An Endless Present," includes such acutely observed titles as Application of Polemic Policies on Guatemalan Forests and Cognitive Pests and the Digital Era: A study on ADHD Inheritance and its Propaganda in the West.
Habana Gallery, based in Cuba, offered less overtly political work: pieces from three ex-pat Cuban artists who are or were members of the collective Los Carpinteros, with the most space dedicated to Alexandre Arrechea (he departed the collective in recent years). Los Carpinteros' works, some of which are in MoMA's permanent collection, look at the architecture of control and persuasion. Watercolors by Arrechea asked $10,000, while a recent architectural sculpture of his, approximately three feet in height and reminiscent of his well-known Katrina Chairs, asked $45,000.
The fair also had the obligatory non- or less-commercial sectors.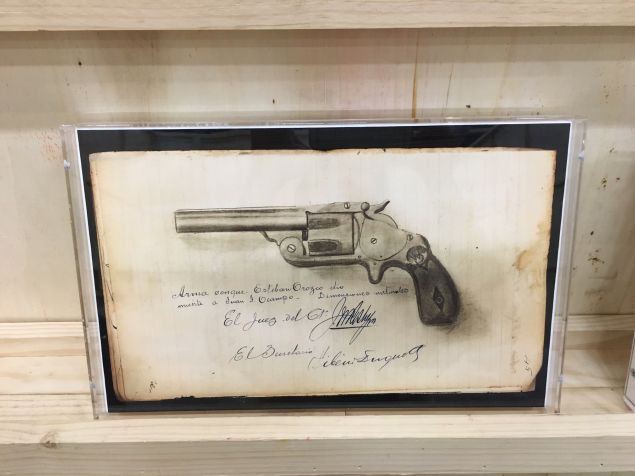 "Sitios," which offered larger scale projects, included work by Jose Alejandro Restrepo, Juan Fernando Herran and Tania Candiani. The most impressive was certainly Restrepo's wooden labyrinth, Del homicidio como dibujo. The piece was a series of rooms with walls adorned with official police drawings of weapons, crime scenes and crime victims in Medellin from the early 20th century. The rote though sometimes gorgeous depictions left the viewer keenly aware of the contingency of perception and memory in both witness and police testimony—issues no body camera will easily fix.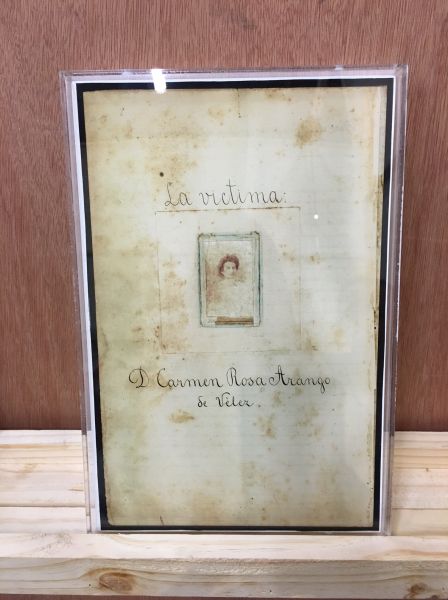 The "Proyectos" section, curated by Jens Hoffmann of the Jewish Museum in New York, featured figurative and semi-figurative painting by one artist per booth; some booths were from dealers who also had a spot in the main show.
"Jens came to ARTBO for the first time last year and fell in love with it," said ARTBO director Maria Paz Gaviria. So she handed him the Proyectos section, which is in its third year.
There, Instituto de Vision, a mainstay Bogota gallery, showed tiny paintings by multimedia artist Wilson Diaz, each depicting a moment in his career, according to gallery director Beatriz Lopez. The works were sold by wall, with each asking $18,000, or available as a whole for $50,000.
Proyectos Ultravioleta, from Guatemala, was presenting the word association paintings of Japanese artist Akira Ikezoe, who lives in New York. The works were inspired by how different his associations with symbols in everyday life were when living in the small village where he grew up in Japan, the artist said. Asking prices for Ikezoes ranged from $3,000 to $15,000 the gallerist said, depending on size.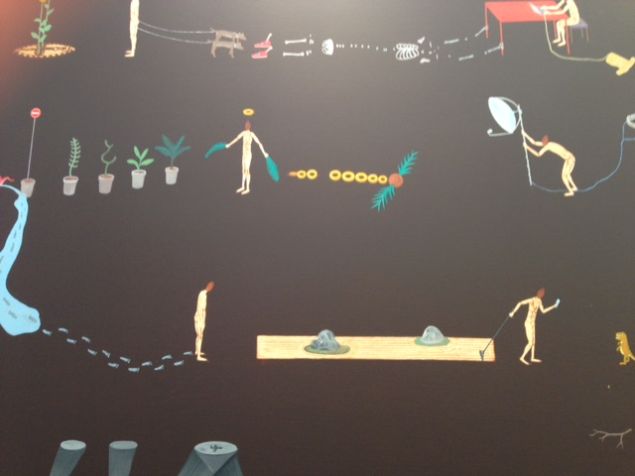 Meanwhile Henrique Faria Fine Art, a New York based dealer specializing in Latin American art, brought a trove of Mariana Bunimov's work. The Venezuelan painter works in Paris, but has been "out of the loop for awhile," said Faria, who was manning the booth. The works asked between $1,800 and $7,000 and he had already sold six during the VIP preview.
Faria said he's come to ARTBO seven or eight times, and praised its tenacity in the face of tough political circumstances. "It's really not a country where they have a lot of collectors. It's not such a good fit," he said. Yet, if you build it, they will come, it would seem. "It's become a sort of destination. They're trying very hard to make a fair with good quality works."
"Referentes," curated by Pablo Leon de la Barra and Erika Florez, looked at Latin American art from the 70's, 80's and 90's. Paz admitted that the section's purpose is "to improve the market for historical [Latin American] work."
12 years in, ARTBO has built it's niche in the Latin American art market and the market for Latin American work internationally, and it doesn't really need to grow larger, according to Paz. "We're happy with what we have," she said. She even hinted that "no one really likes an art fair."
But perhaps some places need one? "It's a place to congregate internationally," both physically and intellectually, Paz said. And, in times of political turmoil, that seems as important as ever.