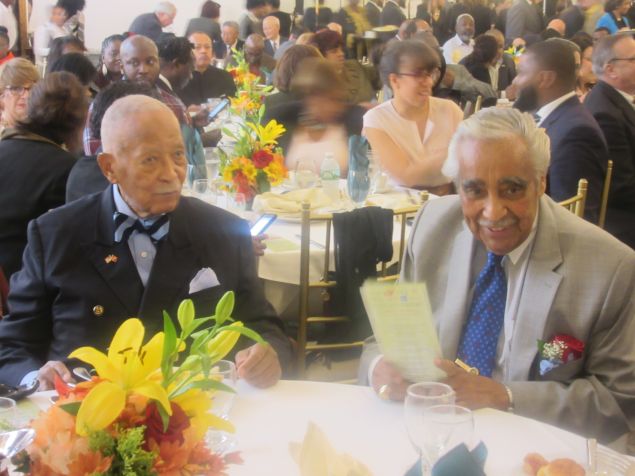 Retiring Congressman Charles Rangel, who held office in Upper Manhattan for half a century, vowed at an event in tribute to him today that his tenure may be over, but he "ain't going nowhere."
At a power breakfast organized by the New York Christian Times, clergy and elected officials such as Councilwoman Inez Dickens, Manhattan Borough President Gale Brewer, former Mayor David Dinkins and Department of Small Business Services Commissioner Gregg Bishop praised the 86-year-old politician for making history as the first African-American to lead the House Ways and Means Committee, and for his push to create the Earned Income Tax Credit in 1976. When he took the mic himself, the lion of Harlem promised he would stay on as a pillar of the community (though he told the Observer shortly afterward that if Donald Trump becomes president, he's "out of here").
"When Rangel's gone, the community is not gone and neither are you," Rangel said. "My short message to you is so very, very important because as you have said, these recognitions are coming in so fast that people believe that I had to have passed away, gone to the grave. I ain't ready yet and I ain't going nowhere."
He also spoke about slavery and how the drafters of the U.S. Constitution were not thinking about African-Americans, saying that they "never even made it into the Constitution." And he reminisced about his life experiences, speaking about how he met his wife Alma before he finished school and saying that he "never had a bad day since I left Korea"—a reference to his highly decorated service in the U.S. Army during the Korean War in 1950.
And he reminded the audience that the famous uptown Gang of Four—Rangel himself, former Mayor David Dinkins, the late former Lieutenant Gov. Basil Paterson, the late Manhattan Borough President Percy Sutton— still has surviving members:
"All the Gang of Four ain't done," he said jokingly, growing wistful about his long career in public life. "Even though my life has not been a crystal stair, I can tell you without fear or contradiction that God has been with me every step of the way."
And he warned attendees that if Democratic presidential nominee Hillary Clinton does not win the election that is just five days away, that would have an impact on Harlem at the congressional level.
"God doesn't sleep on Election Day," he said. "God doesn't say what happened."
Rangel's district—that includes Harlem, Inwood, East Harlem, Washington Heights and parts of the Bronx—has undergone major changes since his election to the House in 1970. The black population has declined while the percentage of whites and Latino residents has spiked dramatically.
The congressman's own seat hasn't been immune to that change. At the end of June, State Senator Adriano Espaillat—who unsuccessfully challenged Rangel in 2012 and 2014—defeated Rangel's chosen heir, African-American Assemblyman Keith Wright, in the Democratic primary.
The district's deep-blue democraphics mean that Espaillat will almost certainly go on to become the first Dominican-American to ever serve in Congress, and the district's first non-black congressman in its 72-year history.
Rangel transformed Harlem and minority communities throughout the city and the nation with his low-income housing tax credit and empowerment zone legislation, and served as "the front-line general in the War on Drugs" in the 1980s. But he faced censure from his colleagues in 2010 over a slew of ethics violations, including failure to report and pay taxes on income from several properties and urging companies with business before his committee to donate to a City College facility christened in his honor.
As Rangel walked into the room this morning, attendees stood up, clapped and greeted him. When he arrived at his table, Dinkins was waiting for him.
"I know you," Rangel said to Dinkins as onlookers chuckled. And when he saw the city's first and only African-American mayor with a plate of food, he said jokingly, "I'll have what he's having," garnering more laughter. 
Dinkins referred to Rangel endearingly as his brother and a "good friend," saying that the two care about each other and that he "could recite his many, many accomplishments." But he says this isn't the last the community will see of him.
"He's not through," he said. "He'll be around continuing to help all of us, to help our community like he has always done."
Harlem Councilwoman Inez Dickens, now a candidate for Wright's Assembly seat, called Rangel "an integral part of me." She praised him for advocating against the privatization of Social Security, fighting to expand the Earned Income Tax Credit during the tax reform of 1896 and being the architect of the Empowerment Zone program. 
"Congressman Rangel has indeed shaped not only this district of Harlem and the congressional district and the state but internationally as well," Dickens said.