Before his death in 2007, British real estate developer Howard Ronson was determined to bring the opulent Berwind Mansion back into its historic single-family glory.
Originally, 828 Fifth Avenue was built for "coal baron" Joseph Berwind in 1886, but the 30-foot-wide building was chopped into nine co-op apartments in 1980. Ronson wanted to buy them all—over three years, he spent at least $22.95 million in three separate deals, to amass a 32-room collection of apartments spread out in the ornate manse. It didn't seem to matter to Ronson that he primarily resided in Monaco and spent much of his later years aboard his yacht.
After Ronson passed away, his widow Angelika Ivanc, tried to complete his dream—she was able to nab at least two other units, though two more residents refused to sell. By 2012, the Ronsons seemed to give up. They listed their units in the building (at the time, it came to a combined triplex on the second, third and fourth floors as well as a duplex maisonette and a sixth-floor penthouse) for a whopping $72 million.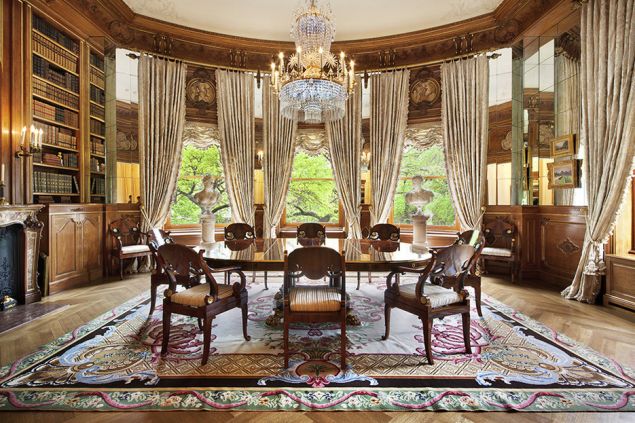 Enter Roman Abramovich, who was reportedly in contract to buy the historic mansion for a record $75 million. The deal fell through—Abramovich was allegedly able to convince one of the holdouts, Adolfo Sardina, to sell, but couldn't sway the fifth-floor apartment owner, Eugenia Olazabal. Unsurprisingly, much of the problem was blamed on money—not only was Olazabal apparently holding out for $23 million (Abramovich offered $15 million), but Ivanc reportedly thought Abramovich should dole out even more cash.
The Ronsons decided to hold onto the disconnected apartments. In 2014, Ivanc opted to list the 20-room triplex (complete with a Louis XV-style ballroom, library and oak paneled sitting room) as a $150,000-a-month rental—the price was subsequently lowered to $80,000-per-month, and is still languishing on the market.
But perhaps not for long. Nearly a decade after Ronson's death, his family is one step closer to realizing his ornate mansion dreams—they just bought one of the two remaining co-ops in the building for $4 million, using Twin-828 Fifth LLC.
The duplex maisonette was sold by former fashion designer Adolfo Sardiña, known as Adolfo—his friend Nancy Reagan favored wearing his suits while on her "Just Say No" anti-drug campaign. The Duchess of Windsor and Betsy Bloomingdale were also fans of his designs.
But back to the apartment, which was not publicly listed—the sales price is quite a bit less than the $10 million to $15 million sum Abramovich reportedly offered, but since public knowledge of the sold unit is sparse, perhaps we're missing something here.
Anyway, it may have taken eleven or so years, but the Ronsons are finally just one puzzle piece away from owning the entirety of the Berwind Mansion. Hopefully, Olazabal will cave at some point in the near future…and maybe the Ronsons can look to Abramovich for inspiration.
After all, things worked out quite nicely for the Russian billionaire, who began buying up mansions on East 75th Street shortly after the deal for the Berwind place soured. He eventually shelled out approximately $78 million for 11, 14 and 15 East 75th Street, and after some initial difficulty, managed to get his three-townhouse combination plan approved by the notoriously difficult Landmarks Preservation Commission…all in less than three years.