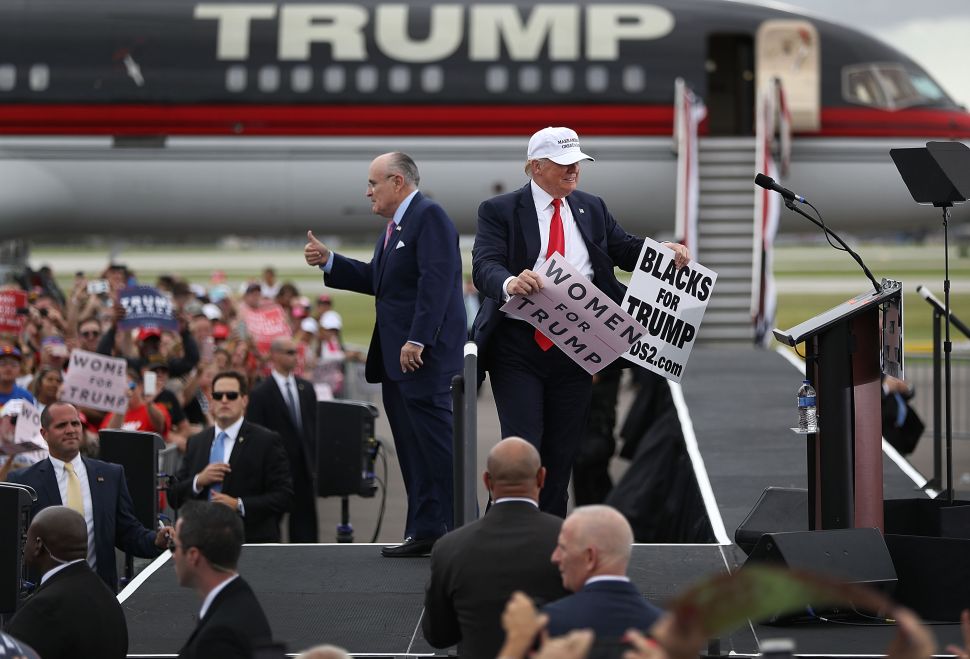 It's a special thing to be yelled at by Rudy Giuliani.
I remember the first time I ever really came in for a tongue-lashing from the former Mayor. It was October 2006 and anticipation was peaking that Rudy would soon enter the 2008 Republican primary for President. I had been asked to write something for Rudy for a New Hampshire newspaper—the kind of thing I did every day in my capacity at Giuliani Partners, where I'd worked for Rudy for five years after having worked with him in City Hall on his book Leadership when he was still mayor and throughout September 11 and its aftermath. One of my bosses thought it'd be a good idea to place this piece in a key early state and I did it, sidestepping the usual approval process. It was a dumb thing to do and hizzoner blasted me for it.
By that time, I had seen plenty of others suffer Rudy's wrath—as a former prosecutor and a kid from Brooklyn, Rudy has that rare combination of logical argument construction and street toughness that makes any defendant squirm. But after traveling with him constantly for years and being in some precarious positions (like that time I wore a sweater with no tie to meet the Polish prime minister and his twin brother, the president), the New Hampshire gaffe was the first time I had earned a real verbal smackdown.
I worked for Rudy for a couple more years, eventually being promoted to COO of his presidential campaign. After that ended in disappointment, we stayed close friends—Rudy generously making calls on my behalf in my political career and me helping out when he needed something written, like his 2008 speech at the RNC in the Twin Cities. When I was named editor of the Observer, Rudy was one of the first and proudest congratulatory calls. There's a nice section in Leadership about how he felt to see his mentor, a tough old judge named Lloyd F. MacMahon, swell up with pride when Rudy tried a case before him. That's how it felt for me to make Rudy proud.
But in this year of the reality-show campaign, it's no surprise that the phrase heard on every single reality show — "I'm not here to make friends" — recently played a role in my little life. You can't be an editor unless you're comfortable occasionally hurting people's feelings, sometimes including your friends. Something I wrote in the Observer—the details don't really matter—angered Mayor Giuliani and the next thing I knew he was … forcefully letting me know.
That dustup has made it all the more fascinating for me to watch Rudy operate at his absolute best during the last few months of this campaign.
Sometime early this summer, Rudy decided to bet on Trump. It hadn't been a smooth ride. Rudy has been close to the Bush family for years, and especially fond of Jeb. He is also friendly with Chris Christie, whose rise to executive after earning headlines as a zealous prosecutor was frequently compared to Rudy's own career arc. Even by the time of the New York primary, when it seemed clear that Trump was going to cinch the nomination, Rudy issued a weird non-endorsement, saying he intended to vote for Trump personally but wasn't quite ready to endorse him.
But that's the thing about Rudy. Just as when he's mad at you, you know he's mad, when Rudy decides to support you, you get the full effort of a guy whose energy, political instincts, and skill as an attack dog remain bitingly sharp.
The debut of Rudy in that role came at the RNC, where he gave the keynote on the first night. A wardrobe malfunction almost made me late so I drove 80 mph the whole way to Cleveland so as not to miss it. Some critics considered Rudy's fiery speech—basically an indictment of Hillary for what he called the "Obama-Clinton" years—to be too red-blooded. CNN helpfully noted that Rudy pointed down when he said the word "top."
I loved it.
And that's when I first noticed a new line of attack the media was planning to use against Rudy.
Today, any time a man acts in a way that was formerly—and not too long ago—described as "manly," he is to be portrayed as an out-of-control ranter. The media knows that Rudy is too smart and too accomplished to fall prey to the usual "dumb" label that was trotted out for Republicans like George W. Bush and Dan Quayle. And he's too obviously working class to smack him with the "elitist" tag that doomed Mitt Romney. So the dismissal of choice for Rudy is suddenly, after decades of praise for his competence and his cool head (especially during 9-11), his supposed craziness.
Google his name with "unhinged" and you'll see that word suddenly appearing, for the first time in a four-decade public career, right at the time that he endorsed Donald Trump.
"Rudy Giuliani gave a truly unhinged speech at the Republican National Convention" read the headline of Fusion. The New Republic wrote, "Rudy Giuliani was unhinged tonight." "Watch Rudy Giuliani's Shout-y, Unhinged Republican Convention Speech" read the headline of Uproxx. Salon's headline read, "Unhinged Rudy Giuliani defends Donald Trump by pointing to Bill Clinton's affair" while Jake Tapper accused Rudy on CNN of "an unhinged and wild accusation." Funny how a single unusual word suddenly finds its way into so many different headlines. (It's surely a coincidence that the media began using that word shortly after the Democratic National Committee called Trump "unhinged" in April.)
Rudy just kept 'bellin. He was Trump's most visible and most effective surrogate, prosecuting Hillary at every turn, traveling with the president-elect for the final 100 days. Even after the Billy Bush tape was unearthed and other Trump surrogates suddenly canceled appearances and Republican leaders distanced themselves, Rudy was out there throwing punches and unapologetically standing by his friend.
All the news outlets fretted for Rudy's legacy. Slate wrote, "Rudy Giuliani is a different man from the moderate mayor of New York" while the Times wrote, "For Rudy Giuliani, Embrace of Donald Trump Puts Legacy at Risk." Politico showed genuine concern, running a feature called "Is Rudy Giuliani Losing His Mind?"
So nice of them to worry!
But they needn't have—Rudy knew what he was doing. Betting on Trump was pure Rudy—a combination of loyalty and strategy. Rudy has been friends with Donald Trump for decades. I remember going to a Yankee game with Rudy on October 15, 2003. RNC bigwig Bill Harris and pollster Frank Luntz joined but the special guests were Donald and Melania (they were not yet married). It was an amazing back-and-forth game and Rudy's willingness to chat with his longtime friend—it was a Red Sox playoff game, for heaven's sake—told me that this was a real friendship, not a political friendship.
That's what the media didn't get about Rudy's motivations—it's what they've never really understood about him.
It wasn't just that Rudy knew that Donald Trump's chances were far better than the media realized. It's that a national perch from which to fire on Hillary Clinton would remind the world of his greatest strengths – a forceful, no-bs logician who doesn't shy from a fight. Win or lose, that was a strong position for him to plan his next move. And there is no one in the US who was better prepared to make a case against Hillary Clinton than the man who was all set to do so 16 years ago when she first ran for Senate.
The Al Smith dinner is near to Rudy's heart. It hits a trifecta of his interests—New York City, politics and Catholicism. Some people thought Trump's remarks at this year's dinner went overboard but the reaction I remember most belonged to Rudy. Hillary Clinton told a joke in which she greeted all the current and former politicians in the room – the Honorable Bill de Blasio and the Honorable Michael Bloomberg, and so on. Then she got to Rudy and didn't add "Honorable." The camera cut to Rudy and he didn't fake a smile or pretend that the slight didn't register. He sat in stony silence and I thought, "Hillary's going to pay for that joke."
And she did.
Rudy connects with people in a way that Hillary's advisors and her supporters in the media couldn't comprehend. When he went after her for failing the bar exam, it wasn't an attack on a test 41 years ago, it was an attack on a narrative of immaculate competency that the media had created. When the media condemned Rudy for wandering into impermissible territory by questioning her health, America wondered if the rush to criticize the questioner wasn't some kind of cover-up. Politico tsk-tsked "What happened to America's mayor?" after Rudy claimed that his crime reduction had actually saved black lives. But plenty of voters saw Chicago hit 600 murders by the end of October and wondered if the law-and-order rhetoric coming from the Trump Team was maybe onto something.
Yesterday, Rudy appeared on Jake Tapper's Sunday program on CNN. In a wide-ranging interview, he demonstrated mastery of policy detail (how many battalions the Marines ought to have, which countries might successfully vet their emigrants) as well as broad strokes (the Reagan-like idea that adversaries are likelier to back down when faced with a strong military and an unafraid commander). Immediately after, the headlines were all about what Rudy thinks the Trump kids might do with their father's companies.
In other words, the media appears determined to learn nothing from the way this campaign has been covered.
But regarding Rudy, the lesson is more obvious. Donald learned that Rudy Giuliani is the guy you most want in your corner when the chips are down. And Hillary learned—like I've had to a couple times—that things have a way of not working out great when Rudy Giuliani is angry at you.
Disclosure: Donald Trump is the father-in-law of Jared Kushner, the publisher of Observer Media.