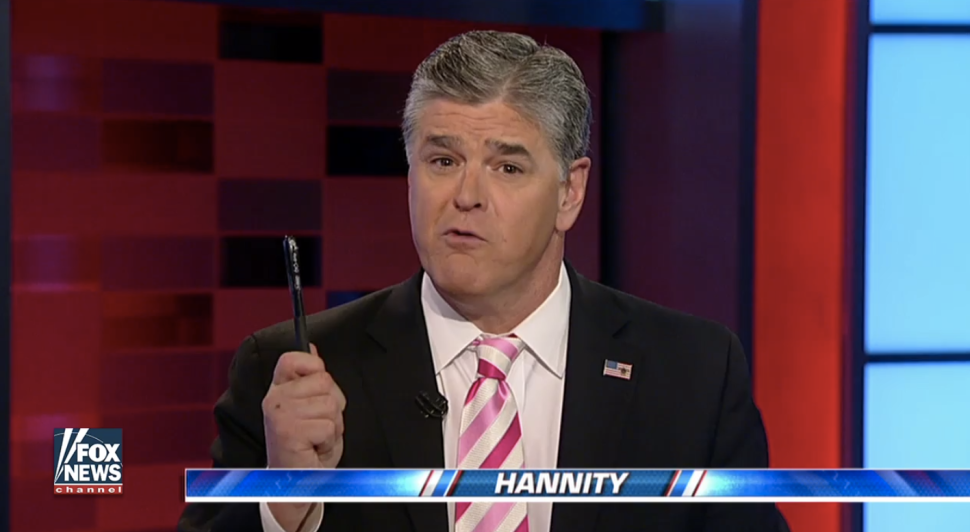 On Fox News Channel, Megyn Kelly wore a look-at-me outfit that looked like a negligee and not just because it showed her bare arms.
Spaghetti straps hung over her bare shoulders. The dress's black fabric was cut low in front, like a bra, displaying her partly-clad torso.
Ooo-la-la! And then things got naughty.
As demonstrators marched through Manhattan and several other cities Wednesday night, this super-duper, critically acclaimed Fox news actress and book-writer sent her show, The Kelly File, down to the nitty-gritty city streets.
There, real reporter Rob Schmitt interviewed a young protestor he introduced as "Anthony."
Anthony began talking in a soft Spanish accent, then changed his tune.
"Grab Donald Trump by the pussy!" Anthony shouted before smiling to the camera and walking away.
This was a reference to how the Republican Trump—now the President-elect of the United States of America—bragged 11 years ago about how he sexually assaults strange women he fancies.
"I grab 'em by the pussy," Trump said on an Access Hollywood recording revealed during the recent campaign.
You could argue that Trump now has grabbed the entire nation by our collective male reproductive equipment as well as he prepares to inflict his reckless and authoritarian plan to "Make America Great Again."
He can count on help from cloying media sycophants.
One eager example appeared in the next hour in the Fox hole. It was the braying Sean ("I'm gonna tell ya somethin'!") Hannity.
Hannity went back to the hapless Schmitt, who tried to conduct a serious interview with an earnest young woman.
Her name was Danielle, she had red hair and she said she voted for Hillary Clinton, the Democrat who won the popular vote Tuesday but lost the election in the Electoral College.
'We're not turning this country to what Donald Trump has sold,' Warren said, referring to Trump's expressed ideas as a 'toxic stew of bigotry.'
Hannity interrupted the interview by shouting in Schmitt's earpiece.
"Hey, let me ask her a question," Hannity barked. "Name three specific accomplishments of Hillary in her career that helped the American people!"
Schmitt delicately rephrased the question in a less bellicose way.
"OK," Schmitt told the young woman. "Sean wants to know what are the accomplishments that you saw of Hillary Clinton over the 30 years she was in office?"
The woman nodded and answered immediately, with sincerity.
"When I was a child," she said, "I was one of the people that benefitted from her health care plan."
This prompted another Hannity interruption.
"Her health care nevvah passed!" Hannity snarled. "It nevvah passed!"
Schmitt, thinking quickly, tried to point out to Hannity in a subtle way that the woman referred to the Children's Health Insurance Program (CHIP), passed in 1997 with the support of Clinton when she was First Lady.
It helped financially-strapped families too well-paid for Medicare but unable to afford private insurance premiums.
As real journalists know, this was separate and distinct from the larger initiative that was killed by Republican enemies of health care in the first Bill Clinton administration.
Perhaps Hannity was honestly ignorant about this, as he often is about facts and truth.
"Other than CHIP," Schmitt asked the woman, "what else did you—what inspired you to vote for Hillary Clinton?"
When Schmitt tossed the show back to Hannity, he got scolded by the poorly informed host.
"Uh, Rob, the next time somebody says Hillary's health-care plan helped them, you might want to remind them she never passed her health-care plan," Hannity said, compounding his misinformation. "Uh, anyway, Rob, thank you. Appreciate it."
Hannity wasn't finished yet. Shortly thereafter, he showed a creepy and slanderous painting called "The Forgotten Man" by Jon McNaughton, known as "The Tea Party's Painter."
With the White House in the deep background, the painting featured a downtrodden young white man sitting on a bench, his head bowed, as if discouraged at a bus stop while seeking a job. Near the man stood all the former American presidents.
But, in front of them—look!—it was President Barack Obama stomping on the Constitution. Hannity left the picture on the screen for 48 seconds. It was vicious propaganda and pointless, just another cheap shot in Hannity's long career as a sucker-puncher.
Not all "news" networks are as biased as Fox, a right-wing propaganda factory in its 21st year. On progressive MSNBC Thursday, Chris Matthews on Hardball talked with Marine Jean-Pierre from MoveOn about the anti-Trump demonstrations, widespread again Thursday night.
"The country is grieving," she said. "He (Trump) ran a hateful campaign."
Also on Thursday night, on CNN, Clinton supporter Maria Cardona talked on AC-360 with host Anderson Cooper about Trump's visit with President Obama at the White House Thursday.
Allowing that Trump managed to speak for five minutes there without offending anyone or groping any women, Cardona addressed the bigger context.
"Five minutes of nice words is not going to make up for 15 months," she said, adding that various communities of people are protesting Trump's election.
Why?
"There are stories, not just of the folks who are attacking Muslims," she said. "There are stories of Trump supporters going up to women and grabbing them and calling them the 'C-word.' There are stories of Trump supporters yelling at Latinos 'Spic! You wetback! Go back to Mexico!'"
Democrats and liberal progressives—stunned Tuesday by their defeat—are beginning to show signs of resistance, not only in the streets but also in the halls of Congress.
One of them is Elizabeth Warren, the Democratic senator from Massachusetts, who appeared Thursday night with Rachel Maddow on MSNBC on the Rachel Maddow Show.
"This is painful, this really and truly hurts," Sen. Warren said of Trump's election. "His entire campaign was fueled on racism and bigotry, attacks on women, attacks on African-Americans, attacks on Latinos, attacks on Muslims, attacks on people who are disabled."
Sen. Warren wore a blue jacket, glasses and earrings. Her voice occasionally shook with emotion. She warned allies that progressives will lose some battles in the Trump Era but she urged them to "stand your ground and fight back" against the dark backlash of Trumpism.
"We're not turning this country to what Donald Trump has sold," Warren said, referring to Trump's expressed ideas as a "toxic stew of bigotry."
Trump, in his vow to "Make America Great Again," looks back on an idealized history to promise a better future by going forward into the past.
Just last weekend, to comply with Daylight Savings Time, Americans set their clocks back one hour.
If only, this weekend, we could set our calendars back one week.
Disclosure: Donald Trump is the father-in-law of Jared Kushner, the publisher of Observer Media.