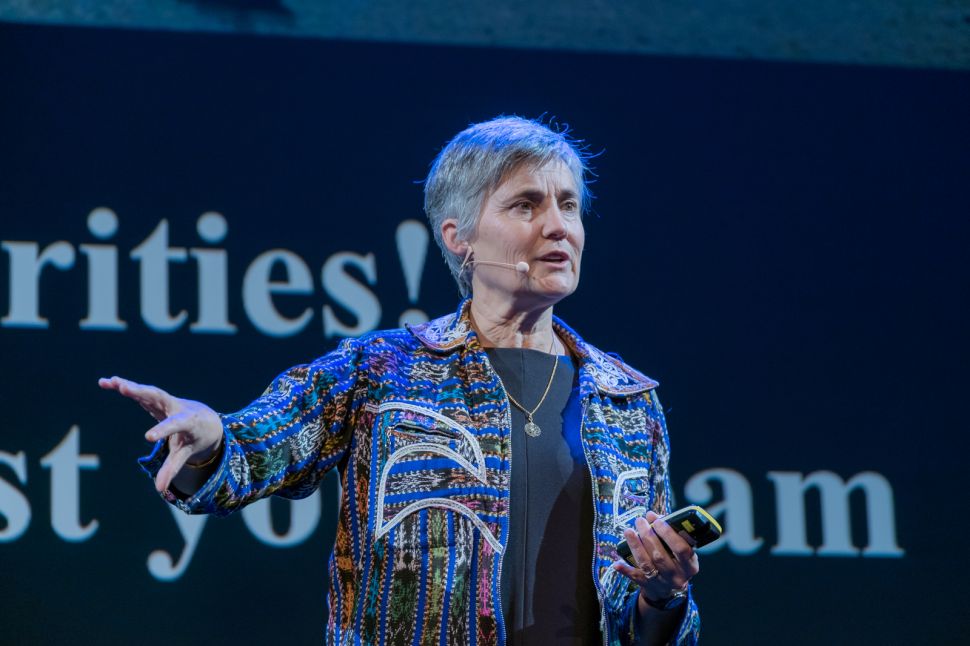 What is Seamless, really? Is it the crown jewel of urban convenience or a slow growing parasite that threatens what's best about America's return to cities? An entrepreneur who led one of the dot-com era's great success stories helped us play out the perils of a promised home delivery utopia when companies no longer have to pay drivers.
Robin Chase built Zipcar, which sold to Avis in 2013 for $491 million. When she first pitched it to investors, they couldn't get past the question of who was going to refill the gas tanks, as she told attendees at The Next Web conference in Red Hook last week. Zipcar launched in 2000, in an era when cell phone networks didn't yet offer data plans. She's the O.G. of rethinking our relationship to automobiles and has proven she can see a future past its obstacles.
So today's entrepreneurs should take heed when she cautions that, whatever your transportation startup is doing, if it doesn't complement autonomous cars, you might as well quit now (parking startups, we're looking at you). "If you think of the spectrum of possibility of motorized transport, every single one of those is going to be taken up by autonomous vehicles in three years," she told the Observer in an interview. Chase has since co-founded Veniam, an auto-networking company out on the bleeding edge. It announced a $22 million funding round in February, as VentureBeat reported.
'The disruption ahead is phenomenal.'
In an interview following her talk, Chase predicted that without communities making smart policy, autonomous cars will fill our streets with RATS, that is, "Retail Autonomous Trips" (Chase likes acronyms). Delivery companies will ferry absolutely everything. With all cars constantly on the move, there will be no need for parking spaces. Robot cars are likely to demand those free lanes to use the roads even more, moving people and even more stuff more places.
The computer hive mind will optimize all that movement and—with no wages to pay—one can imagine a future where consumers get absolutely everything delivered.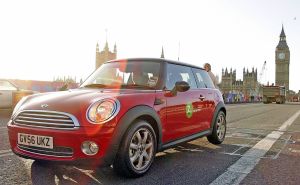 Unless policymakers step in. "Do we really want to have our streets filled with commerce and our sidewalks without commerce?" she asked. Self-driving cars will best serve communities that think ahead about how they want to live with them, Chase contends.
But to say that the connected cars pioneer is against self-driving cars would be like saying she's against electricity because she's worried about climate change. She is very worried about climate change, but she argues for more progress to work our way out of the problems that progress-so-far has created.
SEE ALSO: Electric cars could push America into rolling blackouts.
She foresees another problem with self-driving cars: the potential for inefficiencies created by a monopoly or oligopoly. Ride-hailing users can see early signs of this problem today. "Drivers have multiple apps and consumers also have multiple apps," she said. "That's not the future that we want."
Every time you get into, say, a Lyft in New York, you can see at least one other app on the driver's dash on pause, such as the upstart Juno.
If ride-hailing becomes dominated by one or a few major owners of self-driving cars, that's going to lead to major inefficiencies. Chase envisions a future that's more modular, more like what Kayak has brought to travel, putting all the sources for deals on flights in one place. In her view, there can be lots of different autonomous car companies (big ones and small ones), but it should still be easy for consumers to pick and choose between them, depending on the needs of a particular trip.
Her company Veniam is well positioned in a future where self-driving car companies own their vehicles but share the information. "How do you get this interesting real time data about your vehicle and this environment in which it moves back into the internet so it can make decisions?" Chase asked. Her company, Veniam, believes it has found that solution in facilitating that flow by linking the vehicles with each other.
We previously reported on Google's self-driving car program, where the cars constantly share sensor information with HQ. With Veniam, the data doesn't necessarily go straight from the car to the nearest mobile tower. "It enables a mesh network," she said.
The company has found in a pilot with buses that data can be bounced from bus to bus until it reaches an accessible wi-fi access point. That lowers the costs for connected vehicles, while also making every car's network-access more resilient, by giving it more ways to reach its central brain.
Veniam has some buses connected in Manhattan, a pilot in Singapore and it just signed a deal in Mexico City. From her stage at The Next Web, she predicted Veniam would be be bigger than Zipcar.
SEE ALSO: Lyft and Facebook's awkward feints.
"The disruption ahead is phenomenal," she told us.
And it will be complicated. Self-driving cars will impact different places in different ways. To limit congestion by RATs, it might make sense, for example, to curtail how much grocery delivery is permitted in cities while leaving it much more open in rural places and deep suburbia.
Unlike many of her fellow tech entrepreneurs, she doesn't think technology holds all the solutions. This case in particular is one where she returned again and again to the need for forward-thinking rules and regulations.
"Our policy solutions do need to be population density based," she said. "I would love to have some community discussion."