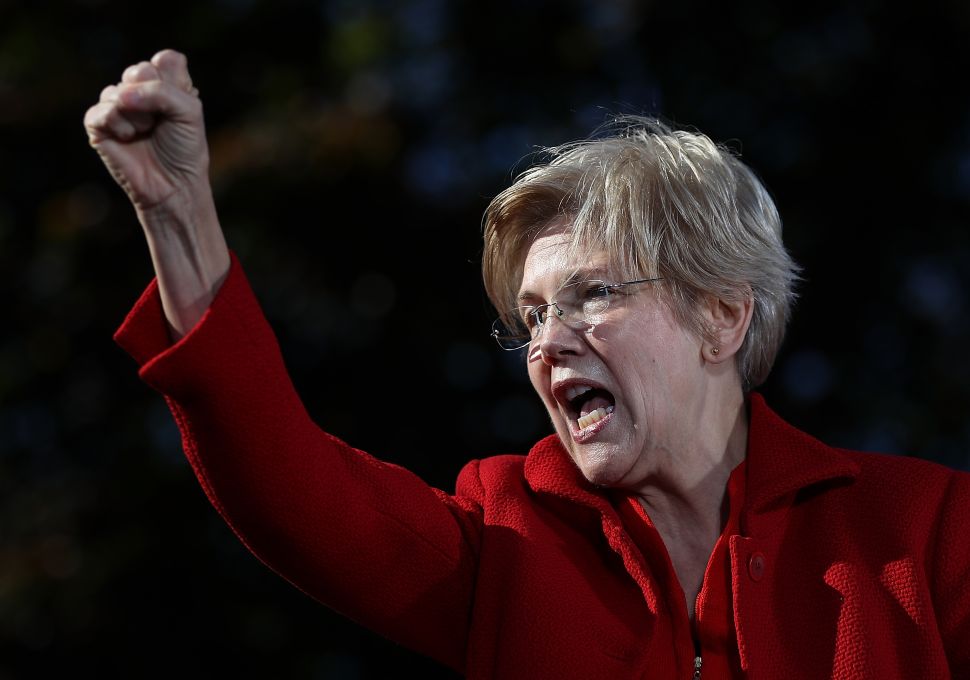 Sen. Elizabeth Warren has garnered criticism over the past few years for her failure to corroborate a claim that she is part Native American. "Warren has claimed Cherokee and Delaware Indian heritage, but the only proof so far seems to be stories she says she heard from family members as a child," reported The Washington Post. "Cherokee groups have demanded documentation of the candidate's Native American ancestry, but she hasn't delivered." Warren was touted as Native American while serving as a faculty member at Harvard, and her Republican opponents have argued Warren used the claim to boost her career academically and professionally.
When Warren responded to Donald Trump pejoratively calling her "Pocahontas" during the presidential election, she failed to defend Native Americans, only reverting to calling Trump a "loser." In an Op-Ed published by CNN, Simon Moya-Smith, the culture editor at Indian Country Today, demanded Warren apologize to Native Americans. "Ever since the controversy surrounding her contested background became public discourse in 2012, when she ran for the U.S. Senate, Warren has avoided Indian country like an ex," he wrote. "That is seriously problematic for Native Americans." He added, "Warren continues to perpetuate a false reality of who Native Americans are today, while in turn, inadvertently or not, encouraging the claims of millions of convenient Indians who self-identify as Native American for their own gain."
The Dakota Access Pipeline presented an opportunity for Warren to save face and fight for the rights of Native Americans. The efforts of the Standing Rock Sioux to stop the pipeline have developed into a broader movement for indigenous rights across the country, but again Warren is nowhere to be found in this fight.
This lack of commitment to touted principles has come to define Warren's political career. Her neutrality during the Democratic primaries illuminated her political cowardice as she avoided risking her career by sitting on the fence until a clear winner appeared. 
Democrats portray themselves as champions of identity politics, only to abandon these principles when any political risks are attached to doing so. Mass incarceration still plagues the prison system, with Democrats exerting little effort to reform it.
President Obama's deportation policies better reflect rhetoric from Donald Trump than the rhetoric favored by most Democrats on the issue. Obamacare has devolved into an institution favoring health insurance companies over the uninsured working and middle class Americans for which it was allegedly created. Under the Obama Administration, wealth inequality has continued to increase while more money pours into election campaign coffers than ever before. Obama and Democrats tout climate change as a polarizing issue between Democrats and Republicans, yet Obama has presided over the biggest increase in oil production in American history.
Democrat shave failed on progressive policy issues not because of Republican obstructionism as they so often claim, but because when the opportunity to fight presents itself, they revert to neutrality or silence. Sen. Bernie Sanders is often the only or one of the few politicians who speak out on certain progressive issues, because other Democrats either don't mean what they say, or don't care enough to risk their wealthy political donations for their principles.
The incrementalism and realism propagated by Hillary Clinton and Clinton partisans throughout the general election failed to resonate with voters unwilling to accept Clinton's notion that "America is already great." The impending sense of doom the Clinton campaign attempted to exploit to galvanize support may have worked in blue states, boosting her to win the popular vote. But in places where this doom already exists—where working and middle class Americans still feel the burden of an economic recession, while their economic anxiety continuously increases—these claims that the status quo is functioning properly merely increased resentment toward it. If Democrats can learn anything from Sanders and why he is the most popular politician in the country, it's that they need to start showing commitment to the rhetoric they use to garner support when it matters.