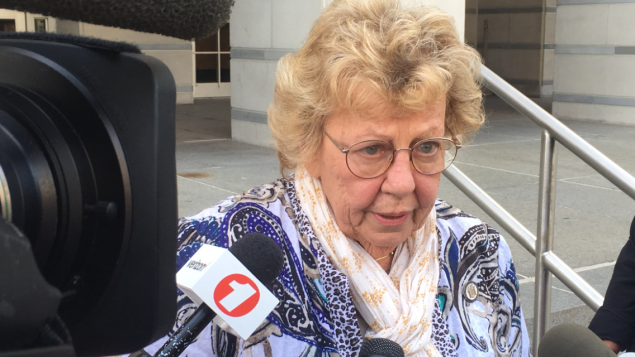 Congratulations to all the women on PolitickerNJ's 2016 Power List. We are thrilled that the number has increased this year to 29 honorees—up from 25 last year and just 15 in 2014.
A big thank you to all the strong and successful women in Trenton and around the state—far too many to name—who continue to add cracks to the glass ceiling, and who I know will contribute to the effort to finally shatter it. A special shout out to New Jerseyan Nancy Erika Smith who represented Gretchen Carlson in a case that exposed years of sexual harassment by a media giant, and opened the door for other women to tell their stories.
As we prepare to begin a new year, I can't help but think about the challenges ahead. At no other time in recent memory have we been so starkly reminded of how far women still have to go to attain true equality in this country. Now, more than ever, it's critical that women continue the fight for equality and for progress—a fight that is for our daughters and granddaughters and for future generations. I am proud to know all of these women who are committed to waging that battle. Thank you for all that you do.
And thanks to PolitickerNJ for making this an annual event. Here is my 2016 Power List of women in alphabetical order: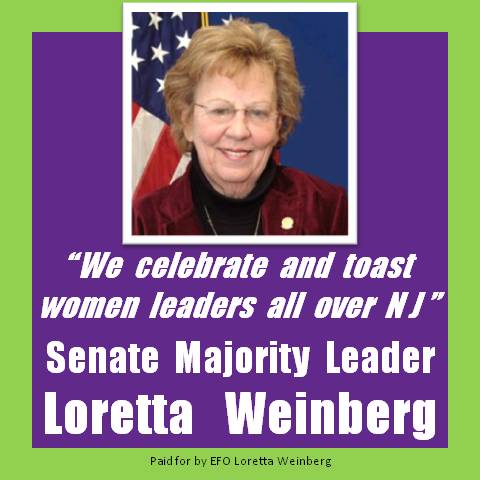 Senator Weinberg's 2016 Women's Power List:
Alyana Alfaro – PolitickerNJ
Danielle Alpert – River Crossing Strategy Group
Mishael Azam – New Jersey Medical Society
Alex Ball – Campaign of Congressman Elect-Josh Gottheimer
Sharon Balsamo – NJ State Bar Association
Susan Bass Levin – The Cooper Foundation
Carmen Benitez – NJ Senate Democratic Office
Cathleen D. Bennett – Commissioner of the NJ Department of Health
Andrea Betancourt – 200 Club
Allison Blake – Commissioner of the NJ Department of Children and Families
Nicola Bocour – Americans for Responsible Solutions
Deborah Bozarth – New Jersey Association for Justice
Laurel Brennan – AFL-CIO
Victoria Brogan – NJ Department of Health
Dana M. Burley – Clerk of the General Assembly
Julie Busby – Philadelphia Inquirer
Chrissy Buteas – Home Care and Hospice Care Association of NJ
Nancy Cantor – Rutgers University
Salena Carroll – New Jersey Civil Rights Commission
Annette Catino – QualCare
Lisa Chapland – NJ State Bar Association
Rhoda Chodosh – Republican Diehard
Laurie Clark – Legis Serve
Jennifer M. Coffey – Association of New Jersey Environmental Commissions
Susan Cole – Montclair State University
Alixon Collazos – Murphy for Governor
Elizabeth Connolly – Acting Commissioner of the NJ Department of Human Services
Jackie Cornell-Bechelli – US Department of Health and Human Services
Michelle Coryell – Office of Senate President Steve Sweeney
Sonia Das – Democratic Strategist
Jenny Davis – Murphy for Governor
Sonia Delgado – Princeton Public Affairs
Angela Delli Santi – NJ League of Conservation Voters
Barbara DeMarco – Porzio Government Affairs
Tracie DeSarno – Public Strategies Impact
Patricia Dicostanzo – Bergen County Superintendent of Elections
Michele DiIorgi – Office of Bergen County Executive Jim Tedesco
Beth Dohm – Kaufman Zita Group
Rosi Efthim – Blue Jersey
Karin Elkis – Optimus Partners
Zulima Farber – Lowenstein Sandler
Brenda Flanagan – NJTV
Debbie Francica – Office of the Senate Majority Leader Loretta Weinberg
Janice Fuller – Office of Congressman Frank Pallone
Shivaun Gaines – Montclair State University
Barbara George Johnson – Thomas Edison State University
Barbara Gitenstein – The College of New Jersey
Gail Gordon – GOP Fundraiser
Trish Graber – NJ Senate Democratic Office
Phoebe Haddon – Rutgers University
Kimberly Harrington – Acting Commissioner of the NJ Department of Education
Sharon Anne Harrington – Vice-Chair NJ Casino Control Commission
Melissa Hayes – North Jersey Transportation Planning Authority
Lynn Haynes – AMG
Lynda Hinkle – Law Offices of Lynda L. Hinkle
Jeanette Hoffman – Marathon Public Affairs
Deborah Howlett – ACLU-NJ
Michele Jaker – Horizon Insurance
Lisa Mizrahi Kaado – Women's Political Caucus
Carol Katz – Katz Government Affairs
Karen Kominsky – K Street Public Affairs
Jennie Lamon – Office of Senator Diane Allen
Jeannine LaRue – Kaufman Zita Group
Mary Jo Layton – The Bergen Record
Wendy Lazarus – The Children's Partnership
Sarah Lechner – Barnabas Health
Kay LiCausi – Hoboken Strategies
Evelyn Liebman – AARPNJ
Susan K. Livio – NJ Advance Media
Jennifer Mancuso – Office of Senator Bob Gordon
Ruth Mandel – Eagleton Institute of Politics
Samantha Marcus – NJ Advance Media
Marcela Maziarz – NJ Senate Democratic Office
Laurie McCabe – Office of Senator Joe Vitale
Kate McDonnell – NJ Assembly Democratic Office
Patti McGuire – Princeton Public Affairs
Bernadette McPherson – Millenium Strategies
Jennifer McQuaid – Secretary of the NJ Senate
Mary Messenger – NJ Assembly Democratic Office
Audrey Meyers – The Valley Hospital
Kelly Mooij – NJ Audubon Society
Hanna Mori – Office of Senator Cory Booker
Dena Mottola Jaborska – NJ Citizen Action
Tammy Murphy – New Start New Jersey
Mary Noonan – Office of Congressman Chris Smith
Lynn Nowak – Porzio Government Affairs
Theresa O'Connor – Bergen County Superintendent of Elections
Jeanne Otersen – American Federation of Teachers
Arlene Quinones Perez – DeCotiis, FitzPatrick and Cole / President of the Hispanic Bar Association
Jean Rimbach – The Bergen Record
Mary Kay Roberts – Riker Danzig
Betsy Ryan – NJ Hospital Association
Peg Schaffer – Somerset County Democratic Organization
Stacy Schuster – The College of New Jersey
Jenn Sciortino – NJ Assembly Democratic Office
Marsha Shapiro and Louise Walpin – Marriage Equality Activists
Christine Shipley – NJ Senate Republican Office
Milly Silva – SEIU Local 1199
Babs Siperstein – Democratic National Committee
Christine Sloan – CBS News
Nancy Erika Smith – Smith Mullin P.C. / represented Gretchen Carlsen in Roger Ailes sexual harrassment case
Christine Stearns – Gibbons P.C.
Candy Straight – Republican Fundraiser / Producer of Film "Equity"
Grace Strom Power – Feller Law
Jennifer Taylor – NJ Assembly Democratic Office
Patricia Teffenheart – The NJ Coalition Against Sexual Assault
Renee Trabert – Office of the Senate Minority Leader Tom Kean
Jennifer Velez – Barnabas Health
Mary Wachter – Genentech
Debbie Walsh – Center for American Women and Politics
Robin Walton – Thomas Edison State University
Lindy Washburn – The Bergen Record
Shari Weiner – Murphy McKeon P.C.
Melanie Willoughby – NJ Business and Industry Association
Catherine Yaxley – Holy Name Medical Center
Elise Young – Bloomberg
Kate Zernike – The New York Times
Christina Zuk – Princeton Public Affairs Group
Named On PolitickerNJ's 2016 Power List:
Marie Blistan – NJEA
Mary Pat Christie – First Lady of the State of New Jersey
Kellyanne Conway – President-Elect Donald Trump
Tai Cooper – Office of Newark Mayor Ras Baraka
Erica Daughtrey – Office of Congressman Albio Sires
Michellene Davis – Barnabas Health
Lizette Delgado-Polanco – NJ State Democratic Committee
Julie Diaz – SEIU 32BJ
Ginger Gold Schnitzer – NJEA
Brigid Harrison – Montclair State University
Jennifer Holdsworth – Democratic Operative / NJ Director, Hillary for America
Krista Jenkins – Fairleigh Dickinson University
Sarah Jones – Horizon
Eilleen Kean – Komjathy and Kean
Jennifer Krimko – Building A Better NJ Together
Marcia Marley – BlueWaveNJ / Succeed2gether
Laura Matos – Kivvit
Patricia Campos-Medina – LUPE PAC
Analilia Mejia – NJ Working Families Alliance
Lisa Miller – Building A Better NJ Together
Maggie Moran – Kivvit
Trish Mueller – Cammarano, Layton & Bombardieri Partners
Idida Rodriguez – 1868 Public Affairs
Julie Roginsky – Democratic Party Operative / Fox News Contributor
Hetty Rosenstein – Communications Workers of America
Michele Siekerka – NJ Business and Industry Association
Kelly Stewart Maer – NJ State Democratic Committee
Ann Twomey – Health Professionals & Allied Employees
Trish Zita – Kaufman Zita Group