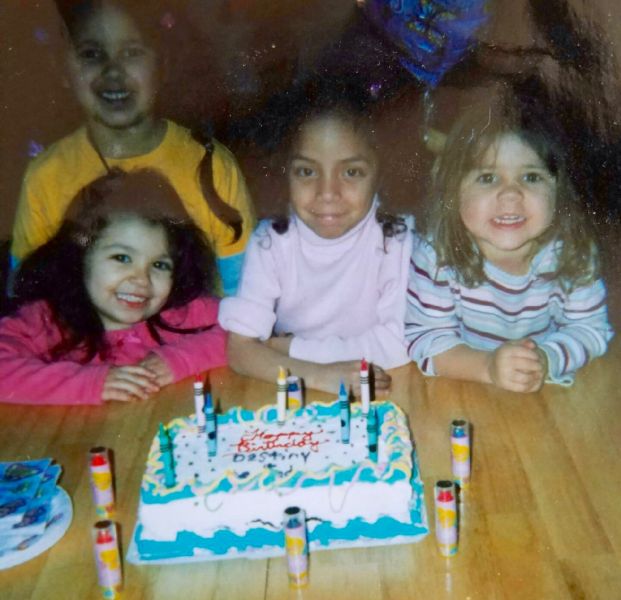 Michelle Sosorio-Walsh came home one day in 2010 to find her wife, Iris, sitting amongst papers and forms spread out on the floor of their home in Patchogue, Long Island.
They had only just begun the search for a child to adopt. After getting married and finding that carrying a child wasn't an option, the couple still hoped to start a family. Michelle wanted to adopt a teenager, because older children often struggle the most with finding a family. Iris hoped to find a younger child, so that they could build memories together from a young age, much like she had done with her nieces and nephews and a girl she babysat in the Bronx for four years.
From 2003-2006, Iris often looked after Destiny Paradiso, the daughter of a family friend.
Iris usually took care of Destiny when her grandmother, who served as the child's guardian, worked. Sometimes, Iris would bring then-four-year-old Destiny to Long Island, where she became part of her large family. She played with Iris's nieces and nephews, celebrated her birthday with them, visited the local zoo and attended karate class. Destiny fondly recalls a few of these memories with Iris's family, including posing for an Easter photo with her cousins.
At 13, Destiny was resigned to aging out of the foster system.
But when authorities removed Destiny from her grandmother's care and placed her in the foster care system at age eight, Iris lost contact with her. Destiny recalled not being able to articulate to the foster care agency who her other "family" on Long Island were and how they were related to her. Her memories of joyful times on Long Island faded.
Destiny was in her seventh foster home on the day Iris noticed her photo on the foster care agency's website in 2010. She was one of more than 10,000 children in the foster care system in New York City, a number that now dropped slightly to about 8,800.
"I've found her," Iris told Michelle from the living room floor. "I found my daughter."
"You found her?" Michelle remembers the initial confusion. How could she be so sure so quickly? Iris showed her the picture on the website, and there she was. They filled out and printed the necessary paperwork and walked into their first class to become certified foster care parents with plans to adopt Destiny.
At 13, Destiny was resigned to aging out of the foster system. After a prospective adoption fell through, and reconnection with her biological family didn't work out, she planned on finishing high school and becoming independent. She remembers thinking to herself, "I don't want to do this again. What if they change their minds?" But after only a short time in Iris' and Michelle's care, Destiny wanted to paint her room purple, a signal to Iris and Michelle that their new family member felt right at home. "They did something for me that even my flesh and blood wouldn't do for me," Destiny, now 17, recalled. "No one has ever made me feel that important. I knew, this is my mom, this is my family, this is where I belong."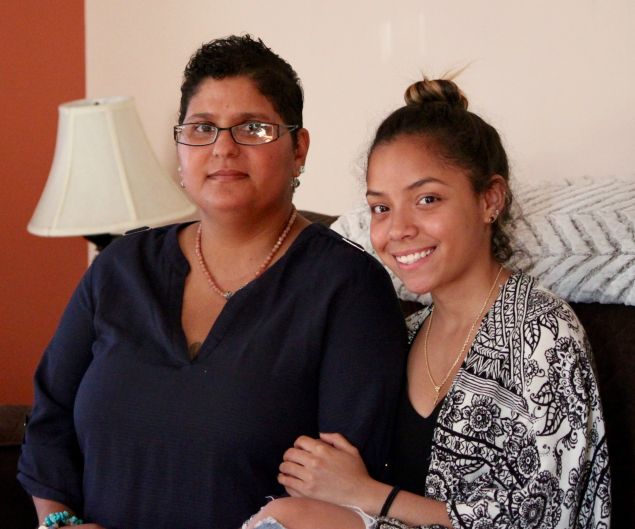 Although a young adult, Destiny is still slight. Her figure is easily hidden in a flowing kimono. She articulately talks about finshing her senior year of high school, and working summers as a counselor in Putnam Valley at The New York Foundling's Camp Felix, where she spent summers while she was in the foster system. She is busy applying to colleges and would like to work with children, perhaps as a teacher or a lawyer. She wants to leave Long Island for college, but doesn't want to go too far. "I'll still want to come home every chance I get," she said about going away to college.
In her college application essay, Destiny wrote that she still has questions about the darker times in her childhood, and fears associated with her past. But she expressed a drive to move forward. Iris closed her eyes to block tears as Destiny read aloud in her small, but steady, voice. "I've found that I am a fighter against all odds," she continued. "I've accepted that there are so many children out there who are facing the situations I faced, probably much worse, probably alone. But I just might have the chance to help. I see a future beyond high school graduation. I've found a loving family and amazing friends, things that at one point in life I saw as too cliché—things that I never even fathomed to believe in until now. This has only been one part of my life."
November is National Adoption Awareness Month. National Adoption Day is November 19th