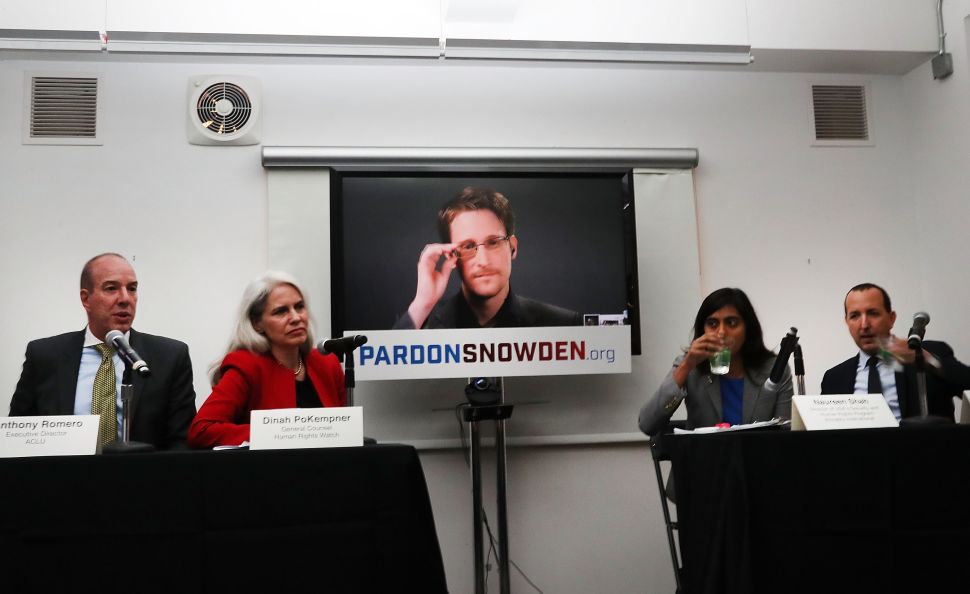 Despite President Obama's (incorrect) claim that he is unable to pardon Edward Snowden because the whistleblower hasn't gone before a court, that hasn't stopped Snowden from continuing to troll the NSA and Obama Administration.
"I can't pardon somebody who hasn't gone before a court and presented themselves, so that's not something that I would comment on at this point," Obama told German publication Der Spiegel in an interview. "I think that Mr. Snowden raised some legitimate concerns. How he did it was something that did not follow the procedures and practices of our intelligence community. If everybody took the approach that I make my own decisions about these issues, then it would be very hard to have an organized government or any kind of national security system."
Shortly after the interview, Snowden pointed out a Washington Post article that noted in the past year and a half, NSA officials have discovered "two major compromises of sensitive hacking tools by personnel working at the NSA's premier hacking unit." Snowden said that, like him, other NSA personnel are revolting against unethical practices conducted within the intelligence community.
Obama's failure to consider pardoning Snowden is an extension of his administration's war on whistleblowers, and the penchant for his administration to either ignore the information they provide to agencies, or use it, but punish the provider.
"All they have to do is write a check," said former banker Brad Birkenfeld, author of Lucifer's Banker, in a phone interview with the Observer. In 2012, Birkenfeld was released from a 31-month prison sentence after approaching the Department of Justice with information that Swiss bank UBS was building their business by helping thousands of wealthy Americans evade taxes with secret Swiss accounts. As part of the settlement between UBS and the United States government, Birkenfeld received over $104 million, the largest whistleblower payout in history, but he noted, "The DOJ investigation was corrupt from the start. Both President Obama and Hillary Clinton were receiving money from UBS." He added, "Attorney General Eric Holder and Loretta Lynch were nothing but political puppets for the Obama Administration."
As secretary of state, Hillary Clinton helped UBS reach a settlement, for which the bank only had to provide the IRS with information on 4,450 of the 52,000 secret accounts it sought. Just weeks earlier, UBS had paid Bill Clinton $1.5 million in speaking fees. UBS then increased their donations to the Clinton Foundation to $600,000.
Former UBS President Robert Wolf has served as a prolific fundraiser for Obama, and is a member of the President's Council on Jobs and Competitiveness. UBS gave over $500,000 to Obama's 2008 campaign. When Birkenfeld testified to the U.S. Senate Committee in late 2007, Obama failed to show up to any of the hearings.
To pursue meaningful prosecution against UBS, Birkenfeld recently testified in a court in France and has been approached to provide information on UBS in a Germany-based case. The cover-up for UBS is systematic of a larger problem in Washington, D.C., where crimes of the elite go unpunished. After the 2008 economic recession, caused by massive fraud and unethical practices by the big banks, not a single banker was prosecuted by the Department of Justice. This immunity continued in the 2016 Wells Fargo scandal, in which the big bank was using extortion to manipulate low-level bankers into defrauding their clients.
Thanks to dubious corporate and financial executives, and prominent corporate politicians like Hillary Clinton, these powerful financial figures have been allowed to escape punishment and justice despite their publicly exposed wrongdoings. Meanwhile, criticisms of a corrupt or rigged system are dismissed by elite establishment figures and media outlets enable it.
Not since the Enron scandal in the early 2000s have high-level, criminal figures been prosecuted by the Department of Justice. Under the Obama Administration, the DOJ has devolved into a partisan institution favoring the politics and wealthy influences tied to the president.
The WikiLeaks emails released from Clinton campaign chair John Podesta revealed Assistant Attorney General Peter Kadzik tipping off Podesta to confidential information regarding how the DOJ was handling Clinton's private email server investigation. WikiLeaks also revealed how Clinton's Press Secretary Brian Fallon, who left a position at the DOJ to work for the campaign, used contacts at his previous employer to obtain insider information from the DOJ to benefit Clinton.
Emails obtained through Freedom of Information Act (FOIA) requests revealed Clinton campaign communications director Jennifer Palmieri, who left the White House to join the campaign, was coordinating damage control with the State Department in regards to Clinton's private email server. Bill Clinton delayed his flight by 20-25 minutes so he could surprise Attorney General Loretta Lynch just days preceding FBI Director James Comey's conclusion of the investigation into Hillary's private email server. The two met for at least 30 minutes, yet no repercussions whatsoever resulted from this and other appearances of impropriety on the part of the DOJ.  
Though it remains to be seen whether Donald Trump will continue running the DOJ as a partisan arm of his administration the way Obama did, the future for whistleblowers doesn't look promising. Snowden noted to an Internet conference in Stockholm via video link that he isn't as worried about Trump's presidency as he might be. 
"The reality here is that yes, Donald Trump has appointed a new director of the Central Intelligence Agency who uses me as a specific example to say that, look, dissidents should be put to death," he said. "But if I get hit by a bus, or a drone, or dropped off an airplane tomorrow, you know what? It doesn't actually matter that much to me, because I believe in the decisions that I've already made."
Disclosure: Donald Trump is the father-in-law of Jared Kushner, the publisher of Observer Media.