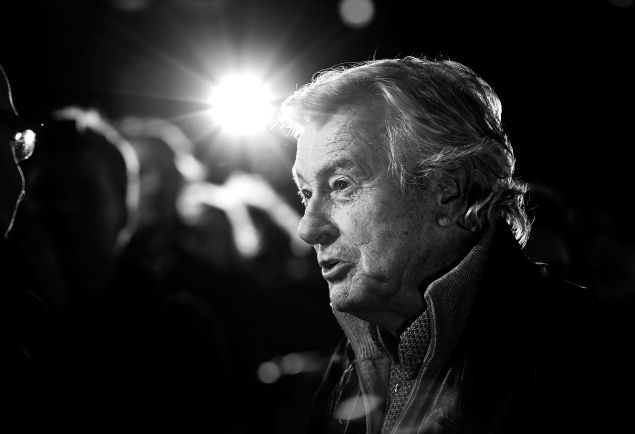 It's not easy being Paul Verhoeven.
The Dutch director, now 78, has spent the last decade and a half in Hollywood exile, watching from a distance as a studio system that seemed to forget he existed kept churning out sequels and comic book movies. While on the surface those films seem cut from the same cloth as his landmark spectacles like 1987's RoboCop and 1990's Total Recall, they are devoid of the campy subversiveness, and the need to disturb as much as delight audiences that has made Verhoeven's work so singular. And no one is more painfully aware of this than the man himself.
"For me, the pinnacle of this was Batman vs. Spider-man," says Verhoeven, who should be forgiven for mixing up his superheroes, because, you know, he's an adult. "I mean, how low can we get? I don't know. As long as these comic book movies, Marvel and whatever, are successful they are going to make them. But these movies don't go into very audacious territory, do they? I don't know. I thought this all would be over after five or six years but it's still going on and on."
Back in 2001, Verhoeven took his ball and left. The man who reinvented adult thrillers with 1992's Basic Instinct returned to Europe (he was born in Amsterdam) and started the arduous process of making foreign language films that are intensely personal, psychologically prickly and kinky in a way that American movies have not been since the industry went goo-goo eyed for teenage boys and overseas markets. His pace so far has been slow: last week's French film Elle, sewn from similar thread as his 2006 Dutch film Black Book, is just the second movie he has made since he left. Elle also marks the most powerful collaboration in Verhoeven's 45 years of making movies. As Michèle, a video game CEO who refuses to be undone by any man, especially the one that repeatedly rapes her, Isabelle Huppert's performance proves that Verhoeven does in fact make superhero movies.     
"It was a very intuitive collaboration," says Verhoeven, who only seems to refer to the two-time Cannes Film Festival Best Actress winner by her full name. "We never really discussed the character. We were both working from the same angle and with the same intuition. Her willingness to go into unknown directions is really unmatched. She herself doesn't know how far she will go. All of that is Isabel Huppert. I feel that if you are directing Isabelle Huppert you really should not say too much. In this case if I had interfered, corrected or added – if I had said, 'Do this, do that,' I think I would not have made a better movie. On the contrary it would be much worse."  
Adds Verhoeven, with an odd mix of pride and sheepishness, "If Isabelle Huppert does not exist on this earth then this film should never be made. Of course I did not feel that way at first. I wanted to make this film in the United States, but that didn't happen."
I think fear is very important in filmmaking. Fear makes you creative."
Even as he speaks with pride of a film and performance that have both been critically lauded by all save the guy with the beard who blogs for the New Yorker, Verhoeven still clings to Hollywood, where he did indeed try and fail to get Elle financed without Huppert before finally making it in France for somewhere in the neighborhood of $8 million. It is almost as if for him the studio system was a former lover he refuses to unfriend on Facebook despite the fact that she's married an insurance adjuster. It is not exactly surprising that studios had little interest in making a movie where the protagonist responds to her own brutal rape as if it were no more than a minor inconvenience and then seems to court her attacker afterwards. The shock is that Verhoeven keeps asking for another date.
"I do not feel that it is something I need to do, but I would make a film for the studios immediately if there was a script that I would like and could do something with, you know," says Verhoeven, whose Hollywood exodus was preceded by the three film run of 1995's Showgirls, 1997's Starship Troopers, and 2000's Hollow Man. "But it would to be something that has not been done yet, something that is a little bit controversial, a little bit out there. There has to be an audacity to it. I have never done any sequels. It must be something that I have not done before, something that maybe I even fear to do. I think fear is very important in filmmaking. Fear makes you creative."
Sadly, not the fear in which Hollywood trades. "Everything now is about making money, much more so than when I first came here," explains Verhoeven, who in his time away from Hollywood has seen both Total Recall and RoboCop bloodlessly and unsuccessfully reborn. "Coming with new ideas – it is all too audacious now. You cannot be sure what you get when you do that and the studios want to be sure. I think that is what is behind these remakes and these PG-13 spectacles, isn't it?" 
It seems like a unique challenge to be trying to sell a film like Elle— critics are labeling it a "rape revenge thriller"— at a time when Americans feel uniquely attuned and unnerved by the threat of sexual assault.
It's not like he is waiting for you to answer, but yes, it pretty much is. Now Verhoeven faces the possibility that the same fate that befell his acknowledged American classics will soon meet his beloved-by-a-devoted-few anti-Fascist alien bug-fest Starship Troopers. "They say they are going to go back to the novel, and I say good luck with that," he says with a shrug. "I think the novel is mostly prejudiced so maybe it will be a good movie for these times."
Speaking of films of our times, it seems like a unique challenge to be trying to sell a film like Elle— critics are labeling it a "rape revenge thriller"— at a time when Americans feel uniquely attuned and unnerved by the threat of sexual assault. While the subject hardly ever came up while he was promoting the film in Europe and Canada, both he and Huppert have been inundated with questions about the film's depiction of rape and sexual violence in the United States. When asked at the Gala Premiere of the film at Los Angeles' AFI Film Festival last Sunday if she was concerned about the movie's violence, Huppert said she was worried that it wouldn't be violent enough. "Without violence," she said, "there is no film."
Which is to say, anyone looking forward to a taste of the sexual playfulness Verhoeven displayed in Basic Instinct and even that notorious desert howler Showgirls will likely be disappointed. "The sexuality I reduced to almost nothing," says Verhoeven, who most sensual scene in Elle involves Michèle masturbating while watching a neighbor set up a nativity scene through binoculars. It's a scenario that could only have been devised by a Jesus scholar (which Verhoeven is) with a Hitchcock obsession (which he has). "For me, rape is basically straight-out violence. Normally you would show the body and the breast and all of that, but I reduce all of that to split seconds. The violence should be abrupt and disgusting. There would be no other way to look at what happened other than as a violent assault. In this case, the assault is by penis."  
But is this really the best time to be confronted with such a thing? Actually, yes, it is, according to Verhoeven. "After the tragic loss of Hillary Clinton, isn't it nice to have here a woman who wins?" he asks with a devious sort chuckle, one of his many rhetorical questions to which you gamely nod along. "In this movie, Isabelle Huppert's character of Michèle is clearly somebody who is refusing to be a victim in any way. She is a character that is not willing anymore in her life to suffer under the consequences of bad behavior of other people, especially men. She refuses to let it so much as influence her day. So for everyone who was so happy and eager to see Hillary Clinton as President of the United States, maybe it will be consoling to them to see this woman get to exactly where she wants to be."