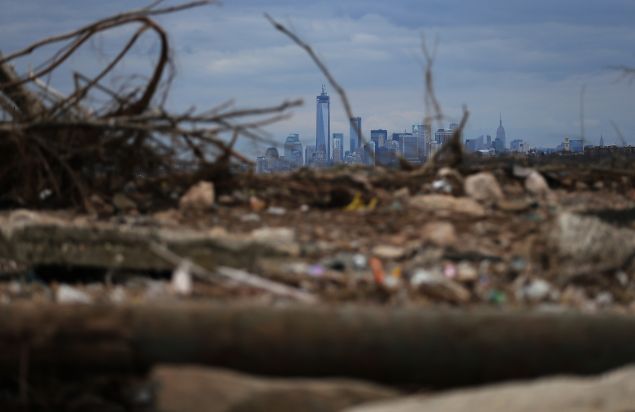 City Comptroller Scott Stringer arranged a $1.8 million settlement with a contractor he savaged in March 2015 for flawed and incomplete work it did for the city's post-Hurricane Sandy Build it Back program—a contractor that has donated $8,563 to a political action committee that has in turn given $8,000 to Stringer's campaigns.
At the end of last month, Stringer's office agreed to pay the URS Corporation $1.8 million out of the $5,423,850 the company requested to cover work it performed beyond the scope of its original contract with the city, according to a copy of the settlement the Observer received late Friday afternoon and which DNAinfo reported earlier this evening. In March 2015, Stringer's audit found that Hurricane Sandy victims did not receive relief as contractors took in $6.8 million from the program despite mismanaging application paperwork, rolling out shabby software and filing incomplete work.
The audit found that URS and Solix—two subcontractors of the main Build It Back contractor Public Financial Management, which exited the program in December 2013 after collecting $17 million of its $50 million contract—both received payment for incomplete work such as applications lacking critical documents.
URS hired unqualified workers as case managers and poorly communicated with applicants who were missing key information, according to the audit. Since 2014, the company has belonged to the Los Angeles-based engineering firm AECOM.
AECOM, AECOM US Federal PAC and URS have contributed a combined total of $8,653.38 to the American Council of Engineering Companies of New York PAC, according to an analysis the firm Competitive Advantage Research LLC conducted at the Observer's request.
URS alone contributed $1,858.13 between November 2006 and September 2013. AECOM, for its part, contributed $5,295.25 between March 2010 and October 2014. And the AECOM US Federal PAC contributed $1,500 between February 2012 and March 2014.
In turn, the American Council of Engineering Companies of New York PAC disbursed a total of $7,950 to Stringer. The PAC gave its largest contribution to the Stringer 2013 campaign, $4,950, on Aug. 8, 2013 and gave him $1,000 on Jan. 6, 2015 for the Stringer 2017 campaign—both before Stringer released the results of the audit in March 2015.
But after the audit was released, Stringer remained engaged with the PAC. The PAC contributed $1,000 to the Stringer 2017 campaign on Dec. 7, 2015 and another $1,000 to the same campaign on May 23.
The comptroller's Stringer 2017 committee has not yet specified what office it is raising money  for—stoking speculation he might challenge Mayor Bill de Blasio in the Democratic primary next September.
"We decline to comment—the insinuation here is almost too ridiculous, insulting, and inaccurate for words," Devon Puglia, Stringer's communications director, said in an emailed statement.
AECOM declined to comment.
Mayor Bill de Blasio also received a $1,000 donation from the PAC on Oct. 1, 2013, according to New York City Campaign Finance Board records.
The comptroller's Judgement and Claims Fund overruled the mayor's Human Resource Administration in making the payment, according to dispute resolution determination dated Nov. 2 that the comptroller's chief engineer, Richard Zetterlund, sent to Vincent Pullo, HRA's chief contracting officer.
The document also stated that if funds are still available in the contract, the contractor would be charged for the settlement amount and that the project's capital budget code would be charged otherwise.
HRA and the city's Housing Recovery Office said they objected to the settlement because URS did not perform extra work under the contract entitling them to compensation, noting that the extra work was in the form of option review meetings that were sometimes necessary to help applicants navigate various processes.
They also said that any additional unanticipated work performed by URS was solely as a result of its own failures and that to the extent that URS did perform extra work, the company has already been sufficiently compensated.
"We took a program that clearly wasn't working and turned it around," Raul Contreras, an assistant press secretary for Mayor Bill de Blasio who handles Sandy recovery inquiries, said in an emailed statement provided to the Observer. "We do not support providing additional payments for subpar or incomplete work."
Contreras said that while it does not currently have a contract with the URS Corporation, it still has a contract with Solix that ends in December.
Tyrone Stevens, Stringer's press secretary, said the settlement is "emblematic of the entire Build-It-Back program" that he said has been plagued by "shoddy oversight" and a failure to effectively monitor the work of its consultant companies, which "has fundamentally exposed the city to legal claims—and therefore spawned this settlement." He blamed the settlement on the Housing Recovery Office.
"While families will still be in exile from their own living rooms this Thanksgiving, those running Build It Back have put the city in a tenuous legal position directing contractors to perform work off-contract," Stevens said in an emailed statement provided to the Observer. "HRO's general counsel attended the settlement talks—the city was very much aware of and a part of this settlement. We have had to clean up HRO's mess, but we did so at a steep discount—33 cents on the dollar."
This comes just as the de Blasio administration has found itself battling the federal government over how effectively it managed funds provided to the city for the Build It Back program.
The mayor upset City Council members when he allocated $500 million in taxpayer funds without a Council vote to fill a shortfall in the Build It Back program, as reported by The Wall Street Journal—and over his announcement in the Mayor's Office of Recovery Operations' recent progress report that the city will not complete all single-family Build It Back homes by the end of this year. De Blasio has blamed the delays on "the tangle of bureaucracy."
This story has been updated to include a contribution Mayor Bill de Blasio received from the American Council of Engineering Companies of New York PAC.