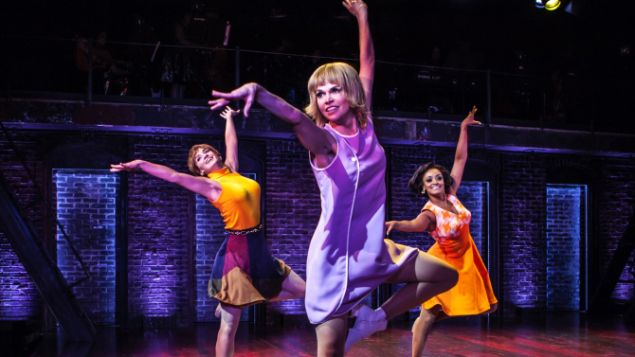 Scaled-down, cost-trimming, reduced-cast productions of Broadway shows with a handful of performers playing multiple roles on stages the size of dish towels are understandable, especially with Reader's Digest condensed versions of once-lavish musicals. But in the case of noisy, splashy extravaganza such as the smash hit Sweet Charity…conceived, choreographed and directed by the imaginative, innovative Bob Fosse, with a lighthearted book by Neil Simon, a splendiferous score by Cy Coleman and Dorothy Fields, and starring the legendary Gwen Verdon, penurious circumstances with a cartoon set and an all-girl band of six where the orchestra should be can seem downright calamitous.
The new Sweet Charity, an Off-Broadway offering by the New Group at the Pershing Square Signature Center on 42nd Street, is obviously aimed at tourists who have never seen the show, or a generation in infancy when the original production opened at the Palace to standing ovations on a snowy January night in 1966. A clumsy movie version in 1969 with Shirley MacLaine did nothing to preserve fond memories. And neither does this new Off-Broadway revival with the brassy but lackluster Sutton Foster. Mediocre is its middle name.
It's the same story, based on Federico Fellini's famous Italian film Nights of Cabiria which catapulted his wife, Giulietta Masina, to international stardom as a waifish Roman prostitute who always dreams of the happiness love can bring but finds only sorrow. Neil Simon changed the damaged streetwalkers to weary dime-a-dance hostesses in a tawdry ballroom who just wanna show big spenders "a real good time" at 10 cents a ticket.
Verdon, with her crooked grin, red mop of hair and voice like a crow with a cough, turned the star role of Charity Hope Valentine into an endearing fool and victim with fallen arches, a heart of gold and the dance technique of a whirling dervish. She was heartbreaking and out of this world. Sutton Foster is merely out of her element. Despite numerous rejections by a stream of good-for-nothing boyfriends who steal her hard-earned money and her misplaced trust, she's too big and tacky to be heartbreaking. Vittorio, the Italian movie star she runs into during an evening stroll, is now Joel Perez, who displays a big voice on the operatic ballad "Too Many Tomorrows" but plays so many other roles in the show that his appearance as the dashing film idol loses the value of surprise. But at least he still takes Charity out on the town and brings her home for what she mistakenly hopes will be a night of love, all of which gives her the opportunity to sing "If My Friends Could See Me Now" as well as play her best scene—hilariously making a sandwich to wolf down while she hides in the closet from Vittorio's jealous girlfriend. Foster works hard to make you feel like she's not working hard but comes off best in the combustible numbers that come naturally.
Gwen Verdon was a one-woman roller coaster ride when she sashayed across the Palace stage in 1966, singing the show-stopping "I'm a Brass Band." You really believed she was everything from the Philharmonic to the Modern Jazz Quartet. Foster is O.K. at surface emotions, but she's never touching or tragic. She's a waif who is a bit too zaftig to be gamine. This show is truly haunted by the magic of Gwen Verdon.
The bittersweet ending (rejected and abandoned again by yet another heel) is true to the Fellini classic, but the fate of a prostitute could make you cry. Sweet Charity falls flat because aside from a dull job with corns on her heels, there's nothing tragic to dread about the fate of a taxi dancer too lazy to work a Christmas shift at Bloomingdale's.