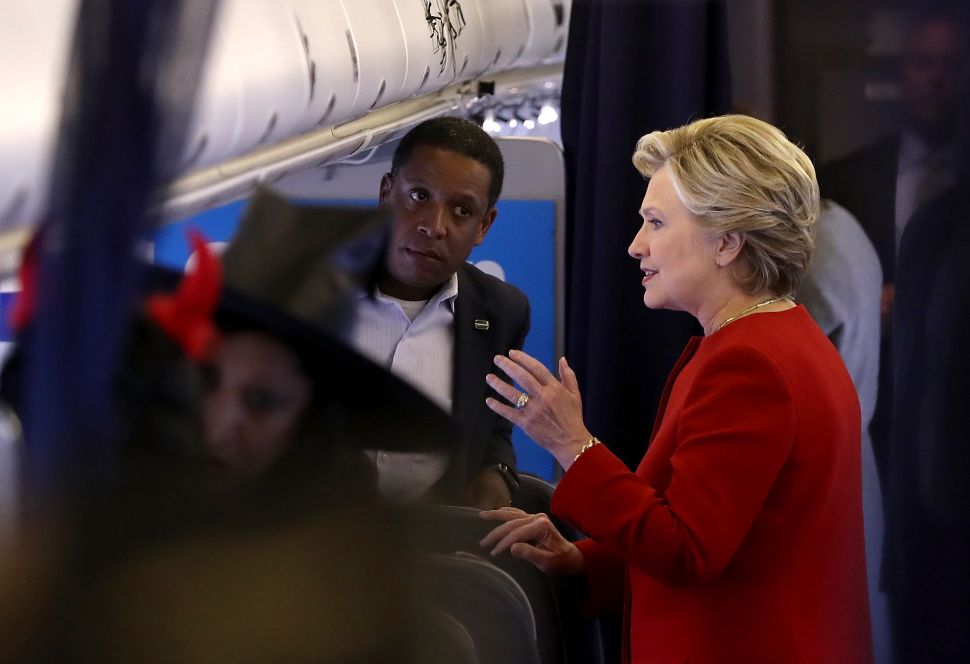 Does anyone remember the movie "School Ties" with a pre-pudge Brendan Fraser and a young, non-preachy Matt Damon?
The story revolves around Fraser as he deals with being Jewish at a school filled with anti-Semites. When one of his classmates, Charlie Dillon (played by Damon), cheats on a test, the anti-Semitic students blame David Greene (played by Fraser). Greene and another classmate—the deliciously named Rip Van Kelt (played by a Randal Batinkoff, who somehow managed not to go on to great stardom)—saw Dillon cheat, but didn't report it.
In the end, Dillon is expelled after Van Kelt comes forward to expose him. Dillon was definitely wrong, but Greene and the other student also broke the school's honor code by not reporting.
Not wanting to rat on your classmate is nothing compared to Democratic presidential nominee Hillary Clinton and her staff failing to disclose that they received debate questions in advance from then-CNN contributor Donna Brazile.
This all started—as far as we know so far—back in March 2016, when Brazile sent the Clinton campaign a copy of a question that would be presented to her at an upcoming debate.
The email subject read: "From time to time I get the questions in advance." The body of the email from Brazile read: "Here's one that worries me about [Hillary Rodham Clinton]." Included in the email was a question about the death penalty. An extremely similarly worded question was asked at the debate.
We only know about this email because of the illegally obtained documents released by Wikileaks. In the wake of this disclosure, Brazile (now also the Interim Democratic Party Chairwoman after Debbie Wasserman Schultz stepped down for seemingly rigging the primary in favor of Clinton) went on Fox News and adamantly claimed the emails released by Wikileaks were "doctored."
"I have seen so many doctored emails. I have seen things that come from me at 2 in the morning that I don't even send," she told Fox's Megyn Kelly. "There are several email addresses that I once used."
She added that the emails had "not been verified" and that, "as a Christian woman," she understood "persecution."
And we thought life went on. But on Monday, Wikileaks released another email from Brazile to the Clinton camp, this one was sent a week before the one I mentioned earlier about the death penalty.
Brazile sent an email to the Clinton campaign with the subject: "One of the questions directed to HRC tomorrow is from a woman with a rash."
I'm sure the woman who asked the question is thrilled at being described that way.
Brazile followed up that subject by writing: "Her family has lead poison and she will ask what, if anything, will Hillary do as president to help the [people] of Flint [Michigan]."
She added: "Folks, I did a service project today. It's so tragic. And what's worse, some homes have not been tested and it's important to encourage seniors to also get tested."
The release of this second email prompted CNN to announce that it had actually severed ties with Brazile back on Oct. 14 when the first email was released, saying the network was "completely uncomfortable" with what Brazile did.
But what about Clinton? Did her staff prep her about the Flint water crisis and the death penalty without telling her a question was coming? Perhaps, and maybe Clinton wasn't suspicious about the seeming randomness of the death penalty question. But even if Clinton herself didn't know, some of her top staffers clearly did and prepared her for the questions.
While people are calling for CNN to investigate how Brazile got the questions in the first place, I'm not seeing a lot of people condemning Team Clinton for failing to disclose that they received the questions in advance.
Also, did this only happen in the primary? Or did Clinton receive questions in advance of her debate with GOP nominee Donald Trump? He's already on the trail talking about a "rigged" election, and this would certainly feed into that narrative.
I really think it's time to start asking the Clinton campaign some questions about these debate questions. It might also require an apology. Or at the very least, someone should be standing in the rain yelling "Cowards!" a la the climax of School Ties.