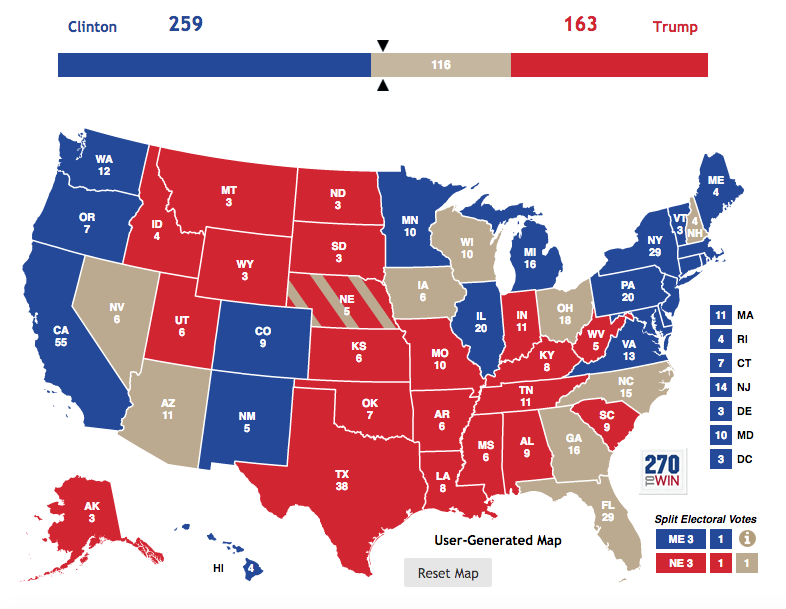 Donald Trump made headlines recently by criticizing the process of electing a president. But not even he has made an issue of the built-in bias associated with the Electoral College, where residents of some states have more of a vote than citizens of other states.
To demonstrate this, I had my students tally up the Electoral College votes for each state, after showing them how the votes are calculated (one for each member of the House of Representatives and each Senator). Then I had them gather data from the U.S. Census Bureau. And they were stunned by the results.
In my former home state of Texas, residents of the Lone Star State get one Electoral College vote for every 722,871 residents. There are 711,723 Californians for every Electoral College vote the state casts each presidential election. Behind these two, Florida weighs in with 1 vote in the Electoral College for every 699,009 Floridians in the state. New York claims one Electoral College vote for every 699,520 people who dwell within the state, a similar number to what is reported by North Carolina.
Meanwhile, other states have their citizens wield a lot more influence on Election Day. For example, there's only one Electoral College vote per 195,369 residents of Wyoming. For the land of Bernie Sanders, there's one Electoral College vote per 208,680 Vermonters.
Washington DC residents are lionized by the press for not getting a vote. But that's not the case, as the district gets three Electoral College voters, which is one per 224,076 residents, a much more favorable ratio than Florida's. There's also Alaska (1 Electoral College votes per 246,144 people) and North Dakota (252,309 residents for each Electoral College vote the state gets) who are getting a good deal on this electoral flaw.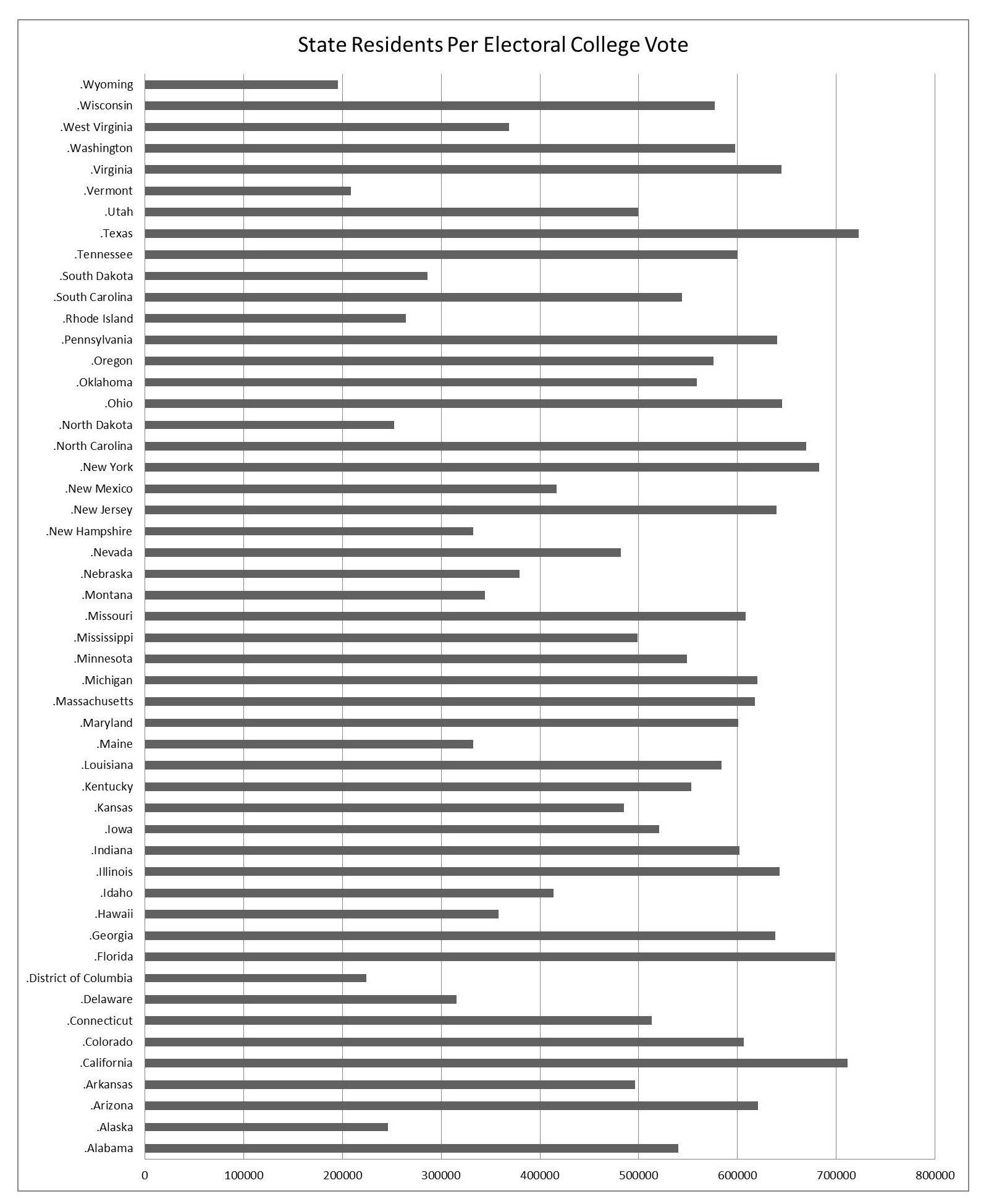 You are probably thinking "What gives?" Shouldn't it be one person-one vote? That's the case in the popular vote, but not the Electoral College. By now you've figured out that the bias is geared toward small states, more than anything. Yet small states need the biggest break, you suppose. Besides, it's not like it is enough to tip the election, right?
First of all, it is a problem. Despite having some of the most Electoral College votes, California, Texas and New York don't get many campaign visits or issue ads, though the Big Apple will play host to both of the top candidates on Election Night.
Second, there are a fair number of states with close vote totals, and not all of them are big ones like Ohio, Pennsylvania and Florida. Nevada is neck-and-neck, as is New Hampshire and New Mexico.
Third, this election could be as tight as the Bush-Gore 2000 election, where nearly every state could serve as the margin of victory, with no room for error.
But the system also does violate that spirit of fairness that leads to a "one person one vote system," especially if a Delaware citizen's vote is worth twice that of a Georgian's. Perhaps it is time to do away with the Electoral College. Already, presidential candidates camp out in a handful of states, ignoring the majority of states, which are seen as "uncompetitive." That's why both parties crisscross North Carolina, but rare touch South Carolina, even though everyone's vote should matter as much,
Earlier this year, in April, the Supreme Court upheld the "one person one vote" in the case of Evenwel v. Abbott, where residents were upset that their votes were worth less than residents of other districts. Now it's time for a similar Supreme Court challenge, on the nation's voting laws. These cases, such the one where a state's ballot is worth three times that of another state's voter, are too great a factor to ignore for a country cynical enough already about how votes are to be counted.
John A. Tures is a professor of political science at LaGrange College in LaGrange, Ga. He can be reached at jtures@lagrange.edu.