What sane music fan would want to hear "songs that were released 40 years ago on an album that never really sold well because the sound was pretty lousy"? As The Heartbreakers guitarist/vocalist Walter Lure recently discovered, enough people to sell out three NYC shows in short order, incite fans to fly in from around the country, and garner interest for gigs in Japan and the U.K.
"It was totally amazing. I'm going, 'What is this? Some sort of zombies from the grave?' " says Lure. "It's almost like some sort of a demon put a spell on this thing."
The album in question is The Heartbreakers iconic 1977 L.A.M.F. (Like A Mother Fucker), a legendary 34-minute spew of shambolically genius downer punk anthems like "Born to Lose."
The raucous supergroup was formed by ex-New York Dolls guitarist Johnny Thunders and drummer Jerry Nolan, then joined by ex-Television bassist Richard Hell (who was replaced by Billy Rath) and Lure. Their 1975-1979 heyday took the quartet to London when the Sex Pistols invited the band to open the "Anarchy Tour," 19 dates that ended up being only three shows thanks to show cancellations due to the Pistols' antics. That kind of now-legendary drama was par for the course.
Lure, 67, is the last man standing from The Heartbreakers—Thunders and Nolan died from drug-related issues in the early '90s; Rath passed just two years ago at the age of 68. But Thunders' devil-may-care rock star legacy still looms large; he's pretty much the icon of East Village junkie cool.
Lure, a retired stockbroker (!), has continued to perform live for decades, most prominently with his band the Waldos. But the ante is now upped, thanks to urging from singer/songwriter Jesse Malin (D Generation), who is one of Bowery Electric's owners, where the band will perform on November 15, and twice on 16. "Most of my New York shows are at the Bowery, and Jesse said, 'how about betting a bunch of well-known musicians together and do all the songs?' "
[youtube https://www.youtube.com/watch?v=nYNM6_O3MjU&w=560&h=315]
"I said, 'Really?!' I think they might've mentioned [Blondie drummer] Clem Burke had already signed on, but the other musicians I wasn't sure about. They were trying to get [ex-Sex Pistol] Steve Jones. And they were offering good money, too, so I said, 'O.K., yeah. Sure, why not?' "
Malin's raison d'etre in putting together the tribute gigs is pure: "This is just such a classic rock 'n' roll record that needs to be given more attention, and Walter Lure is still a vital performer with the power to deliver these songs in their true degenerated glory. I wanted to serve him up with a band that has lived this music and could certainly bring it. It's also been 25 years since Johnny's passing."
After the show went on sale online, it sold out in hours. A second night was added. Then a second show on the second night. (November 15 and 16.) Finally, another show at Webster Hall on November 15, making two gigs at two venues in one night.
"When you sell one show out in 20 minutes, and you have to put two more up, you know there's something really special happening," says Diane Gentile, a musician/songwriter and GM of The Bowery Electric.
L.A.M.F., the band's only official album, "sort of killed the band when it was released," recalls Lure, speaking from "the house that Wall Street bought" in Bayside, Queens. "There have been better versions of it released in later years."
Still, a ramshackle band who wrote songs about heroin ("Chinese Rocks")—"Somebody called me on the phone / They said, "Hey, is Dee Dee home? /Do you wanna take a walk? You wanna go cop? /You wanna go get some Chinese Rocks?"—likely wasn't fated for longevity.
Paying homage to Thunders and The Heartbreakers isn't new. While the last reunion with original members was in 1990, "Every year, for the last five or eight years or so, they have these Johnny Thunders birthday bashes at Bowery Electric, and they play some Dolls and Heartbreakers as well."
This outing, though, the record's 12 songs will be rendered by Lure, Burke, ex-MC5 guitarist Wayne Kramer and Replacements/Guns 'N' Roses bassist Tommy Stinson. "I didn't know who Tommy was; Wayne I knew back in the '80s. When he got out of jail [in 1975; he sold cocaine to federal undercover agents], he started playing with Johnny [Thunders] in Gang Wars, then I'd meet him at people's houses or apartments, and we'd go buy dope every now and then together. I've always gotten along with him."
Another iconic guest for the shows is "Handsome Dick" Manitoba of the Dictators (and the Lower East Side bar that bears his last name). Lure chuckles when he's brought up.
"Yeah, there was always a divide between The Dictators and The Heartbreakers. I had nothing against him; the music divide, it goes back. We had said to him, 'We thought you hated the Heartbreakers,' and he told Jessie, 'No, I always loved the band, I just hated Johnny.' I said, 'That's fine, what the hell.' "
The shows will be longer than the half-hour album itself, but not by much. "We're going to do [Thunders' solo tune 'You Can't Put Your Arms Around A] Memory' and [the Lure-penned 'Too Much] Junkie Business.' The shows will be fairly short; it's not going to be this three-hour Bruce Springsteen thing." 
[youtube https://www.youtube.com/watch?v=TknY89kECq0&w=560&h=315]
L.A.M.F. will be played start to finish, from the sweaty sing-along "Born to Lose," which was often jokingly referred to as "Born Too Loose" to the last song, "Let Go." Of course, it wasn't Lure's choice to tackle the album in this manner. Back when the record was finished, sequencing wasn't much of a concern. "We didn't know the strength of some of the songs and where they fit. 'One Track Mind' mind should be at the beginning of the set because of the drumbeat. When we did it on the album, we didn't really think about the arrangement of the songs that much."
That said, tradition and fans demand the album be performed in order, and Lure is happy to oblige: "That's no big deal, I can live with that." It's not like L.A.M.F. is a concept album, as the singer/guitarist chuckles, "Our only concept was to get this thing done so we could get more money to buy more dope."
The performance may also not be note-perfect to the album: "The songs have evolved. The arrangements I've done over the years, I've shortened some or put in extra solos. [The band] will learn the original versions, and I can listen to L.A.M.F., too; I think I have a copy at my house somewhere. I'll have to go over some of the stuff I haven't performed all that much in recent years, but I've known the songs in the past. I've just forgotten half my solos, but I'll just make up new ones or something. I'll get creative."
With the renewed interest may come new money, though the concept of selling out was never one that concerned The Heartbreakers. "Oh, no. No, we'd always take the money first. We were not proud like that," Lure says and laughs.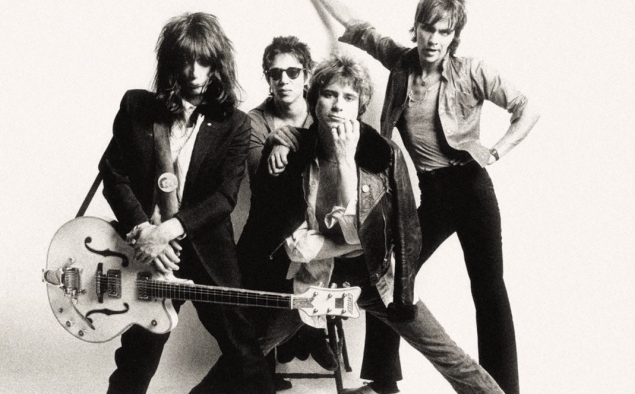 "Not that there were all that many requests, because by the time The Heartbreakers got to be anywhere, before we broke up, everyone knew we were raging junkies. There weren't that many shows about raging junkies back then, and they didn't want to sell vacuum cleaners using 'Chinese Rocks' as a background."
As for the future of The Heartbreakers music and live shows? It's an open door.
"I'm not carrying any Heartbreakers torch or trying to sell anything," Lure affirms. "It's fun to keep on doing it and playing it, as long as I can. In the end [of The Heartbreakers], it turned out to be drugs, drugs and more drugs. The band was great when we were going—you couldn't get a better band—but then Johnny couldn't do anything unless he was out of his mind on drugs, and then everybody was strung out by that time. I'm not trying to turn it into some sort of self-perpetuating industry. I'm happy to do it, because it's fun, and also gives me something to do because I've retired. If it stopped tomorrow," he concludes, "I'd probably miss it, but I would just play more tennis and golf."