This year was a particularly cruel parade of loss for music fans, but we can take some comfort in the fact that artist legacies have outlasted the temporal relevance of a 24-hour news cycle.
The deaths of several true originals have been liberated from the Arts & Culture verticals, with their ever-vanishing print ad sales and ever-shrinking coverage, into evergreen status. And among the news gathering community, wherein arts journalism is often treated as fluffy and inconsequential, the question of whose stories outlast time will always lead the most intrepid ears back to the music.
Prince's life and work were too alive to simply vanish into an obituary, and if that vault with thousands of hours of unreleased music is ever shared with the public, an onslaught of new Prince releases might literally outlast us all. The circumstances surrounding his death also brought fresh relevance to the epidemic of opioid ubiquity in 21st century America, and put eyes on the pharmaceutical lobbyists who continue to profit from it.
David Bowie's orchestrated exit became a meta-textual comment on the nature of legacy in of itself, with his stellar final album, ★, acting as an inter-dimensional portal of button-eyed visions and esoteric ritual. Back in May, months after the album had been released, a fan discovered that if you expose the ★ vinyl to sunlight, a galaxy of stars appears in the shape's seemingly empty void. Ever the innovator, Bowie found a way to continue filling us with wonder even after his final blast off. Indeed, he couldn't give everything away.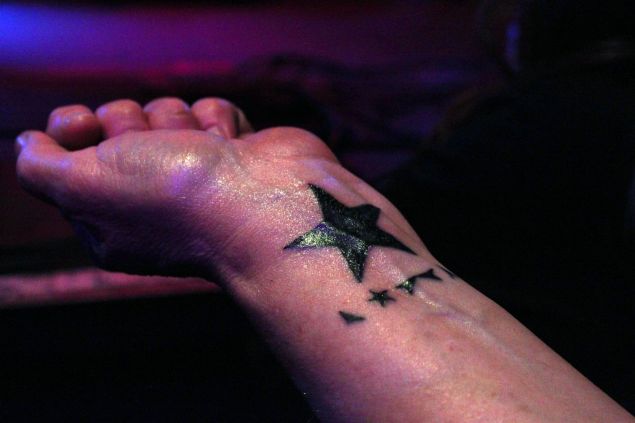 The great soul singer Sharon Jones passed away last week, too, after a prolonged battle with pancreatic cancer, joining the ranks of brilliant creative minds that 2016 has claimed. Together with her backing band The Dap-Kings, Jones became the star of Gabriel Roth's Daptone Records, bringing back the analog production of "vintage soul" into the new millennium. But Jones didn't just evoke a lost era—she channeled it, earning that rare and oft-ignored understanding of the word "timeless" as that which, quite literally, exists outside of time.
Jones' career was jumpstarted in her 40s when she linked up with Roth, and since then Daptone has developed a reputation as legacy builders for working with older artists like Charles Bradley. It's a community that continues to nurture young groups like The Frightnrs and has extended out into other labels like Big Crown Records.
But there was not, and will never be another Sharon Jones.
Even after losing her hair to chemotherapy she was back on stage with vitality, hips swinging, belting into the night. Prince knew it when he played with her. Lou Reed, too. And Iggy Pop recruited her for his cover of Bowie's "Tonight", which he performed at the Carnegie Hall tribute to his late friend. "I have cancer," she said. "Cancer don't have me."
In death, memories of listening to an artist's music are intensely personal. The first date with my girlfriend was a Sharon Jones show by the Hudson River. The anecotes people shared of meeting Bowie on the street or at a show all revealed how kind and unpretentious he was. The stories of Prince's mentorships, particularly to young women of color, were inspiring. A friend recounted his time as a delivery boy, when he brought a brown box up to Leonard Cohen's apartment and Cohen answered the door with his bathrobe undone.
"Fuck your idols, don't kill 'em!"—Jonathan Shaw
When the people who inspire us die, the oral histories and seemingly unglamorous actions of their daily lives are suddenly illuminated, tied those who shared the world with them.
Consider Sharon Jones having a stroke just as the election results came in. "She told the people that were there that Drumpf gave her the stroke," Gabriel Roth said with a laugh. "She didn't seem anxious or scared or anything. She just wanted to sing, you know, and every time there was a lull in the room she would start moaning some kind of gospel song." She passed away surrounded by her band-mates.
The night before, Leonard Cohen fell in the middle of the night, and died in his sleep. In these times, it's understandably hard to separate our loss from the brutal foreboding zeitgeist of this year. But we must not taint their legacies with our tears for the state of the country, as those legacies are meant to bring us together, not drive us apart.
When I profiled Brooklyn Bowl's Peter Shapiro, he told me about his venue's constant shape-shifting, often turning into a makeshift place to grieve. "People sat shiva for Prince at the bowl," he said. "Prince died on a Thursday, so Questlove was already there [for his DJ residency night, Bowl Train]. When Phife [from A Tribe Called Quest] died that was also a Thursday, and people mourned."
We're thankful to live in this city, where culture and art are much more than simple ephemera. When Bowie passed away, a small portion of the block outside his Lafayette Street Apartment became a shrine. Among the tributes, Ziggy Stardust drummer Woody Woodmansey joined with Bowie's producer Tony Visconti for a loving show at Highline Ballroom that moved the whole room to tears, together.
Leonard Cohen's "Suzanne" still plays out of the Clock Tower by Montreal's St. Laurent river, while projections of a muse dance around the tower's surface against the night.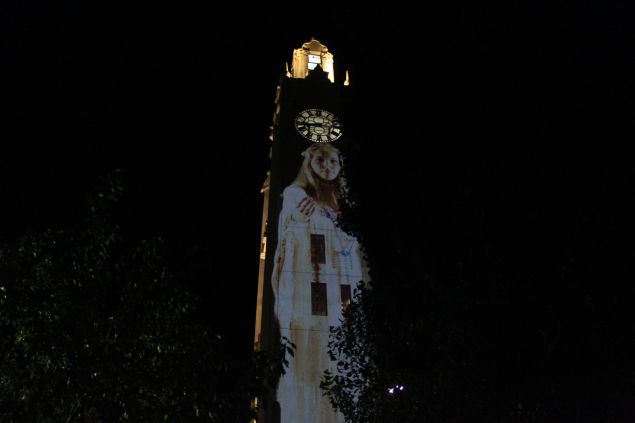 Communal healing is important. It's why the people who can afford it go to group therapy, and why institutional houses of worship exist at all. With all of the talk about how the country needs to come together, maybe a celebration of those we've lost is the path to get there. Not in memoriam, or even in tribute, but in jubilee.
Comb through Leonard Cohen's litany of poems that never made it on an album. Make love to Cohen's "Take This Longing" or make lust with Prince's "Kiss" playing in the background. Invite your friends over to watch the great Leon Russell's A Poem is a Naked Person and boogie all night without looking at your phone. Get funky to the keys of Bernie Worrell. Swallow the subtext of Phife Dawg's rhymes, the activism and the futurism that pumped through his veins, and remember why people need to hear those words more than ever these days.
"Fuck your idols, don't kill 'em!" says Jonathan Shaw, a beatnik tattoo artist, writer and misanthrope who worshipped at the altar of Bukowski, which is to say—stay intimate with the intimacies of their work. Unpack the ideas and think about them with fellow fans. Get together and discover new insights, arrive at new conclusions.
Communal healing isn't only the best move for the fans, but for the country. So we give thanks for those who've made an indentation in the galactic fabric large enough for us to find, and honor that mark by keeping the currency of their ideas in circulation. We come together to remind ourselves that we are furiously, unapologetically alive. And we give thanks for the fact that, in doing so, the music lives on, too.