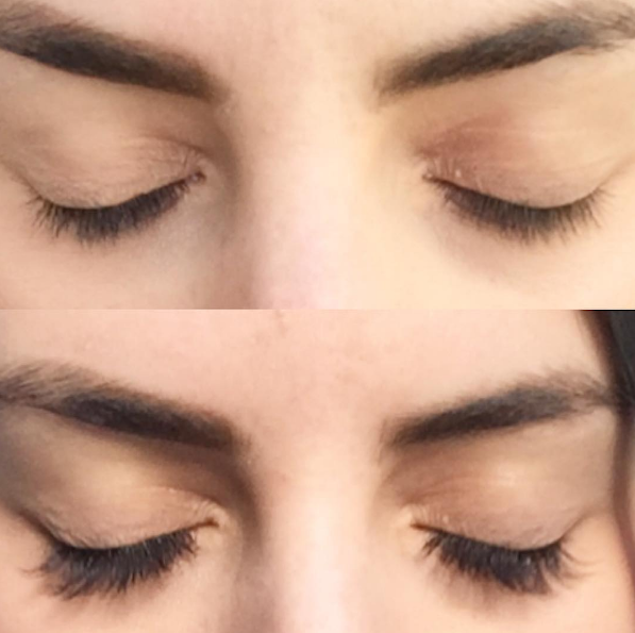 As a lazy beauty addict, eyelash extensions sounded appealing.
No more pretending I know how to use eyelash curlers, no more buying $25 mascara every month because they say you're supposed to or risk horrific eye infections or worse, spider clumps. Gone would be the tiny black spots flecks speckle my face throughout the day, the permanent raccoon shadow left from makeup remover that left me with broken promises and dark circles. I have never been able to tame false eyelashes; my attempts to look like an Instagram beauty guru leave me with fingers glued together and a line of lashes migrating slowly towards my eyebrows. The look is less "Hollywood glamour" and more "failed Vegas showgirl auditonee."
Perhaps eyelash extensions would be the answer.
I went to JJ Eyelashes in SoHo where my technician, Jennifer, walked me through the process.
I would get 100 lashes per eye, synthetic silk strands glued individually to my natural mediocre and stubby lashes. I chose a "C" curl instead of a "J" curl — opting for the slightly more dramatic look. If you're going to do something, do something all out.
Remember that episode of Friends where Rachel didn't want to go to the optometrist because she has a weird phobia of people touching eyes? Yeah, if you related to that, this might not be the right choice for you. To get fake lashes, you're lying horizontal for about an hour, eyes more-or-less taped closed, acutely aware that someone is operating very, very close to your eyeballs with metal tools that sort of looked sharp.
That considered, I found it kind of relaxing. I listened to a podcast for an hour while Jennifer worked on my lashes, until she blew a small fan on my face to help the glue dry. It was over. Did I look any different?
Holy crap, yes.
I understand how people get addicted to this. Even under the salon lighting, with barely any makeup on, I felt like a pretty Snapchat filter version of myself.
"You like?" Jennifer asked.
I could only bat my cartoon skunk lashes in response. I am a doe-eyed Disney princess. I am an animatronic lady cow. I should be competing in a pageant that requires spray to keep your bathing suit from riding up.
The next morning, my makeup routine that usually includes a cat-eye and about fifteen desperate swipes of mascara was just some BB cream and lip balm.
It works. It makes a difference. I want to spend my afternoons posing in three-quarter turns, batting my eyelashes until strangers on the subway ask me out on dates. I am a glamorpuss. I should be draped in equal parts pearls and perfume that's applied with an atomizer. I am unstoppable.
But, as I assume was the moral of Cinderella, magical beauty cannot last forever. Eyelash extensions last for around two to three weeks, depending on how well you can take care of them, at which point you need to go back in for lashes to be refilled.
In protective mode, I mourn each perfect "C" lash as I find them on my cheek or pillowcase like a guy beginning to loose his hair. I become hyperaware of how often I touch my eyes.
When I can afford it, I'll get it redone. When I come to my senses and remember that $180 needs to be spent on rent, I will try not to be too put off by the ordinary, non-glamorous girl in the mirror.
Lash extension aftercare:
Avoid getting your lashes wet for the first 48 hours or so
Do not curl your fake lashes, and don't use mascara (trust me, you won't need it)
Eyeliner and eyeshadow is okay, but only use oil-free makeup remover (the oil can dissolve the glue binding the lashes)
JJ provided me a spoolie brush, like a clean mascara wand, to brush and tame the lashes
It's recommended you return to the salon after two or three weeks for lashes to be refilled
A set of 100 lashes at JJ Eyelashes in SoHo costs $180