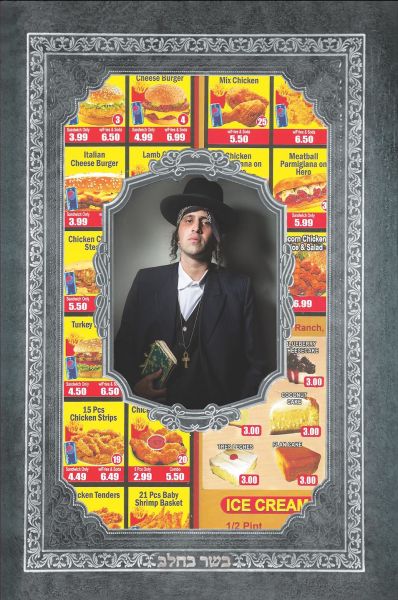 Yesterday I received a press release for a campaign called "Imprisoned for Art." Launched by The Voice Project, the campaign pairs well-known artists with currently imprisoned artists to raise awareness for their wrongful imprisonment over a lack of free speech rights in their respective countries.
Johnny Depp is paired with filmmaker Oleg Sentsov, who is imprisoned in Russia. Alex Ebert, a.k.a. Edward Sharpe, is paired with singer Trần Vũanh Bình, who is imprisoned in Vietnam. Peter Gabriel is paired with author and journalist Dawit Isaak imprisoned in Eritrea. Tom Morello is paired with painter and journalist Tom Dundee, who is imprisoned in Thailand. French musician Ana Tijoux is paired with poet Ashraf Fayadh, who is imprisoned in Saudi Arabia. And Nadya Tolokonnikova of Pussy Riot with singer Nûdem Durak imprisoned in Turkey.
"Unfortunately, America is about to start looking more like Russia under Putin, it's already happening, and dissent is going to become a more dangerous business," wrote Tolokonnikova. "But that just means dissent is more important than ever. The good news is we can learn from each other, help each other—that we are stronger than we think, both individually and collectively, we have more fight in us that we believe. I know this from being a person in prison, but also from seeing all the people who banded together to get me out.
"Voice Project were the main ones coordinating the support for us while we were in the camps. They did a lot to advocate for our release, they kept a spotlight on what was going on and that was really important because it helped keep us safe—the prison officials knew that the whole world was watching what they did to us. That is an important tactic in these situations."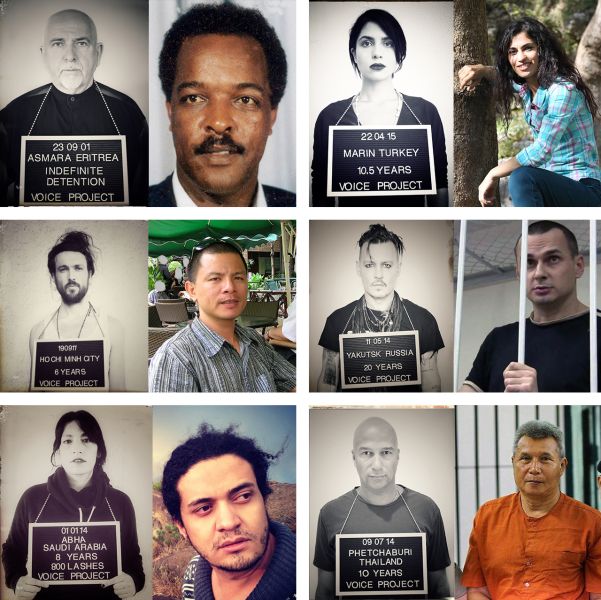 A noble cause, for sure, but isn't it a bit displaced from the work we still need to do at home in combatting our Prison Industrial Complex? Reading this reminded me that before we can be a country talking about wrongful imprisonment abroad, we really need to look at what's happening here at home, particularly to young people of color.
It also reminds me of a man named Fury Young who I met and interviewed last year but never had the chance to write about. And there may be no better time than the present to address the significance his project, Die Jim Crow.
Yes, there are Die Jim Crow T-shirts, and a hardcover book featuring poems and art by the prisoners that Young works with. But what's most powerful, what's most subversive, is the music—a concept album he recorded in secret with the help of his producer, Dr. Israel, that features them singing their own songs from behind bars.
"The album is written and performed by formerly and currently incarcerated black musicians and writers from across the country," writes Young. "The album title is inspired by Michelle Alexander's book The New Jim Crow, which equates the U$ prison system to a modern day racial caste system similar to the old form of Jim Crow segregation in America."
True to his name, Fury Young is often pretty pissed off. He's grassroots to the core, be it his involvement in efforts to get CUNY to divest from using fossil fuels, his own creative work and especially the Die Jim Crow project. It took him several years, countless trips to visit inmates and borrowed cars, but the EP is finally done. He says a full-length LP is also in the works.
[bandcamp width=350 height=470 album=623206365 size=large bgcol=ffffff linkcol=0687f5 tracklist=false]
"The whole discussion of the criminal justice system and the 'War on Crime' were always inherently focused on people of color," Young told me.
"There's pretty solid evidence of Lee Atwater, who said off the record was talking about the 'Southern Strategy' to use racially coded terms in his speeches. So instead of saying 'nigger nigger nigger' you say 'negro' and talk about state's rights. Reagan even had a speech in the '80s where he alluded to state's rights…Southern Strategy. Nixon in the '70s talking about 'the war on drugs,' he really introduced it."
"A lot of this was a backlash to the civil rights movements, 'The Southern Strategy,' so when he said, 'public enemy No. 1' was drugs, he was talking about the ghetto. With Carter and Ford it subsided a bit, but when Reagan was back in it was 'BOOM.' It just continued and got worse with Bush and Clinton—more people were incarcerated with Clinton than any other president in history. More people are in prison today for drug charges than were in prison entirely in 1980."
Fittingly, Young decided to channel his outrage into song. He had a good friend who was incarcerated, some others but not like this man who was sort of a father figure. He grew up in the Lower East Side, which back in the day was the hood, and as such, he says he can relate. Working with his ex-partner Isaac Scott, a painter who now runs an organization called The Confined Arts that combats prison recidivism, Young helped fund the cost of recording Die Jim Crow.
Young learned a lot while working with some of the men at Warren Correctional Institution in Lebanon, Ohio. Chief among those lessons was the psychology of a correctional officer. "Because a lot of prisons are in small towns, a lot of these people are from small towns," he said. "So they have no connections to the people who wind up in the prisons, you know? Their dads worked at Attica, they worked at Attica. And that's part of the whole Prison Industrial Complex. Whole towns make their living off this shit."
[youtube https://www.youtube.com/watch?v=NzwgyIplS6s]
As a conduit toward awareness, though, Die Jim Crow is having a positive effect. "They love having their name out there, they love people seeing their work," says Young.
"Everyone who has someone in prison can tell you, people have the wrong idea about what being locked up is like. People in prison want to have contact with the outside world, they value it. I think the prison system lacks a lot of accountability, both for the person who committed the crime and the victim. A lot of victims don't even want the criminal to be locked up their whole life. A lot of guys make up their own story for pleas. We need to just be accountable for everything we do. We need to be honest. That applies to everything in life, whether you're innocent, guilty, whatever. I don't know it I'm a prison abolitionist or not, but I don't think most people are going postal. Most people aren't that asshole."
Young is happy to be that asshole. It's part of his DNA at this point, and something much closer to home for him than the wrongful imprisonment cases that happen abroad. It's also taught him a bit of diplomacy, as there's some smoothing over involved when you're recording a 22-person choir inside of a prison. He builds relationships with the inmates, far beyond being a pen pal. It's a creative exchange.
As for how he gets inside the prisons in the first place, Young says it all comes down to honesty. "You just really try to tell them the truth—that the issue of disproportionate incarceration rate for people of color is really high and it needs to be addressed. And that the album is giving people a voice to add a different side of the debate. You don't talk like you're Che Guevera."