With Rossini's Guillaume Tell ending its run Saturday afternoon, the Met has shown itself both willing and capable to produce that most ornate and demanding of lyrical theater forms, the grand opera. Too bad the company seems incapable of applying similarly high standards to that late culmination of the grand opera form, Verdi's Aida, which made its season debut in a lackluster performance Saturday afternoon.
Part of the problem is that audiences flock to Aida whether it's done well or not so well, so there's no real motivation for the Met to make anything special of the work. It's significant, I think, that when this production was in development in the mid-1980s, its team boasted the starriest A-list names of the time: Leonard Bernstein to conduct and Franco Zeffirelli to direct and design. Neither of these gentlemen made it to the show's opening night in 1988, however: Zeffirelli demanded too high a budget, and Bernstein presumably found something more interesting to do.
The conducting assignment fell to James Levine and, over the next three decades, a variety of lesser maestros; meanwhile, director Sonja Frisell created her one and only Met staging in a gaudy but relatively economical Zeffirelli-light style. And it is that imposing physical production, which on Saturday looked recently refurbished, that fills so many Met seats.
The production then in many ways fulfills one of the requirements of grand opera, the "how'd they do that?" level of visual spectacle. (This aspect was the main failing of the recent Tell, with such moments as the hero's escape across the lake and even the celebrated scene of the arrow shot into the apple flubbed in the most infuriating way.) At its best, this Aida takes on a fearsome grandeur, as when the doomed lovers are trapped in a tiny tomb downstage center while, far upstage, acolytes of the god Ptah celebrate in a temple that seems to extend into infinite space.
There are silly moments too, as in the celebrated "Triumph" scene, which borders on homoerotic porn with its masses of buff extras in skimpy uniforms. (The Met then immediately loses the gay audience when the spoils of war are revealed to be no more impressive than the merchandise of a Kirstie Alley-era Pier 1.) And there are of course horses, which from time immemorial at the Met have been surer guarantors of applause than the best tenor high C.
Amid all this middlebrow splendor, it hardly matters who the singers are, and that's just how the Met cast the show this time around.  Liudmyla Monastyrska returned to the role of Aida in which she debuted at the Met four seasons ago. Back then her large, plush soprano seemed to hold enormous promise, but since then her tone has coarsened while the interpretation remains superficial. What's new this season and not at all pleasant is her tendency to sing half the part on an "ah" vowel as devoid of meaning as her handsome but blank face.
Opposite her as the Egyptian general Radamès, Marco Berti wielded a blunt but forceful tenor. It's an exciting if not always pleasant noise, just how you'd want the leader of a genocidal military force to sound. Though mezzo-soprano Ekaterina Gubanova, as the jealous princess Amneris, narrowed her eyes and flung her cape in purest Anne Baxter style, her voice sounded small and unfocused.
Otherwise, it was a great afternoon for the Egyptians with firm basses Dmitry Belosselskiy and Soloman Howard (as high priest and king) easily outclassing the wooly baritone Mark Delavan as Aida's father Amonasro. Marco Armiliato, the Met's equivalent of that guy you know who can grout an entire bathroom for $200, conducted.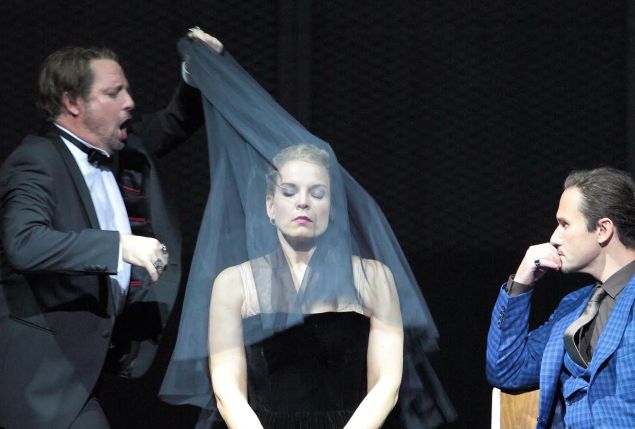 Part of the reason this Aida felt particularly routine was the contrast with the Bavarian State Opera's presentation of yet another grand opera, Donizetti's La Favorite, which was streamed live from Munich on Sunday afternoon. For this romantic tale of a courtesan (mezzo Elina Garanca) torn between the King of Spain (baritone Mariusz Kwiecien) and a Catholic monk (tenor Matthew Polenzani), the Munich company offered a dark, minimal staging by director Amélie Niermeyer that superbly clarified the opera's web of complex relationships.
If the names of the singers sound familiar, that's because they performed in Roberto Devereux at the Met just last season. In contrast to their workmanlike performances they gave in that opera, in Munich they were on fire, particularly Polenzani, who created a complete and striking character as the conflicted Fernand. His extremely physical acting did not seem to hamper his singing; on the contrary, he sounded superbly polished and fresh in this very demanding part.
We could use more opera like this Favorite in New York, if only as a reminder that the "grand" in "grand opera" means more than just "big." It should also mean "excellent."