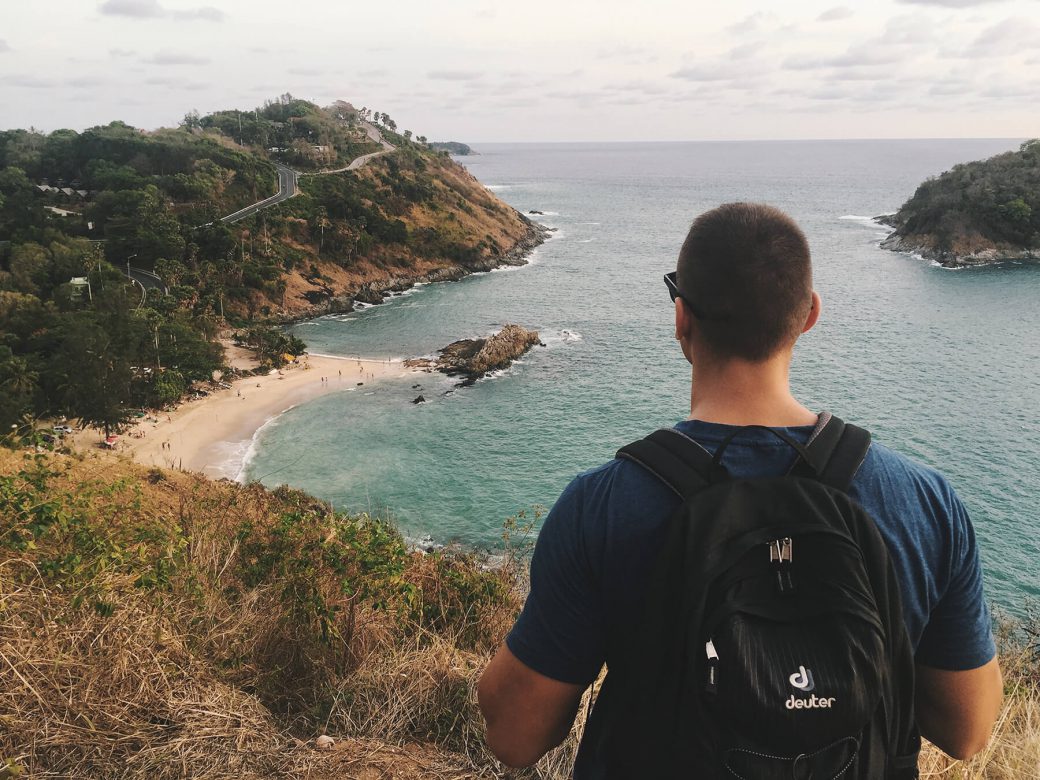 Yes, this is my travel packing list—it's everything I own. I live off a backpack and travel indefinitely. There is nothing to brag about, but I can say that I never felt lighter and richer in my life.
I believe that to live comfortably and be able to travel the world, all you need is a spacious backpack and essential possessions to make you productive and carefree.
To make traveling easy and enjoyable, you need to get rid of the big chunk of your physical belongings. It's a lot about the mindset shift as you need to understand that owning too much stuff doesn't provide you freedom and safety. It ties you up and makes you worry more.
After a crazy Europe trip in 2013 I've learned (the hard way) how to fill a backpack with useless and cumbersome stuff that will suddenly make you so stressful that you'll throw it out anywhere.
Today I'd like to share my travel packing list and lessons learned after living a nomadic lifestyle and flying to 18 countries in less than two years.
Main reasons to travel ultralight
Take less to experience more. There are going to be situations where you'll have to walk around the town for hours to wait for the time to check-in at your hotel. There are going to be moments when you'll have only 5 minutes to pack and leave. Having less stuff makes you more flexible so you can experience more.
Trust yourself. Embrace the challenge and be confident about yourself. How many times did you fill up your luggage with unnecessary garbage? It happens to all of us out of fear of being not prepared. Better, put aside a budget for things you need to buy while traveling instead of carrying everything with you.
Give yourself more freedom. You seek adventures, I know. All souls crave experiences. By not preparing for everything in advance you get to live with youthful excitement and anticipation of what's to come. Allow yourself to be more spontaneous.
Invest in quality. Having a very limited space in your backpack forces you to choose the best. You get to choose only T-Shirts you want to wear every day. If you want something new, get rid of something to make up space for the new item.
Before leaving
It's all about the peace of mind.
Reach out to everyone you care about and let them know about your adventures. Make sure to check all your liabilities. Pay all the bills, cancel unnecessary services and make sure you don't have any debt so it won't pile up until you get back.
To avoid blocked credit cards, reach out and inform your bank (or banks if you use several) and let them know that you will be traveling.
Get insurance. It's optional but highly recommended. I am the one who risks a lot, but it's not very smart to save money on insurance.
Most of the credit cards have travel insurance included for up to three months. I chose DNB bank with free worldwide travel insurance. It costs just around $2 USD for monthly administration fees saving me a lot in three months I'd pay for insurance.
After my free 3-month travel coverage insurance is over I get regular travel insurance from one of the Lithuanian companies. I've checked some insurance businesses in Lithuania and looked like IF and Gjensidige are the most competitive ones.
Digital nomads recommend World Nomads Travel Insurance which is quite expensive but has a lot of benefits and great reviews.
Plan your itinerary. Make an approximate route for your trip and research desired destinations. Why it's important? You will get cheaper flights and accommodation if you book in advance. Being smart saves money.
Check out Nomad List, Teleport and Numbeo to find great locations for long-term travel destinations.
Research visas. There are many countries you can go without visas depending on your nationality (full list here). However, you will find it frustrating to visit exotic places like India, China, Madagascar or any other country that requires a visa. It costs money and valuable time. If you have an approximate route for your trip, research visa information. You'll thank me later.
Vaccines. Your health must be your priority. Traveling across Europe may be relatively safe but flying to other continents consider taking the time to research and get needed vaccines. It's not necessary but if you tend to get into trouble, invest money in vaccines and have a peaceful mind. Personally, I don't bother getting vaccinated if it's not mandatory. I've talked to my friends traveling in Southeast Asia, and most of them didn't bother themselves with vaccines either.
Backpack
Don't take the classic wheeled carry-on luggage. Get a backpack and use it traveling internationally to pack all your stuff and reuse it locally. You can put your laptop, books, notes, clothes and a towel going to the beach.
Choose a comfortable, durable and spacious (enough) backpack. Ideally, it should be rain-resistant, have padded pockets for your laptop or tablet, separate tiny pockets for little things like cables, documents and other stuff.
The first time I packed for the trip around Europe I made a huge mistake by getting an enormous 70L backpack and loaded it with unnecessary stuff. I was preparing for the worst that never happened. I ended up selling, donating and throwing away a lot of things.
To avoid that, I recommend getting a medium sized 25-30L backpack. You can fit all your belongings in it and use it on board when flying so you don't have to check-in your luggage and save a ton of time and money.
For my three year-long expedition I bought Quicksilver 1969 Special Backpack. I got it for just $37 USD.
This backpack has two compartments including laptop tailored sleeve with soft walls and space at the bottom, so your laptop doesn't hit the ground every time you put your backpack down.
Travel packing list essentials
Make passport and identity card copies. If you don't get physical paper copies, at least make a photo of both sides and put them online so you can access them from anywhere. I have all my copies in Dropbox and Apple Notes app.
Covered documents (passport copy, passport photos, postcards)
Wallet (driving license, identity card, bank cards, cash, 32GB memory card)
Covered passport
Cash
Clothes
Depending on how long and where you are going consider taking some clothes for radically different weather conditions. I spend most of my time around Southeast Asia, so I don't have a coat or sweater that take up a lot of space. If you're going to the cold climate, you may need to put a lot of clothes on yourself when traveling to save up space in your backpack.
Below is my current clothing list.
Nike Free Rn Flyknit Running Shoes (comfortable for running and walking)
Underwear x 9
Pairs of socks x 5
Slippers
Shorts x 4
Jeans & belt
Long sleeve T-shirt
T-shirts x 7
Sleep mask & ear plugs
Technology
The most important piece of gear I have is 13-inch Apple MacBook Air. It's more than enough for me to run an online business, write a blog, edit photos and watch movies. It's lightweight and robust what makes it a perfect laptop for travelers. I recently invested in wireless noise canceling headphones for better work and travel experience in noisy areas like cafes, restaurants and airports.
Before you leave, load your smartphone with your favorite podcasts and books. It's a great way to relax, concentrate and educate yourself. I use Scribd to read books on my iPhone, check out my reading list.
Money
Always have your money spread across different bank cards. In the case of loss or theft, you'll have a backup plan. Don't keep them in one place.
I recently started using You Need A Budget app for tracking my personal finances and noticed that I spend way too much in bank fees. That's why I closed my accounts at Swedbank, SEB and Danske Bank. Instead, I got Revolut which saves a lot of money in fees and allows you to withdraw up to €650/month anywhere in the world as well as book and pay for flights and hotels.
Citadele – A Latvian bank that recently announced Citadele MasterCard for €1/month that allows free cash withdrawals around the world.
DNB Bank – I  chose DNB because they have free travel insurance for up to three months for a single trip.
Revolut – Revolut is the only account you need to send and spend money securely. It's my primary card now I use for online and offline purchases.
PayPal – PayPal is a widely used online bank for sending and receiving money. I use it a lot for business.
Cash – Never exchange money at home or you will lose a lot on the poor exchange rate.
Bank alternatives. I already use Revolut which is a great solution for travelers. There are other cool startups out there that may fit your needs depending on your location.
Simple – Simple is a revolutionary US mobile bank without hidden fees and charges.
Monese – Open a UK current account on your mobile, without a UK address or credit history for £4.95 per month.
N26 – Open an account in under 8 minutes, withdraw from any ATM and get real-time notifications. Currently, you can sign up for a N26 account if you are a resident of one of the following countries: Germany, Austria, Ireland, France, Spain, Italy, Greece, Slovakia.
Medicine
Always have some medicine for critical moments. Whether it's a terrible headache, diarrhea or bleeding. Below is a list of my essentials.
Nurofen (Ibuprofenum for pain relief)
NO-SPA Forte 80mg (in case I eat something my belly doesn't like)
Baneocin (antibiotic powder I use for scratches and wounds)
Bephanten Plus (prevents infections, used on skin)
Medical patches
Lip care stick
Hygiene
Personal hygiene will prevent diseases and ensure healthy self-esteem. I don't need to tell you why taking a shower every day is a must.
Most of the time I get all the toiletries like shampoo, shower gel, sunscreen, ear picks and toothpaste once I arrive. It's more or less the same price like anywhere else but saves you a lot of space. If I have leftovers, and they're under 100 ml, I take them.
Travel toiletry bag
Oral-B essential floss
Perfume
Nail clipper and file
Disposable Gillette razors x 3
Jordan one tooth toothbrush
Food
Food is vital when traveling for longer than 3 hours. Once I was on a bus to Prague and haven't bought anything to eat. The bus stopped only after 5 hours. I thought that I'd die from hunger.
Make sure to take water to stay hydrated, especially when flying. Buy quickly digestible foods: fruits, vegetables, sandwiches. Avoid heavy and fat food as it'll make your trip more stressful and frustrating giving your stomach a hard time. Avoid smelly foods as the entire bus or aircraft will get smelly and other people may start feeling sick about it.
Below is my list of light food I take when traveling longer than three hours.
Water
Sandwich
Bananas
Juice
Yogurt
Salad
Peanuts
Dried fruits
Apps
Last year I shared a complete list of tools and apps I use to learn, work and travel anywhere in the world. Below is a full list of apps I use on my iPhone to get from airport to hotel, find accommodation, capture and edit photos, read, meditate and more.
This is my travel packing list that has evolved a lot from the very first time I left home. It's a constant learning process, but there is one truth I know for sure. The less you pack, the better.
I've got rid of many things and never regretted. What does your travel packing list look like?
Tomas Laurinavicius is a traveling lifestyle entrepreneur and blogger from Lithuania. He writes about habits, lifestyle design, and entrepreneurship on his blog and weekly lifestyle design newsletter. Tomas is currently traveling the world with a mission to empower 1 million people to change lifestyle for good. This post originally ran at tomaslau.com.