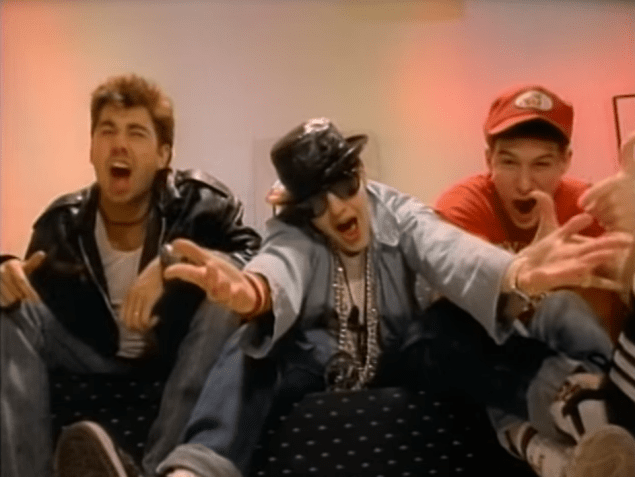 Licensed to Ill, the major-label debut from groundbreaking New York City rap crew Beastie Boys, turns 30 on Tuesday, November 15.
It is by no means the trio's best album even by a long shot, quite the opposite actually. It's not their worst, either. That honor goes to 2004's To The 5 Boroughs, a misguided backtrack to 1986, which fell flat creatively given all the leaps and bounds Adam Horovitz, Mike Diamond and the late, great Adam Yauch had made on such subsequent works as Paul's Boutique, Check Your Head, Ill Communication and Hello Nasty.
The immediacy of the time period they were harking back to, when the B-Boys first linked up with Rick Rubin and spliced together samples of Schoolly D's "Gucci Time" and Led Zeppelin's "Custard Pie" so they could rhyme about guns, girls and goofing off, impacted the youth of America like a Boeing 727 crashing into the side of a mountain.
The Beastie Boys' influence on our culture is even more surreal when you consider where they got their start: the New York hardcore scene. And weirder still when you remember that in 1987 you could turn on American Bandstand on Saturday afternoon and find the Beasties scaring the normals in the studio audience with a rowdy lip sync through their breakthrough hit "(You Gotta) Fight For Your Right (To Party!)" with the unmistakable riff from Slayer's Kerry King, a song that peaked on the Billboard charts at No. 7. Then they made history when Ill became the first hip-hop album to reach No. 1 on the charts, where it stayed for seven weeks.
It was an era-defining culture clash that took the ground broken by Blondie with "Rapture" and touring partners Run DMC's Eddie Martinez-fueled heaters like "Rock Box" and "King of Rock" (not to mention their own 1986 crossover smash covering Aerosmith's "Walk This Way") and pulverized it into a fine sniffable powder. It was the sound of the underground youth of Manhattan who inhabited local dives like A7 and CBGB's after the punks all went Hollywood staking their claim on America's Top 40.
And they didn't forget their roots once they hit the big time either—the Beasties called upon Murphy's Law to open for them when they embarked on their first headlining tour in support of Licensed to Ill.
It's a staggering juxtaposition that existed like a strange wormhole inside the excess of the Reagan era that always begged the question of what their fellow brothers on the NYHC scene thought of the trio's transition from hardcore to hip-hop while bringing these distant twins of '80s underground music closer together as both creative and business partners. (For instance, Murphy's Law and metalcore pioneers The Cro-Mags were both signed to Profile Records, who also released albums by Run DMC, Dana Dane and Poor Righteous Teachers at the time.)
In honor of its 30th anniversary, the Observer recently spoke with Jimmy Gestapo and Doug E. Beans from indelible Queens hardcore band Murphy's Law, Cro-Mags bassist Harley Flanagan and longtime Beasties friend and inspiration, bassist Darryl Jenifer of DC hardcore icons Bad Brains, about these very questions in the context of Licensed to Ill, and its role in the evolution of youth culture beyond the charts and MTV.
[youtube https://www.youtube.com/watch?v=eBShN8qT4lk&w=560&h=315]
"Hip-hop was really starting to jump off around '82 or '83. I remember when it was a phenomenon that was hitting uptown, and then it just kinda came downtown like the new thing, which always happened. It could be a new dance, but this time it was a new sound. So Mike [Diamond] and them, they were hardcore kids but were discovering something new and picked up on hip-hop early. I think they were trying to be funny with it first, because it wasn't really their thing.
"They were mainly rock dudes; at least Mike D and [Adam] Yauch. Ad Rock was a b-boy the whole time. You see, I used to call him my son when they was really young, like about 15. He always had that b-boy persona, even back then. Yauch was a rock dude and Mike D was kinda like this pimp/rock dude who hung out with a lot of girls, some of them went on to become Luscious Jackson."
"And then I would be the young rasta, and then there was Tania [Aebi], who was my little girlfriend. She was the one who sailed around the world. We all used to hang out at the Rat Cage. I'd be hanging out, eating cashews and smoking weed. Everybody would just be hanging out, like hanging-out-on-the-stoop-type thing."
"Eddie from Leeway was kind of like a b-boy in rock. Jimmy Gestapo was a b-boy in rock as well. He was one of the illest MCs back then, but he was in a hardcore band. Run DMC's records even had rock guitars in them back then. It was crossing over at all angles. And then we kicked off with the band Brooklyn after Yauch got off the road, and we were sort of ahead of our time when we was kicking shit like that."
"Brooklyn's music was sort of like American rock 'n' roll. It wasn't punk and it wasn't hardcore, and it was at a time before people started to think it was cool to be more grassroots with your rock, wearing plaid shirts and shit like that. The politics of hip-hop and what Yauch and them were going through blowing up, the whole trip just made my man Adam wanna cool out a little bit and play some shit that he used to know. For years, Yauch wouldn't even talk about that record with me, hardly. It's something that he wanted to do which he thought at the time sounded dope. I'm not so sure he was so confident in his vocals, but I think it sounds great, man."
Harley Flanagan, Cro-Mags
"Some of my best childhood memories are hanging out with Adam Yauch and John Berry, who was still with them back then. They were two of my best friends. The first time I ate acid was with those guys. I mean, we did a lot of silly goofy-ass shit together growing up. I can tell you so many nights sleeping over at John's house or Adam's house and just laughing until your stomach hurts about goofy teenage youth."
"Those guys were great, man. They came from a little bit of a better background from me; I was a Lower East Side kid and we were far from that. But they hung out in my neighborhood, because that's where everything was happening in the Lower East Side. That's where music lived; that's where life was pumping, so they came to my hood to hang out."
"I met them because they were fans of my old band The Stimulators and they used to come out to see us play. They told me, and I mention it in my book, that John Berry's quoted in saying that I was a big inspiration in them starting playing in bands, because they were like, 'Fuck, man, Harley's younger than us and he's out there rockin'. Let's do this, what's stopping us? He's 11. We're 13, 14, 15. If he could do it, let's do this shit, what the fuck!' "
"What Rick Rubin did with the Beastie Boys changed musical fucking history."—Harley Flanagan, Cro-Mags
"Those guys were really fucking good guys, and over the years I would see the Beastie Boys play in different huge concerts and always made sure I was on the guest list and would always give me a shout out from the stage. I miss Adam and John a lot."
"What Rick Rubin did with the Beastie Boys changed musical fucking history. To be honest, back then I was not a big fan of musical sampling. My opinion has changed a little since then, now I can appreciate using samples and the creative mind that it takes to hear something and think, 'Oh, this would be really cool to loop.' But in the early days I thought it was thievery. I didn't really appreciate the art of it and all that shit back then."
"Sabbath, for instance, was a huge influence on me, especially in the Cro-Mags days and I think that's what set us apart from the rest of the New York hardcore bands is because we had a lot of influences outside of hardcore. The bands who only listened to hardcore, I think most of them suck because after a while it was like where are you drawing your inspiration from? It's like the same shit over and over and over again. And I think that's probably why the Beastie Boys made such an impact on everybody was because they started to draw on influences outside of their circle. They went beyond it."
[youtube https://www.youtube.com/watch?v=wToYujbHG20?list=PLjIuADMrDKIZh24r0bnqFlNTV8N5WD958&w=560&h=315]
Jimmy Gestapo, Murphy's Law
"Everybody ran away from home and wound up on the Lower East Side and we all hung out at a place called A7. That's where the shows started, but I met the Beastie Boys at Max's Kansas City back when they were The Young and The Useless, and we became good friends. I sing on the Young and Useless 7-inch, on the song 'Rise and Shine'. We hung out all the time at A7, though, and Jack Rabid would be DJ'ing and we'd all sit around and talk about music, particularly a lot of the stuff that was coming out of England, back when it was still punk, before the hardcore shit."
"Stuff like The Rezillos and The Sex Pistols. We were all of 14, 15 years old. That's the way it all came about. We hung out with Adam and those guys right when they started to take off after they hooked up with Rick Rubin, who was big on the scene as well while he was going to college. He played in a band called The Pricks and they used to play Max's and stuff, too. And then it just started to evolve. There were a lot of kids from my neighborhood, smoking weed and listening to rap, and not this pussy stuff they have now, more like Schoolly D and shit like that."
"Stuff with personality that had tact and talent and had a message to it, not just guys bragging about what they had or what they wearing. It was all new to us, this evolution of music that was going on in the boroughs around hip-hop. And none of us thought we were going to get anywhere; everyone was just having a good time and there was no aspect of creating music as to go and make money or travel the world. We were just doing what we were doing at that time, and it was fucking great. I am really happy I got to be a part of it."
"You can find me in the 'Fight For Your Right' video. I was in the middle of the room when everybody was dancing around and I got my Murphy's Law shirt on. My old girlfriend Natalie is in it, she was one of the girls who pulls the nerd into the back room. My guitar player smashes a cake in one of the guys' faces. The whole band was there. We did both days of shooting and stayed out all night. It was filmed at somebody's loft apartment, which was pretty much how all videos were done back then."
"Ric Menello, who did all of their videos for Licensed to Ill, invited all of us there. In fact when Rick Rubin and Russell Simmons started Def Jam, they invited us to all of the hip-hop shows, which definitely helped to bridge the gap between hardcore and hip-hop. They were so old school about it, and that was really cool."
[youtube https://www.youtube.com/watch?v=YkFLidkvbEw&w=560&h=315]
Doug E. Beans, Murphy's Law
"Adam Yauch started Brooklyn with me, Darryl Jenifer and [Beasties associate] Tom Cushman because he needed a break. He wanted to get back to playing music. I mean, all he did really was rap when he was on tour for Licensed to Ill. They'd just have to show up on stage and do their thing on the mic. But I think it also made him want to go back to the music and he had a lot of stuff written, so he looped me and Darryl in with what he and Tom were doing."
"We had a great time recording those sessions, and Yauch foot the bill for everything. He paid for Darryl and me to come down to the city from upstate, because both of us lived up there. It was an interesting couple of months. We would practice with Brooklyn and then I would go to Queens and Darryl would go to the Village to record with the Brains and then we would meet on the 11:30 bus to go back to New Paltz and Woodstock like, 'See you in two days!' " [Laughs]
"For me, meeting Darryl Jenifer was amazing. The first time I played with them I didn't know who was coming, I just thought it was going to be me, Yauch and Tom Cushman. And then Darryl comes walking in, and I was like, 'Holy crap!' When I left the tour, Adam Yauch was like, 'Hey man do you wanna jam sometime?' And I was like, 'Sure, here's my number' thinking he'd never call me again. But one day my mother's like, 'Adam Yauch's on the phone!' And he tells me to meet him in this studio in the city."
[youtube https://www.youtube.com/watch?v=nERMNxd3sG8&w=560&h=315]
"I'm used to playing in these giant studios on 10th Ave and little shitholes and things like that. For these sessions I walked into a house, and I didn't know if I was in the right place. So I went to the front desk and said, 'Adam Yauch,' and they were like, 'Oh yeah, Room D.' I go in and it's a freakin' stage and monitors and all the microphones were set up and there were couches. It was awesome and I was really lucky to be part of it. I hope those sessions come out one day."
"I began working at the restaurant I've owned up in New Paltz for the last 23 years when I got back from the Licensed to Ill tour. We came back off the road and literally a week later Murphy's Law went back on tour down South, and when I came back I had no money, so I needed to make some money. We didn't make that much on the Beasties tour either. It was a paid vacation, really. Ten bucks a day per diem and then we got the money from merchandise but that was it. We weren't making much opening. But it was an amazing time."
"It was us and Fishbone who were opening up for them, and then Public Enemy. I think the logic behind it was because it was a college tour, and the whole first month was almost all colleges and small-ass clubs. I mean, we played like The Stone in San Francisco and it was selling out quick. We would do like two nights at The Stone and then we were doing another night in Seattle. We actually started off in Montana, and it just got to the point that by the time we worked our way down to Hollywood, it just exploded, that whole thing. It was crazy."
"I joined Murphy's Law in December of '86, and right off the bat they were like, 'Do you wanna go out on the road with this band the Beastie Boys?' And I was like, 'Who?' [Laughs] I had kind of heard of them through the punk circle, but never saw them. So we played two shows with them in New York; one at The Ritz, which was a gig primarily for record label people from Def Jam. But then we played Nassau Community College, and Run DMC came out and that was pretty wild."
"Then when we flew out West, that's when Fishbone joined the tour and when we came back out East, Public Enemy joined the tour. That was crazy. I remember the first night they were doing their whole black power thing, and Lyor Cohen ripped them a new asshole backstage in the dressing room. We were all standing there and he was like, 'You gotta play to the kids if you wanna make money.' And the next night they toned it down. They played the game, man. They had to; it was a predominantly white crowd and Def Jam was nervous they were pissing people off."