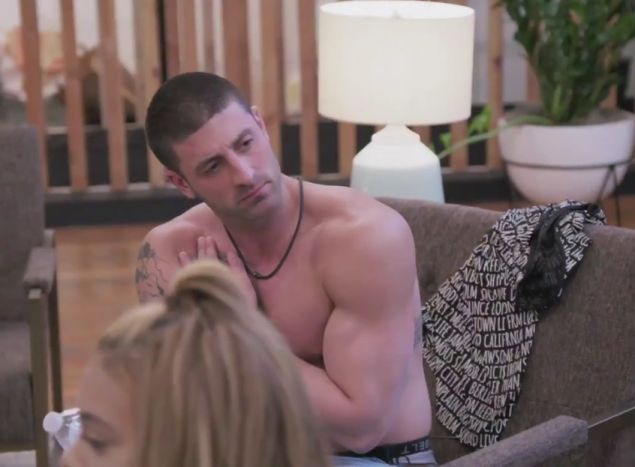 Big Brother has a show in their brand related to the main weekly network airings that bridges the gap between the edited episodes and the live feeds. It's called Big Brother: After Dark and it comes on for three hours each night. It allows fans to watch unedited hours of strategy talk, cigarette smoking, or planned hijinks from the cast. After this week's episode of The Real World, I believe it is imperative that for this season, The Real World creates an "After Dark" arm of its production focusing explicitly on Mike when everyone else goes to sleep.
The Real World Mike: After Dark would be the #1 all-time greatest show in the history of MTV, even better than Liquid Television or Remote Control. Mike got drunk and then Mike got into a fight with the sisters, Anna and Katrina. You can tell when Mike is drunk because he reacts to everything anyone in the room says with the facial expression of someone who has just been asked to multiply seven-thousand-five-hundred by seventeen, except instead of trying to figure out the answer he's like "why would you even ask me about math right now, I can't even figure out why you'd do that to me?" Mike's main issue behind this fight is that he bought into the "us" vs. "them" mentality of the house, the originals vs. the bad bloods. But that dynamic never lasts and could never be sustained here because Anna and Katrina are in fact real life sisters, who are best friends, who maybe fight occasionally. Mike's point is that for two weeks Katrina was the "originals" side and now she has her sister's back, which is a totally normal thing that sisters do, whether or not they are positioned as "bad blood" on a reality television show.
So Mike is all amped up because the sisters aren't listening to him and he tries to go to bed but then can't. Everyone else is asleep and Mike is walking around the house in the dark and you know Production is going to lay down some ominous bed music to really heighten the effect because they are only here to remove secret walls and not give a fuck and all the secret walls have already been removed.  I want to watch six hundred hours of Mike: After Dark. Mike goes into the confessional and starts chomping his teeth like that scene in Top Gun when Slider pretends to take an air-bite out of Maverick, except Mike does it like five times in a row. And that's the edited scene, I bet there are reels of him doing it for hours and I want all that raw footage. I've always said Top Gun would be a better movie if you took out all the plane parts, even though it could be argued that if there were more airplanes or less it wouldn't have worked as well. I suggest The Real World take that approach and only show these scenes of Mike, wandering alone at night. Like for example, when Mike wanders into the kitchen and writes down on a piece of paper: FUCK ANNA, like he was Brian from The Real World Ex-Plosion with his Feeling's Journal. What other gems would we make up to scribbled on frozen pizza boxes and receipts from Seattle's finest bars and clubs? I want more of this on my television. I need more.
Now, aside from Mike:After Dark you know who I need to see some more of? Robbie. Robbie feels like the best friend everyone needs. Who couldn't use a Robbie pep-talk? If Robbie gave me a pep-talk, I could accomplish all of my dreams. Except all of my dreams are writing about The Real World and Big Brother but I feel like I'd be even better at it, like double the amount of getting these jokes off, basically unstoppable. Plus, who doesn't love that happy-party-guy who calls the bar to make reservations and just wants to dance, even if it's by himself, and hang out at the DJ booth, even if it's just a dude from Tacoma with his laptop playing Now This Is House Music Volume 7? If me and Robbie ever went out together, we'd do the Kid N Play dance where you kick your feet together and then Robbie would slowly walk to the other side of the dancefloor and run at me and slide right before he got to me and I'd jump up and do a split in the air and everyone would pick us up on their shoulders because it'd be the best dance scene ever, even better than the one from A Thing of Their Own when the sailors are dance fighting over Madonna.
Robbie gave Theo the dope pep-talk because Theo and Kassius are still fighting. And like I don't even want to talk about their fighting, I just want to know who put the 12 grams in the muscle milk so I can sleep at night finally. Will this mystery ever be solved? For all of our sake, I sure hope so. That to me is the big storyline, not whether Peter is coming between Anna and Katrina. Because you can't come between them, they are not bad blood. They are sisters. No matter how much Mike: After Dark thinks the "us" vs "them" will stand, it will not. It cannot.