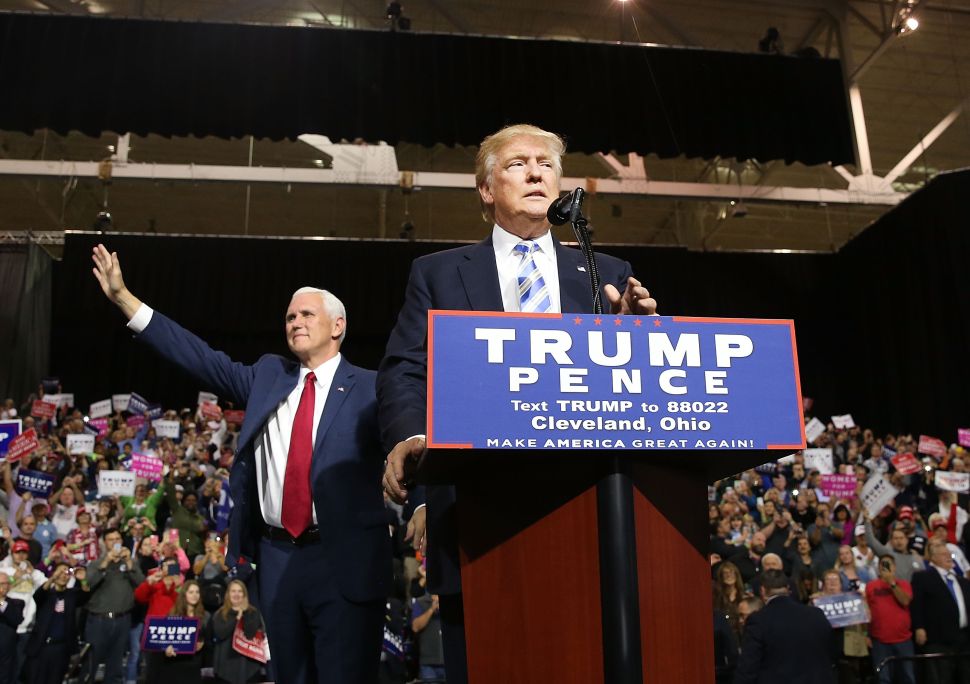 The general consensus, and one shared frequently in this column, is that Republican presidential candidate Donald Trump is going to lose badly on November 8 to his Democratic rival, Hillary Clinton.
However, the Republican National Committee (RNC) is pushing back against this narrative, pointing to early voting reports from some pivotal states as evidence that Trump is actually very competitive. In an RNC email from October 26, Republicans make the case that Trump is outperforming expectations in early voting, absentee-in-person voting, and regular absentee voting in six key states: Florida, Ohio, North Carolina, Wisconsin, Iowa and Nevada.
The RNC email reported that as of October 26, the GOP had a 45 percent to 36 percent edge in absentee ballots returned in Florida, with a lead in the pivotal Orlando-to-Tampa Interstate 4 corridor. On the same day, the RNC reported that three of the largest Democratic counties in Ohio have seen a significant decrease in absentee ballots requested as compared to 2012, with Columbus's Franklin County down 32 percent, Akron's Summit County down 18 percent, and Dayton's Montgomery County down 10 percent. Meanwhile, in North Carolina, it seems Republicans had tripled their lead in absentee ballot returns over Democrats in the previous week, opening up a 40.5 percent to 33.5 percent advantage. And in Wisconsin, Republican-heavy counties of Ozaukee (49 percent), Waukesha (28 percent), and Washington (25 percent) have seen heavy increases in early voter turnout as compared to the same time in 2012.
As of October 25, the RNC reported that Republicans are beating their 2012 performance in absentee ballots returned in Nevada, closing what is usually a large Democratic edge to single digits, and that more than 3,000 fewer ballots had been returned by Democrats as compared to the same point in 2012. In Iowa, the RNC reported Democrats had requested more than 82,000 fewer ballots as compared to the same time in 2012. Republicans, who had fallen behind Democrats by nearly 50,000 absentee ballots at this point four years ago, trailed only by 20,000 on October 25.
So, things are looking up for Trump, right? Not so fast.
Naturally, the RNC, which has a rooting interest in both this election and the news coverage leading up to it, paints as rosy a picture as possible, just as its Democratic counterpart is expected to do. But you should always take anything emanating from either major party's national offices with a shovelful of salt.
For example, take Wisconsin. For all the RNC's trumpeting of heavily increased turnout in solid-red Ozaukee, Waukesha, and Washington counties, Wisconsin Public Radio reported the same day that those three locals combined had produced just 48,000 absentee ballots cast, barely more than half of the 95,000 total absentee ballots cast in heavily Democratic Milwaukee County and Dane County, home of uber-liberal Madison.
And in Nevada, the Silver State's leading political analyst, Jon Ralston, reported at KNTV.com that the Democratic early voting advantage of 39 percent to 33 percent was similar to 2012, when Democrat Barack Obama won the state handily. The Washington Post added on October 27 that in Nevada counties where Democrats are doing better than 2012, turnout is up 18 percent, and in counties where Republicans are outperforming their 2012 numbers, turnout is up only 12.3 percent.
The Post also reported, in the same article, that early turnout had increased by 163,000 for each party in Florida as compared to 2012, which actually is bad news for the GOP. Republicans outperformed Democrats in early voting four years ago, so an equal increase means Democrats are doing better on a percentage basis. Even with the early-voting lead in 2012, the GOP lost Florida.
In North Carolina, NBC News reported on October 23 that Republicans did have an early voting edge of 40 percent to 35 percent, similar to the RNC's numbers from several days later. But what NBC also reported, which the GOP did not, is that in 2012, Team Red's advantage in this category was 50 percent to 28 percent. Relatively speaking, the GOP's lead in North Carolina has fallen off a cliff compared to 2012, when Republican Mitt Romney barely won the state by two percent. That doesn't bode well for Trump.
Of the six states touted in the GOP email, only Ohio and Iowa appear to back up Republican bullishness when less biased sources than the RNC. Cleveland.com reported on October 27 that Clinton lagged behind Barack Obama's 2012 early voting totals in Cleveland's Cuyahoga County and other key Democratic counties, including the aforementioned Franklin and Summit, though by smaller numbers (seven percent and six percent, respectively) than noted in the GOP report, as well as Toledo's Lucas County, down 17 percent. As of Thursday, absentee ballot requests in Ohio's Democratic counties were down by nearly 40,000 as compared to this point in 2012, while such requests from Republican counties were up by about 52,000.
And in Iowa, as of October 27, CNN reported that the GOP had improved its early voting position relative to 2012, with Democrats holding advantage of fewer than 40,000 votes, as compared to nearly 70,000 four years ago.
So, what do all of these numbers tell us?
They tell us exactly what most observers have known for a long time: Trump is holding his own in Ohio and Iowa, but is losing ground in two key states—Florida and North Carolina—that he cannot afford to lose, and is not gaining ground in Wisconsin or Nevada. The RNC can play fast and loose with the numbers all it wants, but a deeper dive exposes their cherry-picking.
The bottom line: no matter how much either of the major national parties tries to spin a rosy narrative, spin and facts remain two separate things. Don't buy what the RNC is selling, and if the Democratic National Committee tries to sell you anything, don't buy that either.
Disclosure: Donald Trump is the father-in-law of Jared Kushner, the publisher of Observer Media.
Cliston Brown is a communications executive and political analyst in the San Francisco Bay Area who previously served as director of communications to a longtime Democratic Representative in Washington, D.C. Follow him on Twitter (@ClistonBrown) and visit his website at ClistonBrown.com.