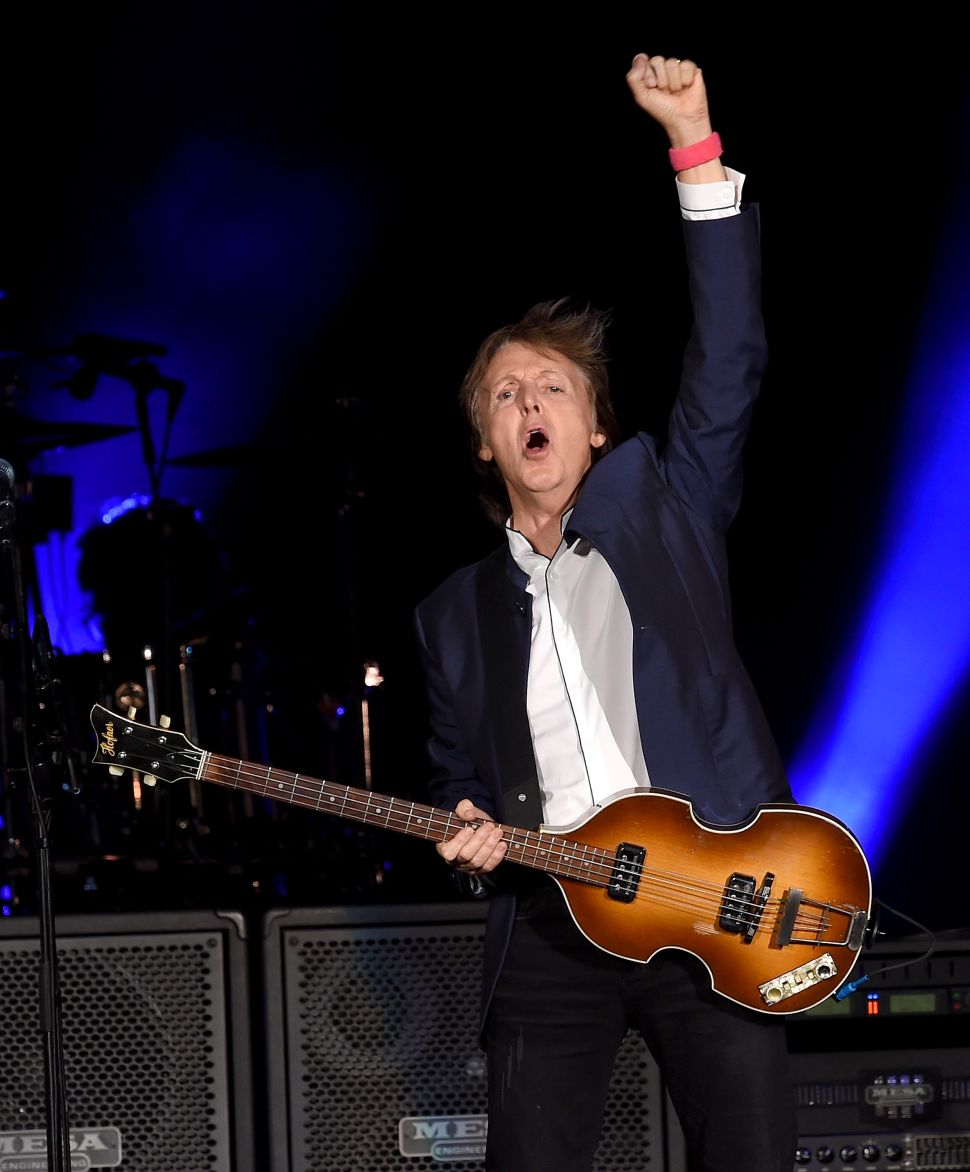 There aren't any fresh faces on this list of richest New York musicians with more than 350 years of performance between them. And while they are chugging along on tours and releasing new material, there's not a lot of new other than Sean Ono Lennon's latest band called the Claypool Lennon Delirium. Still, like meatloaf (the food) and mac and cheese, they provide comfort and consistency. And they are worth nearly $5 billion combined for doing so, according to the website TheRichest.
1.) Paul McCartney, $1.2 billion
Sir Paul, who retains his poll position as the wealthiest musician in New York (he splits his time between the Hamptons and England), recently inked a lucrative deal with Capitol Records for the entire body of post-Beatles music, from his 1970 McCartney album through his decade with Wings to the dozens of solo and collaborative works, including his share of the famed Ebony and Ivory duo with Stevie Wonder. But the 74-year-old musical legend is still on the road, just wrapping up a 34-date "One on One Tour," and he's still making new music. His latest, "In the Blink of an Eye," is for the animated film Ethel & Ernest.
2.) Sean Combs, $750 million
One minute he's donating a cool million to Howard University for a scholarship fund; the next he's facing a late November court date for a 2011 incident in which he and two bodyguards are accused of punching, choking and attempting to rob a paparazzo in Miami Beach on New Year's Eve 2011, according to the Miami Herald. Such is the life of Sean Combs, 47, who spent part of the year touring around with old friends Lil' Kim, Mase, Faith Evans, Mario Winans and others on the "Bad Boy Family Reunion Tour." And when he wasn't touring, he was kicking up a political fuss, telling Al Sharpton in an interview on MSNBC that under Barack Obama blacks "got a little shortchanged." He added that it was "no knock against" POTUS, but a rallying call for the black community to take advantage of its political power.
3.) Madonna, $560 million
Madonna, 58, continues to create controversy. During the heat of the election, Madge offered to perform oral sex on anyone voting for Hillary Clinton. And that was after posting a topless picture on social media in support of the Democratic nominee. Politics aside, it's been a fine year for Madonna. Her 10th world tour, "The Rebel Heart Tour," grossed $169.8 million, making her the highest-grossing female touring artist of all time, according to ABC News. And she's just been named Billboard magazine's 2016 Woman of the Year, "With her creative vision, relentless innovation and dedication to philanthropic causes, she is an inspiration to hundreds of millions of people around the world, all while shattering every career record out there," wrote Janice Min, co-president and COO of the magazine's parent company.
4.) Jay Z, $550 million
Jay Z, 46, has the Grammys, the gold records and the fortune. But he just received what may be the highest honor in his 20-year career, becoming the first hip-hop artist to be nominated for the Songwriters Hall of Fame.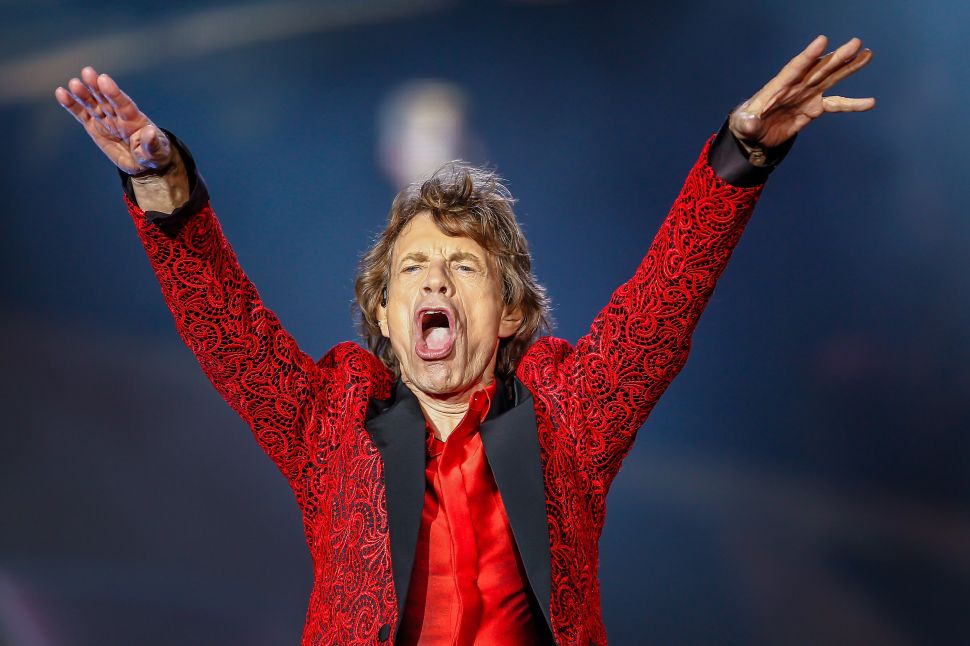 5.) Mick Jagger, $360 million
Just maybe the hyperactive Rolling Stones front man, 73, is starting to show a little wear and tear? The Stones recently canceled two Las Vegas concerts because Jagger couldn't get what he wanted, namely sound out of his famous throat thanks to bad laryngitis, according to the Review Journal. And that's not the only time of late that Jagger couldn't have his way: His much-hyped HBO series Vinyl went the way of those old sound recordings. But don't feel bad for Mick. He just bought his 30-year-old pregnant girlfriend Melanie Hamrick a $7 million luxury townhouse in New York, according to the Daily Mail, and Variety reports he's launching a new film effort, this time a biopic of music industry legend Sam Phillips.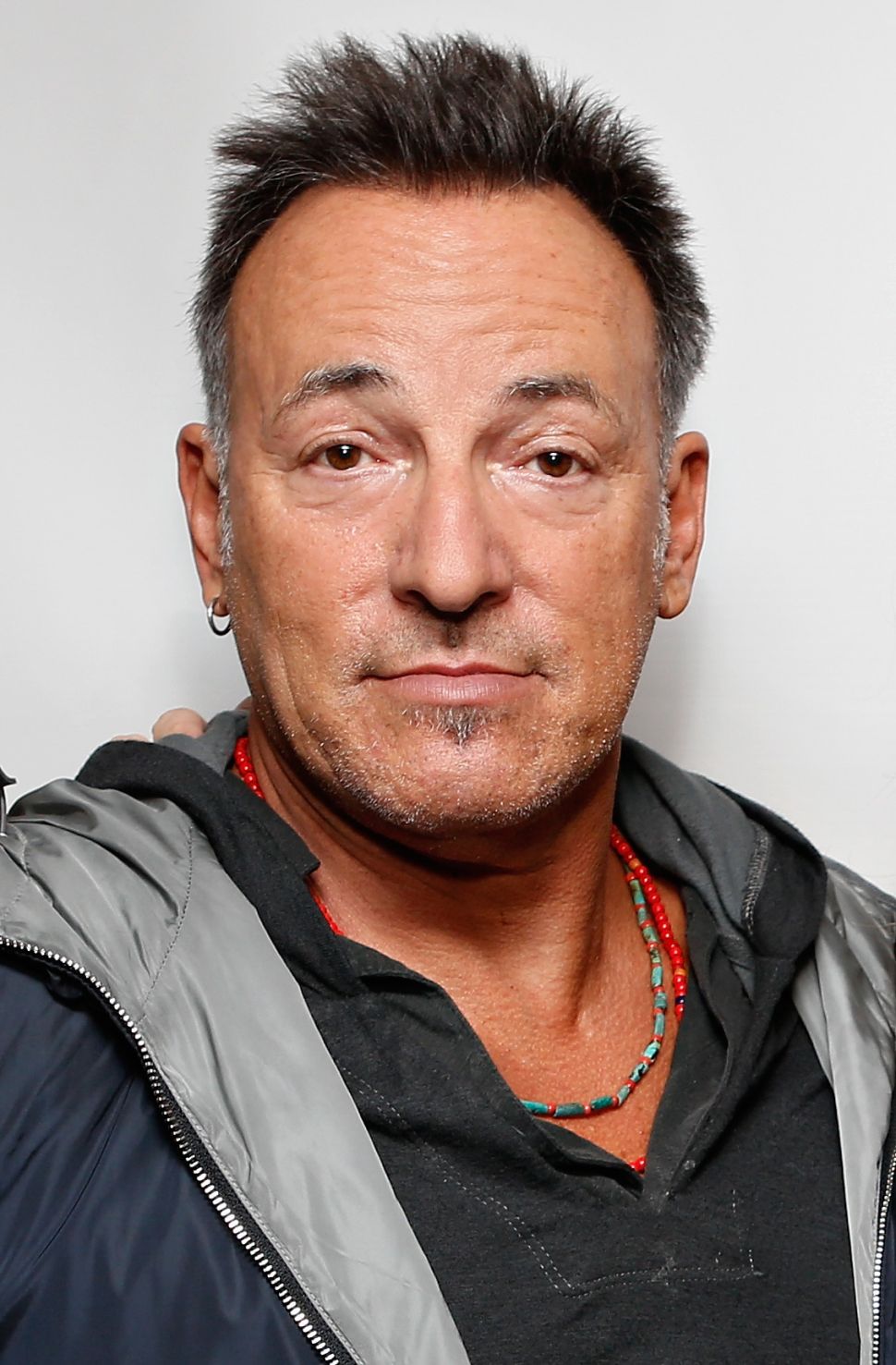 6.) Bruce Springsteen, $345 million
There are two kinds of music fans. People who love Bruce Springsteen. And the rest of the world. Fortunately for the 67-year-old Jersey rocker, there are plenty of people in the former category who will scoop up anything Bruce offers. And lucky for them, he just released Born to Run, a 528-page memoir that Rolling Stone describes as a "lucid, earthy, anecdote-stuffed autobiography." But there's at least one person who won't buy it. Like other musicians, the liberal rocker has picked a feud with Donald Trump, among other things recently telling BBC's Channel 4 that the president-elect is a "toxic narcissist." Could it be the opening salvo for 2020: The Boss versus The Donald?
7.) Keith Richards, $340 million
Unlike his bandmate, whose voice pipes are a bit broken, there seems nothing wrong with the 72-year-old Richards. Aside from the new blues album being released by the Stones, the ageless rocker will appear on a new Sheryl Crow record and has signed on, along with about 175 other musicians, for the "We Are Not Afraid" campaign. The global effort aims to raise funds for the refugee crisis and victims of religious and political violence. All proceeds generated by the project will be donated to Human Rights Watch and the International Rescue Committee, according to Rolling Stone.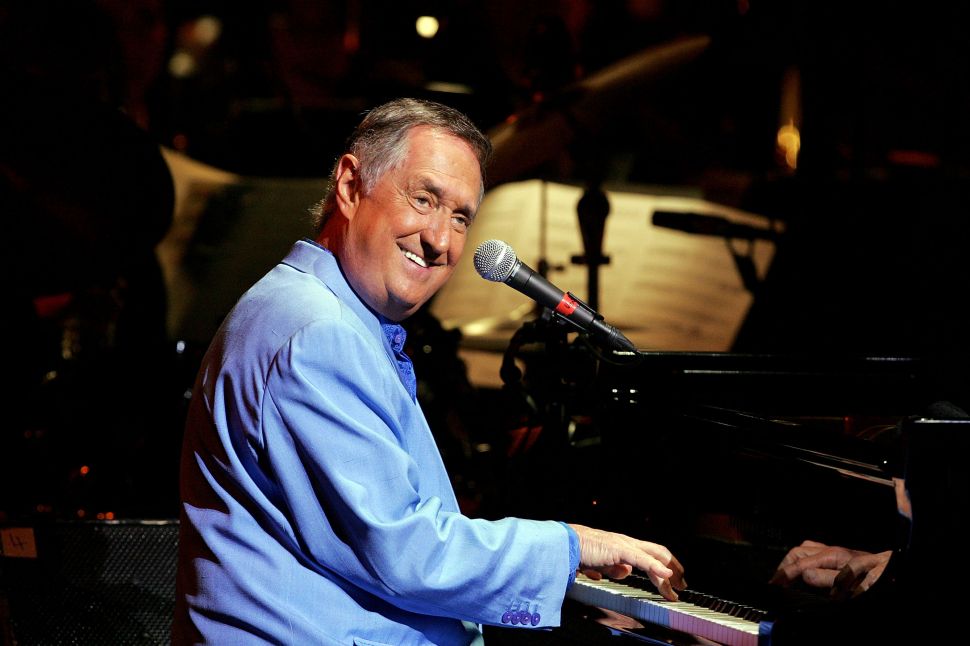 8.) Neil Sedaka, $300 million
A deal Sedaka, 77, signed over the summer with Round Hill Music to curate his collection is a reminder of how many hits the Brooklyn-born singer-songwriter has wormed into your brain. The catalog, according to Billboard, includes songs he wrote or co-wrote such as Connie Francis' "Stupid Cupid"; the Monkees' "When Love Comes Knocking at Your Door"; the 5th Dimensions' "Workin' on a Groovy Thing"; and Frank Sinatra's "The Hungry Years" as well as songs he recorded himself like "Calendar Girl" and "Breaking Up Is Hard to Do." But, not content to count the dollars from publishing deals, Sedaka is gearing up for another tour, set to begin January 14, 2017, in Beverly Hills. And he's also released a new CD, which includes his first symphony "Joie De Vivre."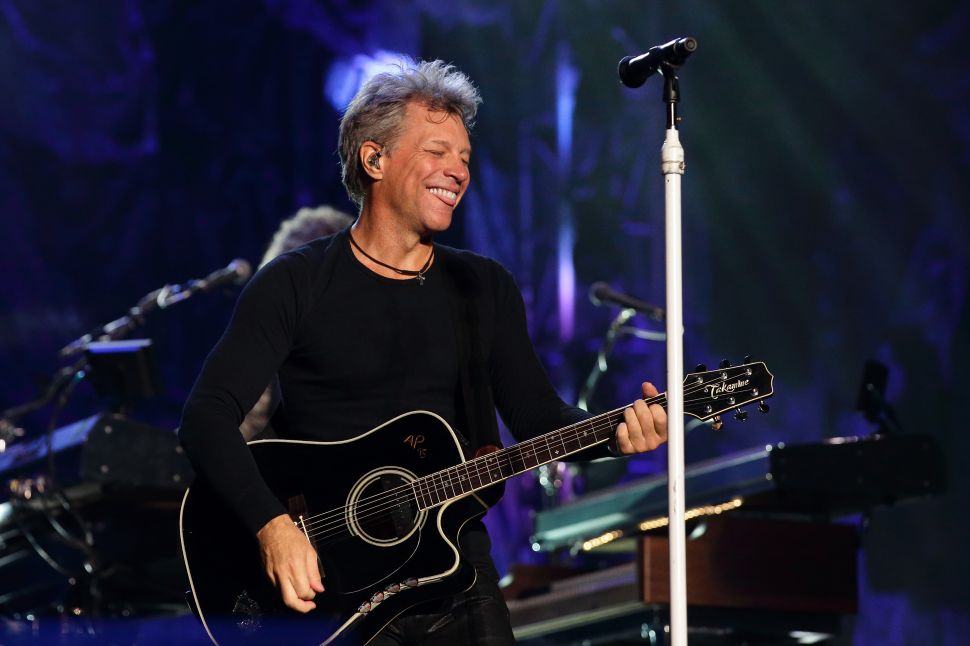 9.) Jon Bon Jovi, $300 million
Jon Bon Jovi, 54, has a lot going for him. His band just played a homecoming gig in New Jersey and just released its latest album, This House Is Not for Sale. But despite his big bankroll and many achievements, there's still at least one unfulfilled dream for the singer-songwriter: He pines to own an NFL football franchise.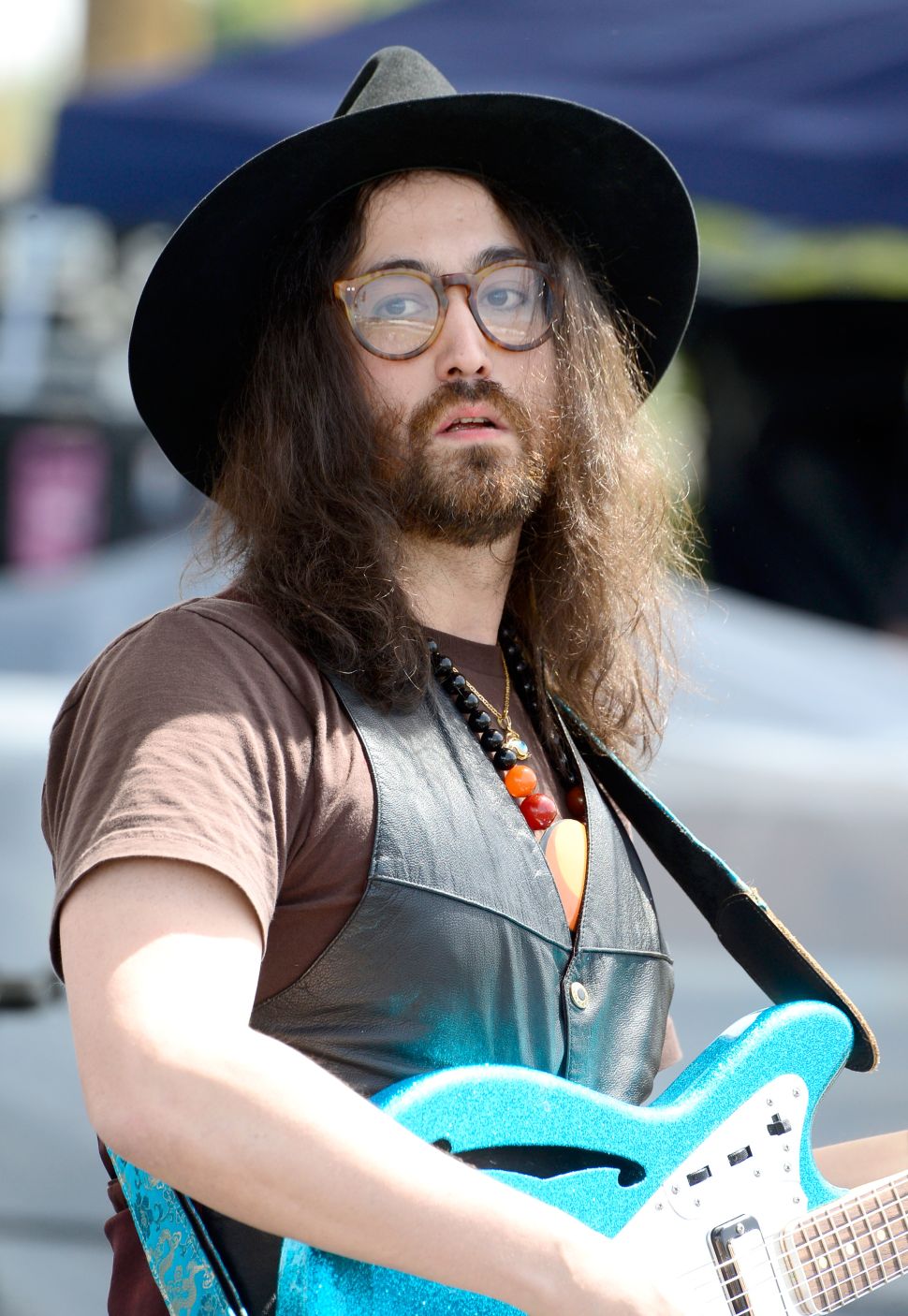 10.) Sean Ono Lennon, $200 million
When your last name is Lennon and you kind of really look like your famous dad, there's never any real getting out from under the burden of living up to an iconic parent, or in his case, two of them. Such was the case with a recent social media catfight over Yoko Ono's snapping a picture with one of the Kardashians, something fans felt was beneath the ex-Beatles' widow. But musically, anyway, the 41-year-old Beatle heir has gone his own way and, over the summer, released Monolith of Phobos, the debut album of his latest band, which Rolling Stone calls an "outlandish debut."
THE RICH LIST 2016
NEW YORK'S RICHEST NEWS ANCHORS