When describing his photos for the 2017 Pirelli Calendar, photographer Peter Lindbergh neglected to mention, by name, the most meaningful part of his photographs. "In a time when women are represented in the media and everywhere else, as ambassadors of perfection and youth, I thought it was important to remind everyone that there is a different beauty, more real and truthful and not manipulated by commercial or any other interests, a beauty which speaks about individuality, courage to be yourself and your own private sensibility," he said in a release.
This "different beauty" he's referring to is age. Each of the women depicted in the first four photos that have been circulated are well over 40. There's Julianne Moore (55), Uma Thurman (46), Robin Wright (50) and Nicole Kidman (49). Those lasting leading ladies are beautiful and smart in their own right, and their past and current work certainly stands against the notion that Hollywood is "afraid of older women" or simply just "hates to hear from older actresses."
Also included in the Pirelli Calendar are older actresses Helen Mirren, Charlotte Rampling, Penelope Cruz and Kate Winslet, plus a slew of 20- and 30-somethings: Lupita Nyong'o, Jessica Chastain, Alicia Vikander, Rooney Mara, Lea Seydoux and Zhang Ziyi. The 14 stars were snapped by Lindbergh in black and white, with all 40 images grouped together under the title: Emotional.
Unlike previous calendars, these women are fully clothed (though, to be fair, in 2016 Annie Leibovitz snapped a mostly covered cast, save for Amy Schumer). "To create a calendar not around perfect bodies, but on sensitivity and emotion, stripping down to the very soul of the sitters, who thus become more nude than naked," Lindbergh explained. This isn't his first go at the Pirelli rodeo; Lindbergh first shot the calendar in 1996 and again in 2002. In 2014 he partnered with Patrick Demarchelier to celebrate the 50th anniversary of the Pirelli Calendar, which originally debuted in 1964.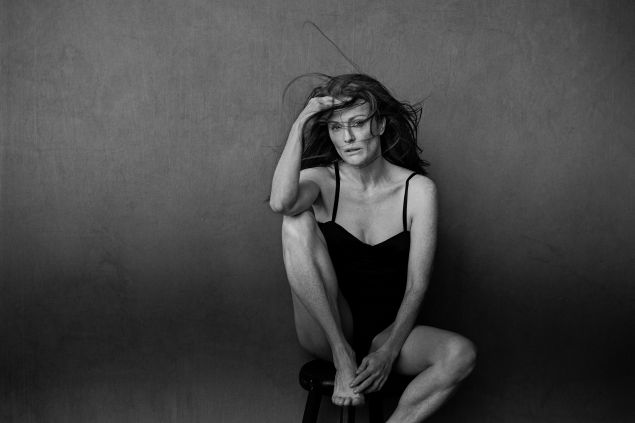 For 2017, however, Lindbergh made a stronger stance, by not photoshopping a single star in the campaign. "As an artist, I feel I'm responsible for freeing women from the idea of eternal youth and perfection. The ideal of perfect beauty promoted by society is something that simply can't be attained," he mused. And rightly so. Girls today need to see what real, hardworking role models look like, ones who are unafraid to show their wrinkles, imperfect bodies and, of course, emotion. These are the women they should long to become, revered for their work first, and their beauty second.
Though not everyone can buy a Pirelli Calendar, as they are only given to clients of the company, the Calendar's dedicated website can be perused by anyone looking for an inspirational picture, or two.