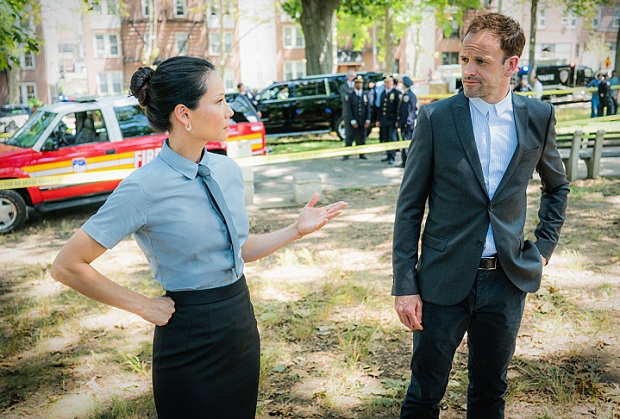 Welcome to our TV Fashion column, where TV Ate My Wardrobe's Emma Fraser discusses the trends in television apparel. This week: The signature, crime-fighting style of Elementary's Joan Watson. 
This week, Elementary joined the 100-episodes club, a TV milestone that guarantees a big cake and used to be the all important number needed for syndication. In this Peak TV era it mostly signifies the ability to stick around when there are so many other options. When a show has been on for this long costume patterns are easier to detect and there is also an aspect of seeing how trends impact what a character is wearing. Joan Watson has a very distinct and celebrated style and this evolution both reflects her progression as a detective, her relationship with Sherlock and external influences from the runway.
Joan is fashion forward and her closet is packed with a number of designer brands (this is a case of suspending disbelief regarding cost versus how much money Joan earns) including Victoria Beckham, Saint Laurent, Celine, Stella McCartney and Prabal Gurung along with affordable items from Ann Taylor and Zara. In early seasons Joan had a penchant for floaty and oversized garments often with strong patterns leaning towards the casual. Bold patterns have not been banished, but Joan's attire is now a lot more structured with a feminine spin on menswear.
Part of this is down to what is on trend and in recent years the lady suit has been making its mark on the red carpet and on TV with Hannibal's Alana Bloom going all in on the suit theme echoing her former lover. Suits are not the only way to play with masculine attire and variations in neckwear can have a similar effect.
Sherlock's signature look hasn't changed that much over the years; an often striped or checked slim-fit button-down shirt, done up to the top with no tie. His outfits are uncomplicated and he favors classics such as a pea coat with a flash of fanciful in his colorful socks. Alternatively, Joan has been embracing ties and a wide variation of bows over the last couple of years. Pussy bow blouses have come up on several occasions in recent weeks as a result of BrainDead and Masters of Sex and part of the reason women originally started wearing this style in the workplace was as a way to mirror what men wore to work without directly copying them.
In Elementary, Sherlock doesn't wear a tie, but other men in the police department they work for do and in way Joan is a bridging gap between her partner and the squad. What this style shift from oversized garments to a more uniformed look also suggests is Joan's confidence in her position as Sherlock's equal; she is no longer his student and carries just as much investigative clout. In fact the neckwear first made its appearance toward the end of season 3 when Joan returned to the Brownstone after a period of working and living apart and has been a staple ever since. For Joan, this item and all its variations signifies a renewed sense of self and belief in her abilities as a detective and costume designer Rebecca Hofherr has turned this into a significant Joan signature piece.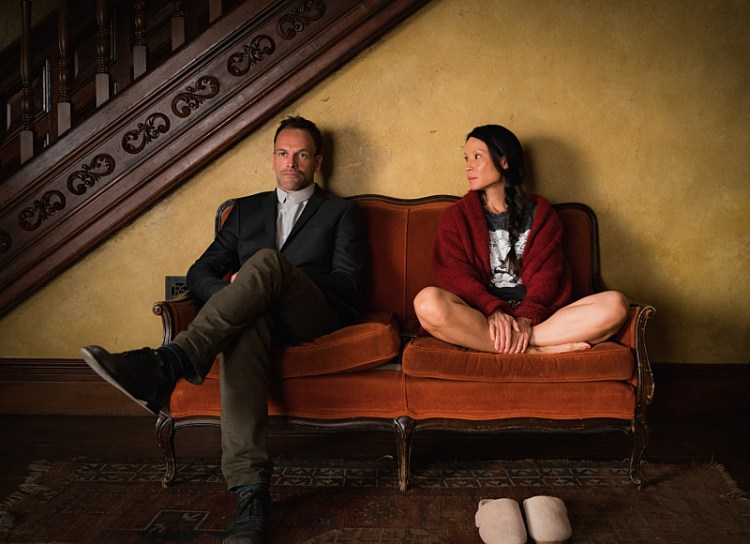 What we wear or how often we wear something can point to state of mind so while it is more than fine that Joan's red house sweater has been around since season one, Sherlock notices that something is up with her when she wears repeat chic outfits in the field. In the season 5 premiere Sherlock voices his concern about Joan's "distracted melancholy" and cites her wardrobe as one reason why he knows that something is up. This comment is twofold; we have not seen the occasions Sherlock speaks of, but we know that Joan rarely wears any of her 'work wear' more than once (outerwear aside) and it is also is a jokey reference to how big Joan's wardrobe is; her chic clothes are endless.
It isn't just Joan's street style that is highly covetable; her sleeping attire is mix of matching pajama sets and mismatched T-shirts, shorts and the aforementioned red house sweater. This latter term comes from Elementary costume designer Rebecca Hofherr and while I have grand designs on being a robe wearer, the house sweater is much more my reality. The one Joan has worn for five seasons (including episode 100) is a men's sweater and the bigger the better for your most comfortable garment. The Brownstone also looks like it would be a nightmare to heat in winter so this sweater size and collection of fantastic slippers/slouchy socks is also a practical costume choice. Repeating sleep/loungewear does not result in concerns from Sherlock as there is a comfort in the familiar when at home and this is not a pattern that has been broken.
Going back to ties and Sherlock's lack of; one of the many reasons why Sherlock and Watson have been adapted on numerous occasions is everyone loves a partnership that is built on opposites. Their personalities, methodologies and general disposition are at odds and yet they are the perfect team. So what about the ties?
Unlike a Masters and Johnson where their costume mirroring suggests that along with their work connection there is a deeper romantic one; Joan's look instead fills in the gaps of what is missing from Sherlock's hinting at their deep work and friendship bond. While they are far from matching there is a sense of style unity and the tie is part of this; like jigsaw pieces fitting together and solving crime in the process.
Emma Fraser is the creator of TV Ate My Wardrobe and spends most of her time writing about TV, fashion and costuming; Abbi and Ilana's Broad City style, the wigs on The Americans and Mindy Lahiri's pajamas are just as vital as talking about '90s, '00s teen shows. Emma has a MA in film and television, and she probably holds Angela Chase responsible for this path. You can find her on Twitter @frazbelina.