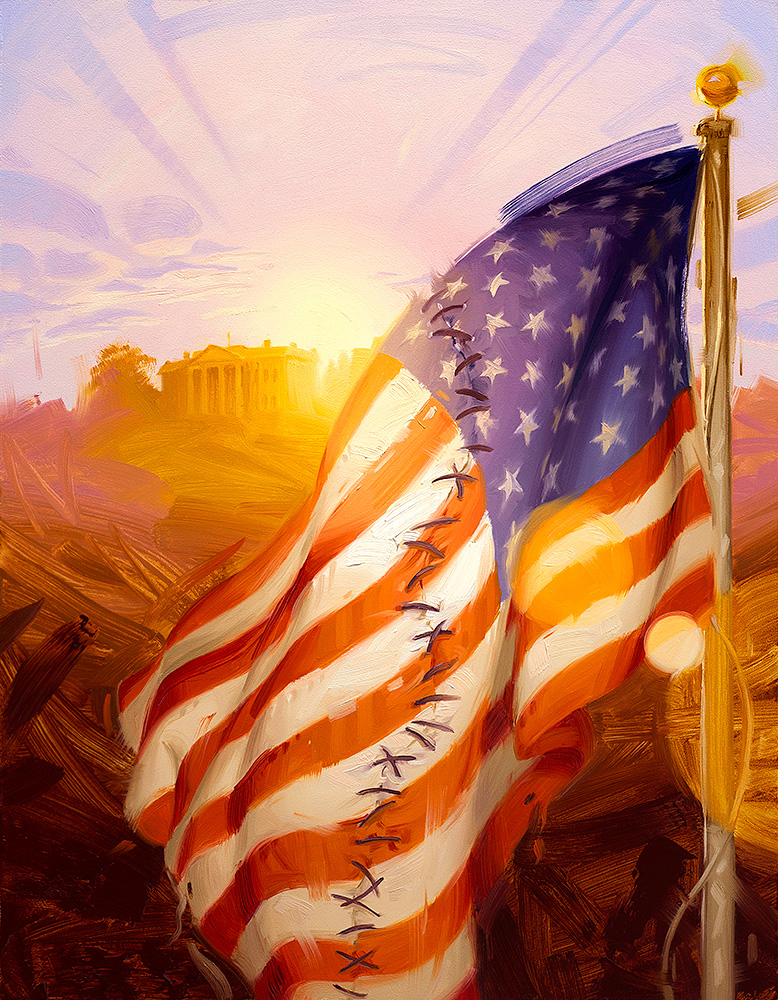 My Fellow Americans…
I stand before you, grateful, humbled, thrilled…
And as I look up to that glass ceiling here in Javits Center…a little incredulous.
But it's no dream!
Make no mistake. I know how we got here—and who to thank.
People like Pilar Grullon.
Born in the Dominican Republic. The first of her family to graduate college. A Nevada field organizer for our campaign.
"Be scrappy," she told her canvassers.
Were we scrappy? You bet! And today, partly because of our scrappy canvassers, I can thank millions of Americans who got up early, or came home late, to join neighbors in that sacred American tradition: voting peacefully for change.
This victory also happened because many of you contributed some of your hard-earned paychecks, put yard signs on the front lawn, put in long hours making evening calls or just put a bumper sticker on your car.
It happened because an American president who'd broken his own barriers, led a recovery from the biggest depression of our lifetime…and with his inspiring first lady taught us by their example: When they go low, we go high!
It happened because of the inspiration I draw from my daughter and husband—and grandchildren, Charlotte and Aidan. Whether I sit and read them Good Night Moon or—on tough days—click on the Instagram videos their parents send, they restore my…stamina.
It happened because of my partner, a candidate for vice president from Virginia, as passionate as his predecessor about change—and as capable of handling any emergency.
It happened because a senator from Vermont talked about issues like inequality, things our party hadn't talked about enough.
It happened because so many people on the opposite side of the aisle put personal belief before party!
It happened because so many said no to the politics of division…
And yes to a defining idea: We are stronger together.
So…thanks to every voter—those who stood for me, those who can't stand me. Because when people with different beliefs and backgrounds vote for who they want, we know nobody can, nobody will, rig our elections.
But now it's time to look ahead.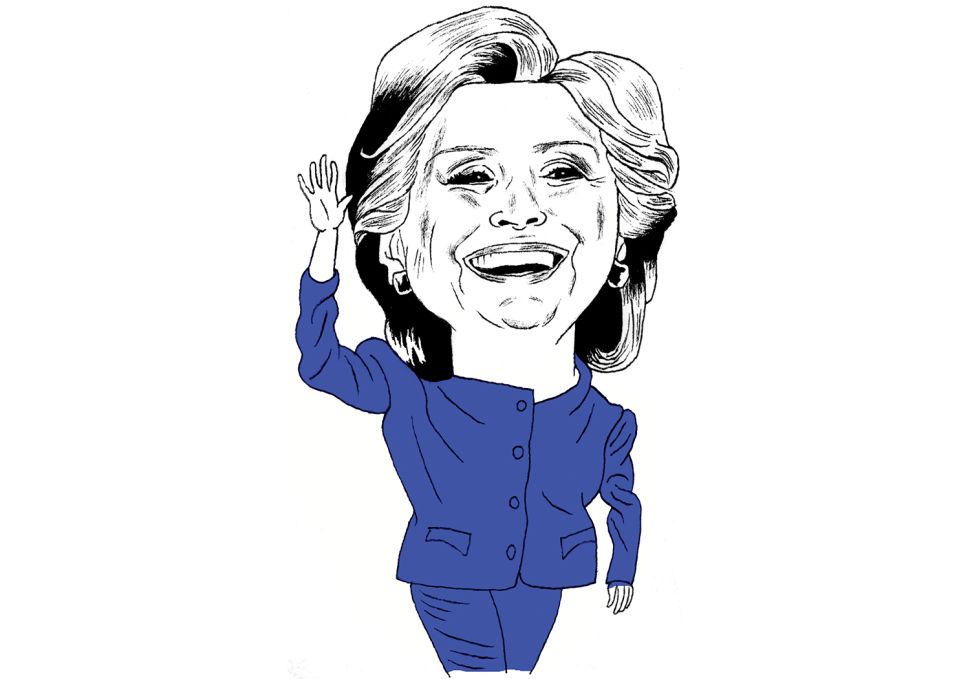 ***
It's traditional to congratulate opponents, and I do congratulate Donald Trump. He struck a nerve: He helped us see that Americans are tired of politics as usual.
But it would be dishonest for either of us to ignore the ugly insults he launched during rallies, or debates or late-night tweets.
Sometimes people say, "That's politics."
No. We're better than that. Public service is an intensely moral business. People in both parties choose this path to bring Americans better health care, good jobs, good schools—and the certainty that their sons and daughters won't face gunfire thousands of miles from home.
So to those who did not vote for me: My quarrel was with Mr. Trump—not the millions of decent people who felt—and feel—that he would bring about a better America.
Especially because many of you supported him not for the solutions he favored but the problems he pointed out.
Together, we can solve those problems.
Do we need to secure our borders? Yes! Win the battle against terror? Yes!
Restrain the power of the very rich? Yes!
Help African-Americans in our cities? Reform our tax code? Yes!
And we'll do more.
The lame duck session of Congress should let Americans making under $250,000 a year fully deduct medical expenses.
We will keep the Second Amendment—but keep guns from those who shouldn't have them.
Obamacare gave 20 million Americans health care for the first time—but 40 million still have none. Costs are rising. We won't trash it. We'll fix it.
And we'll create more jobs we can't outsource. America had over 11 million breadwinners out of work when President Obama took office. Now it's under 8 million. We're adding about 178,000 jobs each month. But we're not done.
And Republicans, don't faint. Democrats and Republicans see regulations we don't need. They hold our entrepreneurs back. Let's free them to move ahead.
And let's not wait for Inauguration Day. The lame duck session of Congress should let Americans making under $250,000 a year fully deduct medical expenses. It should cut federal taxes in half for active-duty military and our police and firefighters and our public school teachers who earn less than $100,000 a year.
Let's protect and serve those who protect and serve.
And I say to my former colleagues in the new Senate: finally give us a Supreme Court at full strength. Nine strong. Give us a Supreme Court justice who's distinguished, fair—and confirmed!
And because we must do these things together, I urge Republicans, including your former nominee, let's find common ground. America needs Democrats and Republicans to stop hammering each other and hammer out a plan.
In the Senate, I worked with many honorable Republicans like John McCain. I've known this hero a long time. We disagree a lot. But I remember that moment in 2008 when John took a question from a supporter who said—as an insult—Barack Obama was an "Arab."
Nobody wants to chastise a supporter with cameras rolling.
John took the mic. He said, "No, ma'am. He's a decent family man and citizen that I just happen to have disagreements with on fundamental issues."
The crowd booed. But John reminded us that Democrats and Republicans can disagree on issues but agree on civility.
***
We must restore civility to politics. So I now pledge five things.
First, I'll reserve two prominent cabinet slots for Republicans. I truly believe in a "team of rivals" in the White House.
Second, I say to Republicans: Let's have lunch. My treat. Let's stop ceremonial, scripted events. Beginning this week, I invite Mitch McConnell, Paul Ryan and others in the Republican leadership to lunch once each month, for the next four years, face-to-face. When I visit the Capitol and hand Paul a copy of my State of the Union Speech, I don't want that to be the first time we've spoken. 
Third, I say to people of faith, you need a defender. From the time I was a girl, going every week to First United Methodist, in Park Ridge, Illinois, my faith has guided me.
But we have an America of many faiths. At a time when black churches are burning and synagogues and mosques are facing attacks in record numbers, I'll appoint a senior official charged with making sure all Americans feel comfortable practicing their faith without fear. Many of our ancestors came here to seek religious freedom. Let's make sure they came to the right place.
Fourth, one matter that has attracted much attention.
I am proud that my husband created what has become one of the world's largest and best-run charitable foundations. Ask the 11.8 million people around the world who finally get affordable AIDS medication. Or the Nepalese devastated by last year's earthquake about the emergency aid Bill's foundation gave them.
But, such a foundation must be above reproach.
The paperwork's done. Bill and I will put the Clinton Foundation into a blind trust for—I hope—eight years.
Finally, I now believe what Bernie Sanders said was right. I made a mistake accepting money for speeches to banks when I left government. Legal? Yes. Wrong? Also yes.
Those banks don't need me to pay the money back. But I can help pay down our national debt. This week I'll donate every cent from those speeches to the U.S. Treasury. 
These are not the last steps to heal the anger this campaign brought forth. But they're a start.
You'll see more in the months ahead.
***
Our country faces many challenges. But the most pressing, the one that affects every challenge, is to restore trust in each other.
I know what it is like to lose trust in others. I know how hard overcoming that can be.
But I've also learned again and again that it is possible to start anew. My 41-year marriage is a rich, enduring relationship, with times of stress but a lifetime of the love. Bill and I will both work to earn your trust.
And we can, we must, rekindle that marriage of differing political opinions that has long enriched our country.
I say to you, there is more that unites us than divides us. We can find common ground.
No, it won't come with a single speech. Or a single law. 
It will come as we learn once again to assume the best instead of fear the worst.
It will come when we learn again to approach each other with open arms and problems with open minds.
Because what we do in the months ahead will be the legacy we leave behind.
***
READ DONALD TRUMP'S VICTORY ADDRESS BY RONALD REAGAN'S DIRECTOR OF SPEECHWRITING
You know, in the first year Bill and I and Chelsea were in the White House, Toni Morrison won the Nobel Prize for Literature.
When she went to Stockholm and gave her speech, we watched her tell a parable I've never forgotten.
It was about an old woman, blind, wise and—people said—clairvoyant. But one day two young people visit her, wanting, Toni Morrison said, to show "her up for the fraud she was."
"Old woman," says one doubter, "I hold in my hand a bird. Tell me whether it is living or dead."
Of course we know what they're up to. If she says living they crush the bird. Dead? They'll let it go free.
She doesn't answer.
The young person asks again, "Is the bird living or dead?"
She says, "I don't know. What I do know is that the (answer) is in your hands."
America, I am not clairvoyant. But I know this. Americans have lived through great conflict. We fix things with our own hands.
Isn't that what we have always done?
To those from other lands who, like our own ancestors, want to come here and lend a hand, I say, We won't keep you out. We'll welcome you in.
We did that after our founders finished that first Constitutional Convention in Philadelphia, torn by bitter disagreement. We helped George Washington forge unity from our differences.
We did it after marching suffragettes endured insults and defeats from those who believed women should leave voting to men. We passed the 19th Amendment whose fruits you saw today.
We did it during the greatest Depression the world had ever seen, when Americans thought our days of growth were over, united by a president in a wheelchair, with a vision.
We did it a half-century ago, in despair when our nation split over a war 8000 miles away and then over a president who betrayed our trust, only to recover and see the dismantling of a Cold War.
After each of those challenges, we rolled up our sleeves, joined hands…and went to work.
That's what we must do in the months ahead.
So…to those from other lands who, like our own ancestors, want to come here and lend a hand, I say, We won't keep you out. We'll welcome you in.
To those with whom we disagree, I say, We will not denigrate you. We'll discuss and dream and discover common ground.
To those living through tough times, I say, We do not put you down. We can lift you up.
So I ask you tonight, No matter who you voted for, can we work together? Can we make this a world not of hostility but hope?
I believe the answer is in our hands.
If Americans join hands…
…black and brown and white
…men and women
…Christian, Jewish, Muslim, Hindu, atheist
…gay and straight
…rich and poor
…Southerners and Northerners
…descendants of those who came here over a land bridge through the Bering Straits
…in chains on slave ships leaving the Gold Coast
…in steerage on steamers crossing the stormy Atlantic
…in leaky boats in the South China sea
…or on jets above clouds crossing the Pacific
…on foot across our southern borders
…if we do that then the world will see in this century, peace, promise and hope for all
…led by the country I am now privileged to serve as your president.
Thank you! And God Bless America! 
Former White House chief speechwriter for Vice President Al Gore, Robert Lehrman teaches public speaking and speechwriting at American University. He has written seven books, including The Political Speechwriter's Companion: A Guide for Writers and Speakers.