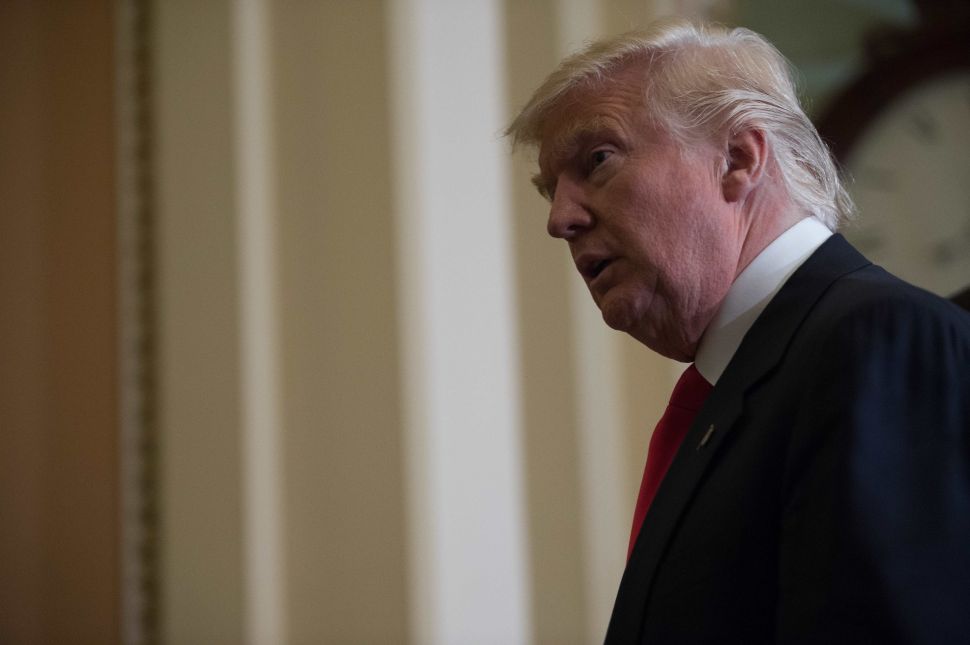 Hours after Donald Trump won the Presidency, I was on television. Later, on Twitter, I was told to shut my Jew mouth by more than one frog-emoji #MAGA bio. I also received an email from an anonymous sender informing me that, "We won: now get in the oven, kike." Add to that the heartbreaking and infuriating images of women—and young African Americans, Latinos and Muslims—being verbally and physically attacked by goon squads of white acne cases in schools; proposed Klan rally celebrating the Trump win in early December in North Carolina (there's your War on Christmas, Megyn!) and swastikas drawn on more overpasses than I can count, and my stomach just falls.
Pump the brakes. Was this Week One in Donald Trump's America? Hopefully not.
I'm in a dark place, but of course, given the Southern-Strategy campaign that Candidate Trump and the aggressive white-nationalist company that Candidate Trump kept, that's exactly where my head went. Deep breaths. This will never be as bad for me as it is for diverse—and now very vulnerable populations, especially in Southern states—who essentially live on small unguarded islands surrounded by a churning, angry, emboldened sea of Trump's America.
But Trump is going to be our President. We all need for him to succeed. Trump is going to wake up in the quarters where Roosevelt, Eisenhower, Reagan and, yes, Barack and Michelle Obama, slept. He will go to work—or I hope he will go to work—at the desk from which John-John Kennedy playfully popped. Donald Trump. At that desk, Barack Obama, forced by recalcitrant, obstructionist Republicans to go another route, signed the executive orders that protect undocumented immigrants and their children and committed the country to lead in the battle against climate change—that Donald Trump has pledged to shred in a force show of dominance that, disappointingly, is ripped from the pages of WWF.
I've been in politics long enough to know that campaigning is very, very different from governing. The whole poetry and prose thing: campaign in poetry—or in Trump's case, campaign as if a GG Allin show had a baby with "Tomorrow Belongs to Me" from Cabaret—and govern in prose. Or what passes as prose (a hint for Donald: it means written language in its ordinary form.) And in the prose, hopefully there's basic comfort—a chance to start coming back together. Direction needs to come from the top to get that moving.
I'm never going to stop thinking that everything the Trump campaign stood for is the tumor that can corrode and kill this country. No win will change that.
Simply because he didn't scream "lock her up!" lazy minds hailed Donald Trump's victory speech as uniting—Question: are our standards that low? Answer: yes!—but the proof for that doesn't come on election night. The proof for that comes with a transition and the first hundred days of a Presidency. And about the only light that's at the end of the tunnel is that President Trump is radically different from Candidate Trump. That is the only uniting force that we have to look to because Trump has no record of governing.
He hasn't revealed much: the 60 Minutes interview was an exercise in blocking, pivoting and hedging. Keeping two key planks of Obamacare was a step in the right direction and showed basic human understanding of the importance of that measure to our national health. Hopefully the replacement is a series of financial fixes under a rebrand. Hey, maybe they can call it ReaganCare or WhitePresidentCare and it'll be super popular!
But Trump—sorry, President-Elect Trump—has an extraordinary opportunity. He can positively engage the country, which the campaign almost broke. But first, he needs to undo a lot of Candidate Trump and he can do that by answering some simple questions.
Will Trump concentrate on jobs, jobs and more jobs—mainly through a sweeping, transformative and mighty infrastructure measure and renegotiating trade deals? Great. Perfect. Yes. He needs to articulate that 24/7 and hopefully as his transition gets off of the ground, we will see that this is about economics and, disgusting as it was, the rest was just noise.
Will he round up 11 million Latinos, ripping families apart and creating deportation forces? Paul Ryan acted absolutely aghast when asked about this repeatedly on the Sunday shows this weekend ("How could one THINK such a terrible thing?" he practically choked, his Walter Keane eyes nearly brimming with indignant tears), but again, it's what Candidate Trump campaigned on centrally. It would be good to know. These questions are just the beginning, but they head the list of queries from which unity can come.
Others: will he proceed with a witch hunt against Hillary Clinton to keep his base rallied? Or will his DOJ concentrate on matters of actual, substantive law enforcement? Will he at least engage on climate change if for no other reason than the fact that Mar-a-Lago will be the first to go? Or will he act with common sense and purpose on the greatest threat of our era?
One thing that President Trump can do instantly—that he must do—is to stop the hate. His campaign brought anti-Semitism out of the shadows, was run on the backs of the vulnerable, and has created an atmosphere of fear and hopelessness. He needs to speak out sharply and persuasively, in a national address, and dial the hate and aggression that he's given permission to way back below zero.
I can't tell you how many friends' kids—especially Muslim and Latino Americans—are scared to death, literally crying themselves to sleep since Wisconsin was called early Wednesday morning. America's youth think Donald Trump is coming for their parents. He must reassure and restrain. Yet having Steve Bannon and his alt-right hands and devious, white supremacist mind steps from the Oval Office serving, quite ominously, as Minister of Propaganda—apologies! Chief Strategist, whatever that means—is a terrible sign. We all know that during the campaign Kellyanne Conway gave a layer of cover to Bannon and it looks like Reince Preibus, as chief of staff, is partially there to do the same in addition to being a bridge to the Congressional establishment. Not good at all. Far from it.
I'm never going to stop thinking that everything the Trump campaign stood for is the tumor that can corrode and kill this country. No win will change that. But: how he handles his win can change that. I hope he can rise to the occasion and realize that he will be a President for the entire country and that in unity comes productivity, prosperity and—I'm adding this because I know he cares about it—popularity. If President Trump changes course from Candidate Trump, there's hope and perhaps even possibility. That is solidly in his hands.
Disclosure: Donald Trump is the father-in-law of Jared Kushner, the publisher of Observer Media.