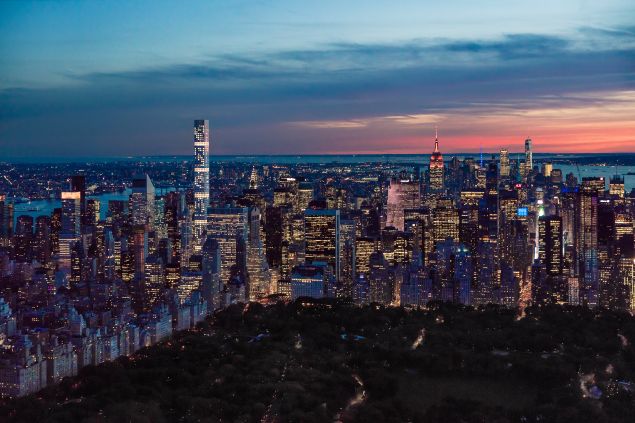 It is almost impossible to live in New York and not spot 432 Park towering over the skyline. You know, with it being the tallest residential building in the western hemisphere and all.
But just in case any New Yorkers have somehow managed to flit about the city and not spy the glitzy structure, that'll probably change next week,
Starting on Monday, the 1,396-foot box-like supertall will debut its "lighting feature," in which its five open-air "drum floors" (which consist of the cylinders that house the building's mechanical equipment) will be lit daily at sunset.
"The illumination of the double-height drum floors was part of the tower's design from its inception—a way to celebrate and highlight the integral breaks in the building," the building's architect, Rafael Viñoly, said in a press release.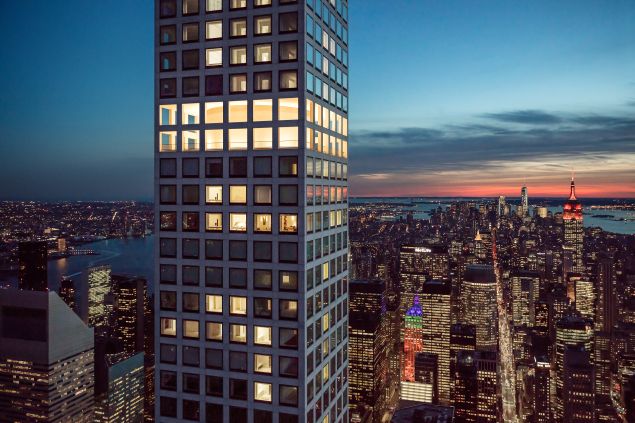 Viñoly created this lighting fixture, which will apparently be continuing from this coming Monday until forever, along with lighting design firm HDLC Architecture Lighting Design. The illuminated double-height floors (which are each over 30 feet tall) are located on the 31st, 45th, 60th, 74th and 89th levels of the condominium.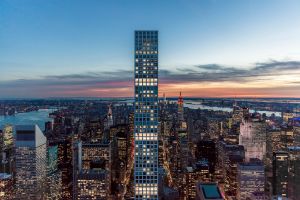 The light will glow from the oft-discussed signature 11 foot by 11 foot windowless openings, and apparently, this new light show will be visible from every single borough in the city. So, in case you were wondering, there is now literally no way to escape the image of the Macklowe Properties and CIM Group-developed building.
The top 96th-floor penthouse in the 106-unit building sold for $87.66 million in September—the priciest sale in the condo thus far, and falling just short of the record $91.5 million Bill Ackman paid for his One57 penthouse sale last year. If this light show has sparked an intense desire to buy one of the luxe units in the building, there are currently eleven apartments in the building on the market, for which the smallest, a three-bedroom, 4.5-bath aerie at just over 4,000 square feet, is listed for $17.5 million. If you're feeling more adventurous, the 95th-floor penthouse is up for grabs for a mere $82 million.