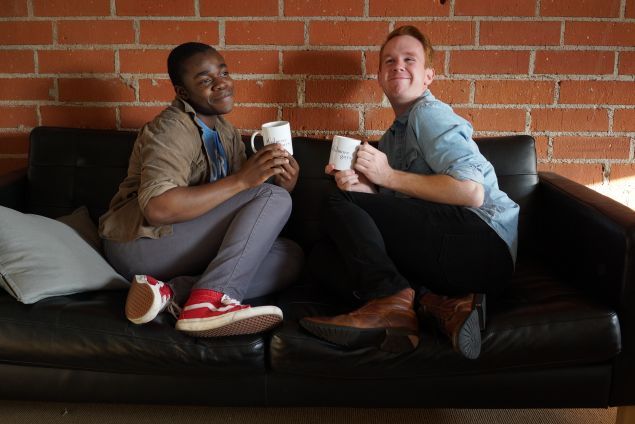 It's pretty safe to assume that you never know exactly where something, or someone, will lead you. This is certainly true of an endeavor born out of the love one can feel….for a TV show. It began innocently enough as a simple tweet, put out into the universe by longtime Gilmore Girls fan Kevin T. Porter, in September of 2014:
Demi Adejuyigbe responded to Porter that he was up for the challenge and things took off from there. But, Porter wants to be clear that it wasn't exactly Twitter that brought the two men together, "It was actually Facebook." And, he also wants it to be known that although they knew each other via the social media site, he and Adejuyigbe were merely acquaintances when this journey began.
"But it moved really fast," explains Porter. "We went to lunch a few days later and I said, 'do you really want to do this?' He said, 'Yes' and we were off and running. We recorded our first podcast a few days later and then it was live a few days after that."
What followed is a creative entity that evolved into not only a juggernaut podcast, with 368 hours of content put out in a mere two years, but a live show as well.
That show, a mixture of chatter, guest appearances, musical numbers and audience Q&A, has travelled from Los Angeles to New York, Austin, Philadelphia, Washington D.C., Seattle, Portland, Chicago, Minneapolis, Boston, Dallas, and even across the border into Toronto. Guests have included series stars Milo Ventimiglia (Jess), Scott Patterson (Luke), Kelly Bishop (Emily), Liza Weil (Paris), Sean Gunn (Kirk), Liz Torres (Miss Patty) and Emily Kuroda (Mrs. Kim).
In October of 2015, when Warner Brothers and Netflix announced that they were planning to revive the series for four 90-minute movies, the Gilmore Guys popularity took a definite leap forward, but Porter insists that none of what's happened was a part of the initial plan for the podcast.
"We didn't start this thinking, 'We're going to do this podcast and then do shows across the country and bring back the TV show,' he says in a faux grandiose voice. "I think if we had gone into it with that idea or something like that it would have ruined the fun of the process, for us and for the listeners. There was a lot of discovery along the way and I think we would have lost all of that. So no, there was no grand ambition with this at all. Truthfully, we didn't think more than a couple hundred people would ever even listen to this, we just wanted to do it for us."
Porter and Adejuyigbe love that fans of the show think they had something to do with the series being revived, but Porter insists that in reality they had very little influence on that decision-making process.
"That's a sweet narrative that people put on us, saying that we helped this to happen," admits Porter. "But I think our podcast served more than anything as a key piece of evidence that there was still this great amount of interest in the series. For some people it gave them a way to talk about the show again like it was alive even when there were no new episodes." He laughs as he says, "If I have to put a number to it, I'd say our podcast was .000002 percent responsible for the show coming back."
Porter also says that although their analytical focus has been all things Gilmore Girls, they have not been privy to any inside information about the new installments. "We actually chose not to watch any of trailers because we didn't want anything to be spoiled, so we know as much or as little as the public does at this point. Netflix and Warner Brothers have been lovely to us and we are going to the premiere, where I think they're showing the first episode, but until then we won't know anything at all. We like the element of surprise. It makes it that much more enjoyable for us if we go in without knowing anything."
Following the release of the four new episodes the Gilmore Guys will create new content as well, but aspects of their podcasts may be different than in the past, explains Porter. "Well, it's a little daunting because these new episodes aren't 42 minutes of content like the previous episodes have been, they're four 90 minute movies. Right now, our plan is to do one episode, or movie, per podcast. We're hoping that because of the amount of content in each movie that the podcasts don't balloon into these epic disproportionately long things that tax our listeners' attention span. So, we may have to adjust in some ways but we'll figure that out as we go along."
Because they're two dudes watching a show with two females leads with the word 'Girls' in the title, Porter admits that there are some misconceptions about the Gilmore Guys. "A lot of people who haven't really listened might think, 'Oh it's two men validating female culture, two guys 'mansplaining' something that was ours. How dare they!' That was absolutely never our intention. Gilmore Guys was just an idea to talk about the show, and the title was alliterative so we liked that. The idea of two guys talking about lady stuff was never of interest to us. We don't have, 'like now it's time for Dude Corner,' or anything like that. We happen to be guys and we're just going to talk about this show. That's where it begins and ends."
He pauses a moment and then continues, "In fact, I want to point out that I sort of got flack for watching the show in the past, people were like, 'Kevin you watch Gilmore Girls, that's weird!' I feel like that was indicative of the time when the show first aired — there was more of a divide between what was considered 'men's entertainment' and what was considered 'women's entertainment.' Now content doesn't feel as intentionally gendered in that way. So, we think that our show is a positive example of that – showing that this is for women, men, African-American people, Asian people, Latinos, for everyone, especially for people that aren't thought to be it's core audience. That's been a really lovely thing about the live shows, emails, twitter and all of this — seeing the diversity in the fan base and that everyone is accepted, no matter what."
Reaching the culmination of the series and the podcast is thrilling for the team, says Porter. "Because of the new episodes, this will be the peak of people's interest in Gilmore Girls and in our podcast. It's been really fun to be caught up in the middle of this moment. We couldn't have imagined how exciting this would be."
Now that the series will be complete after the release of the final episodes and the podcast will wrap up as well, what do the guys have planned next? "Another show, of course," reveals Porter. "As a team, we'll cover the much under watched and underrated series Bunheads. Then after that, I don't know what's in store."
Porter points out that his cohort Adejuyigbe is also busy writing on the NBC series The Good Place and as for his own future, he muses, "This whole experience has been a big shift for me. This was all very accidental for me. I didn't work in comedy before, but I hope to continue to work as a writer and comedian and do podcasts. My plan is to just follow that line wherever it leads me."
That sounds like a good plan.
For more about the 'Gilmore Guys,' please visit their website here.