There's something about Aesop products that turns people into slightly crazier versions of themselves. Take me, for example. I once attended an event with a bathroom that was stocked with the brand's exfoliating hand soap; I spent a good chunk of that party at the sink, repeatedly lathering my hands. I've heard countless stories similar to this, with people hiding Aesop products in their bathrobes, so their roommates can't borrow even a drop of their beloved body wash, and so on.
Which is why you would think that buying one of Aesop's gift sets is the perfect holiday present. Released today into the wild, there are six different sets up for offer. With a focus on Pursuits of Passion (this is the official name of the holiday range), each set comes with an equally epic title: The Constant Gatherer, The Intrepid Gent, The Impassioned Wanderer and so on. Each comes packaged in a durable black zippered box and a sleeve that has been decorated by Bendik Kaltenborn, an Oslo-based illustrator who is a regular contributor to The New Yorker and The New York Times. The drawings are delightfully devoid of any serious holiday décor (there will be no reindeers or menorahs here), making these pre-packaged gifts non-denominational and actually ideal for any time of the year.
Of course Aesop is offering a product that's somehow smarter than your average hand cream, as each was inspired by a naturalist. Japanese author and environmentalist Minakata Kumagusu has his own set, as does lover of trees John Muir and the first lady geologist, Etheldred Benett.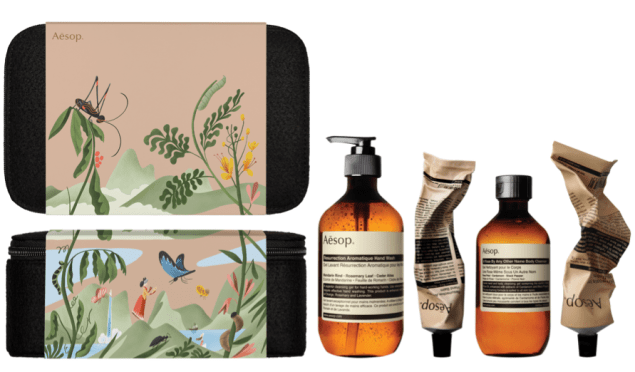 I got my hands on The Avid Explorer set (inspired by illustrator Maria Sibylla Merian) and had the full intention of giving it away as a gift. However, my mind kept wandering to the tangy sounding hand balm, scented with mandarin rind, rosemary leaf and Cedarwood atlas. No less than three hours later, I found the black Aesop box unzipped and the pinkish tube in my hand. The moisturizing cream, enriched with Tocopherol and Beta-Carotene is now a staple at my desk, I used it as a welcome, aromatic reprieve from banging out stories on my keyboard.
As for the rest of the set? Well, I swapped out the sad bottle of Dial soap at home with the large Resurrection Aromatique Hand Wash, which has the same scent as the hand balm. I plan on taking the Rejuvenate Intensive Body Balm with me on my next trip, to apply to dry skin between flights and I'm certain that I will be opening the A Rose By Any Other Name Body Cleanser before Thanksgiving.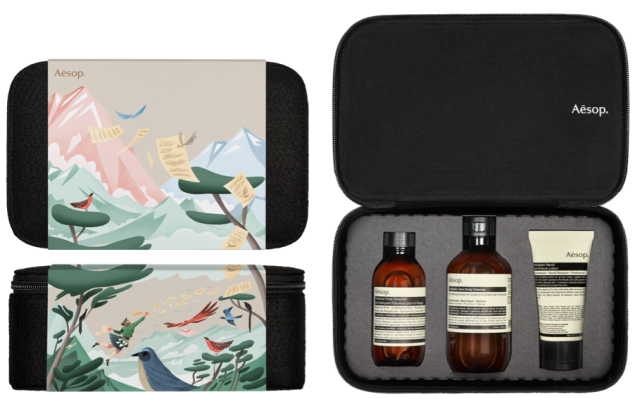 These Aesop sets are, in theory, a brilliant gift to give a boyfriend (The Intrepid Gent set comes with a post-shave lotion), your mom (The Persistent Collector includes a mask, a toner, a face wash and a moisturizer) or your BFF (she will be obsessed with the shampoo, conditioner and hair masque in The Impassioned Wanderer). But in reality, you will not be able to part with the brilliant pairings and delicious scents. Don't feel guilty about keeping this for yourself, just consider it to be an early holiday present to you, from you.