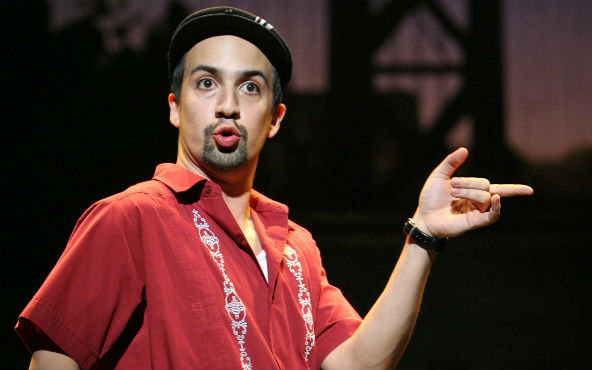 How did In the Heights go from a production in a bookshop basement to the Broadway stage?
Theater fans can find out thanks to a new podcast called Broadway Backstory, in which the people who created hit Broadway musicals take listeners behind the scenes to reveal how they were conceived.
The show is the brainchild of Patrick Hinds. who hosts the popular Theater People podcast featuring interviews with Broadway luminaries. Hinds told the Observer that he wanted to go deeper, however.
"No one's ever done a documentary style podcast about how a Broadway show becomes a full production," he said. "I wanted to tell these stories, and do something different for the genre."
Hinds partnered with TodayTix, a startup which offers discount theater tickets in cities like New York and London, on the project.
The first two episodes of Broadway Backstory, which were released yesterday, focus on In the Heights. Hinds has a special connection to the show because in 2003 he was the first person to interview Miranda, who had recently graduated from Wesleyan University, about it.
"It's the first interview I ever did, and the most significant I'll ever do," he said.
Thomas Kail, who directed In the Heights (along with Miranda's next show, a little musical called Hamilton) invited Hinds to spend a day with Miranda and attend a workshop of Heights in the basement of the Drama Book Shop in midtown Manhattan—a then-unknown actress named Kerry Washington was in the cast.
In the Heights of course eventually made it to Broadway, where it won four Tony Awards including Best Musical (and Kail was able to quit his job as singer Audra McDonald's personal assistant).
Future episodes of the podcast will focus on the musicals Fun Home, The 25th Annual Putnam County Spelling Bee, The Secret Garden, Legally Blonde and the Deaf West production of Spring Awakening.
Hinds said he chose these shows both because he loves them and because he wanted to see if he could book theater luminaries like Daisy Eagan (who won a Tony for The Secret Garden at the age of 11) or Spring Awakening composers Duncan Sheik and Steven Sater. As it turns out, he could.
"These were shows that interested me and that I wanted to learn more about," Hinds said.
Listeners can also vote through Monday on which show Hinds should feature on the season finale of Broadway Backstory—they can choose from Bonnie and Clyde, Bat Boy, Side Show, Urinetown or Next to Normal.
It may be hard for producers to keep the faith in an industry where only 20 to 25 percent of shows recoup their investments, and most shows operate as private companies which don't offer financial information. But Hinds urged those with deep pockets to roll the dice, because the stories he hears on his podcast prove that such risks pay off.
"The producers of Hamilton are millionaires 10 times over, but that's after producing 10 flops," Hinds said. "They do it because they love it. It's not about getting rich; it's about discovering great artists."