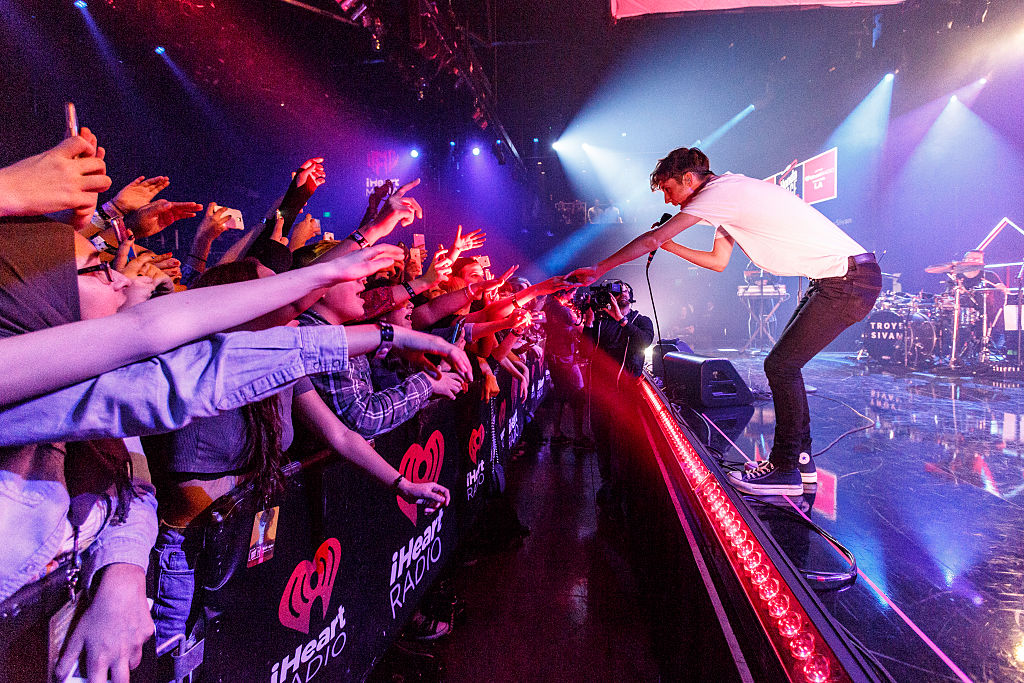 "Things are about to get a little bit sexy," 21-year-old pop star Troye Sivan warned a sold-out crowd of screaming teens during his first night performing at Terminal 5. "You all are really tightly crammed in, so keep your parts to yourself," he advised.
The reaction to Sivan's live performance was One Direction mania amplified, equivalent to the response of a Jonas brother coming out—the endlessly polite, openly queer musician wanted to make sure his slew of admirers were kept safe, even creating a hand signal if they needed to leave. The move reflected Sivan's attitude towards his devoted fans (totaling 5.9 million on Instagram). Over the past two years, they've witnessed his meteoric rise from wildly popular YouTube vlogger to a Rolling Stone Australia cover boy who's still able to connect with his fans in an authentic, meaningful way.
Sivan isn't only known for his dreamy, synth pop. His style has landed him a V Magazine cover with Victoria's Secret Angel Taylor Hill. His website sells of-the-moment merch in Tumblr pink. He even inspired a Tumblr devoted to sharing his daily mix of high and low outfits, including Alexander McQueen, Yves Saint Laurent, Converse, Palm Angels and ASOS. He unapologetically wears nail polish and glitter, inspiring his audience to do the same. At T5, he wore a Gucci bomber paired with embroidered Gucci sneakers. The Gucci obsession isn't just onstage; it continues in his lyrics. In one of his biggest hits, "Happy Little Pill," he sings about escaping suburbia (fittingly, also the name of this headlining tour) and gives the label a shout out.
Sivan wasn't the only stylish pop star onstage. Opener Dua Lipa wore a tight, Kendall Jenner-esque black Alexander Wang Resort '17 dress and Vetements platform booties. Lipa ended her set with "Blow Your Mind (Mwah)," which sounds like a combination of vintage Robyn, Carly Rae Jepsen's EMOTION and newcomer Léon. Lipa wasn't the only woman onstage; Sivan's band had two young women, as well.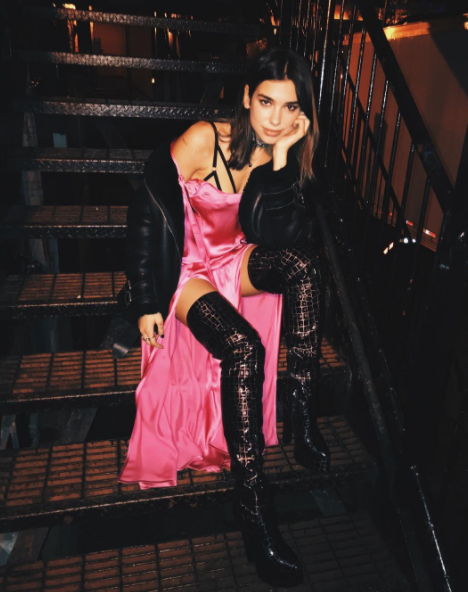 The VIP crowd, which Lipa joined at the end of her set, was equally chic, with an appearance from Sivan's model boyfriend Jacob Bixenman and Hari Nef. (The tight-knit group recently observed Shabbat together, where they took part in the very millennial mannequin challenge.) One young boy, who couldn't have been more than 12, twirled to the music in a handmade rainbow cape and matching makeup. On the floor, moms took selfies with their children and ordered white wine—other than the parents, no one was legal.
Throughout the show, Sivan was exceedingly polite, distributing Chipotle gift cards (hopefully, no one contracts E. coli) and praising the crowd. "A year ago, I had never played a show, ever," Sivan admitted. With legions of screaming fans, one would expect his music to be pure pop. Instead, he mixes new wave beats with mature lyrics, emulating his icon Frank Ocean, as opposed to Justin Bieber. And like Ocean, he's unafraid to be open about his sexuality. Pride flags were hanging from the balcony and the lyric "Don't you want to see a man up close?" elicited the loudest response. On tour, Sivan teamed up with the Ally Coalition to encourage fans to volunteer and advocate for LGBTQ inclusion in school curriculums.
[youtube https://www.youtube.com/watch?v=Yn_zJZYiF_E&w=560&h=315]
The evening fittingly closed with "YOUTH," an ode to being a cool teen, as every single member of the audience held up a cellphone to commemorate the moment. One fan even FaceTimed a friend, causing Sivan to grab their phone for a quick chat. "He has nice branding," was overheard as the mob scene made their way outside. "All the mothers were on the roof," a mom in the outdoor line-up announced to her fellow adults.
"This is still a mind blowing, surreal feeling for me," Sivan said at the end of the night. In a world of uncertainty, his performance reminded young teens, especially those who are queer or feel like outsiders, that there's still positivity. As one of the first young, openly queer heartthrobs, his popularity is mind-blowing—in the best way possible.
[youtube https://www.youtube.com/watch?v=XYAghEq5Lfw&w=560&h=315]