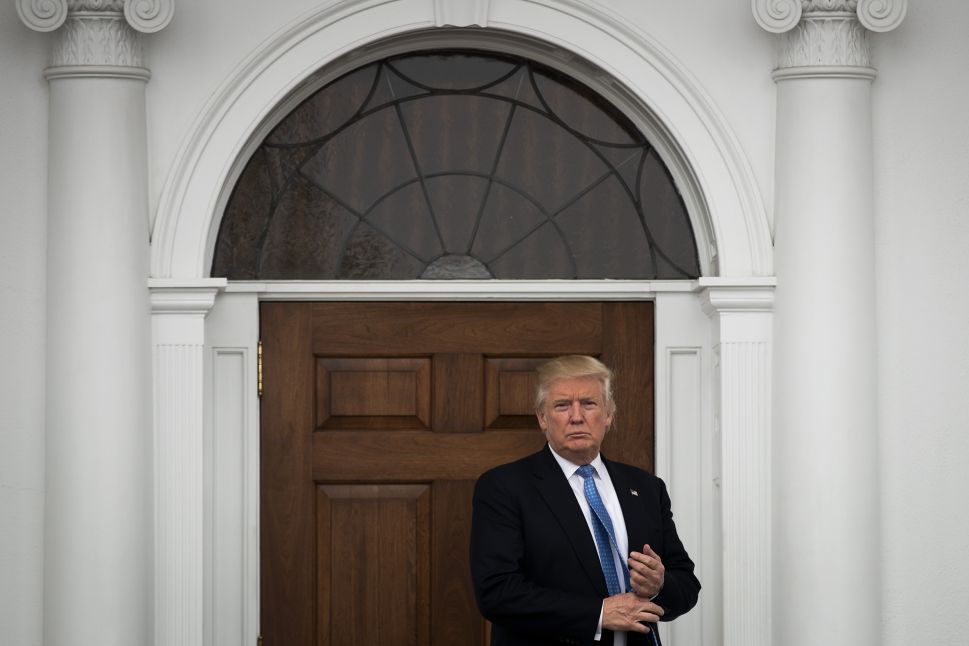 Less than a week after the election, Democrats began asking themselves what went wrong and where they should turn next.
It is time for new thinking, new beginnings. The age in which Donald Trump is the president-elect has begun to take form. It is a vastly different place than anywhere America has been before. And if the Democrats do not find a path to walk in this strange time, they will be left behind.
Trump, a controversial figure to say the least, has been lately widely compared to "a cantankerous leader whose distrust of the establishment is legendary." That would be Andrew Jackson, America's seventh president.
"This is like Andrew Jackson's victory," former New York City mayor Rudy Giuliani said to MSNBC's Chris Matthews on November 8. "This is the people beating the establishment. And that's how [Trump] posited right from the beginning, and people are rising up against a government they find to be dysfunctional."
We have been here before in the Jacksonian 1830s and 1840s. The only way the opposing team got their power back was to get Jacksonian as well. It will require more than just a stovepipe hat and country whiskers, as Abraham Lincoln fashioned, this time around, but Democrats today should take a look at the electoral map of red and blue states. Only a small corner at top right, and an edge on the left are blue, the rest is solid red.
There is a path and tempo to this political movement, and it is the path to the future. Democrats would have every advantage if they could effectively find the path, and make the turning. After all, Andrew Jackson was the founding leader of the Democratic party. It would behoove that besieged party to select a new, daring choice of candidate for 2020.
A Texan and a heroic military figure like Admiral (ret.) William McRaven, currently chancellor of The University of Texas System, might be an auspicious way to make a start fresh and to begin to appeal again to the patriotic heartland.
The Dems might also look to a contemporary, self-proclaimed "Jacksonian Democrat"; author, political commentator, and consultant Dave "Mudcat" Saunders, the rarity among Democrat consultants who saw an upset victory coming very early on. "I think Trump could beat her like a tied-up billy goat," Saunders told Politico as early as last March.
Saunders successfully guided Sen. Mark Warner to the governor's chair in Virginia. He also steered warrior/scholar/novelist Jim Webb—who briefly entered the Democratic race for the presidency, if you can remember that far back—to the senate from Virginia. We might look specifically to a book Saunders wrote a decade ago with Steve Jarding, a lecturer in Public Policy at Harvard's Kennedy School. It is a manual for Jacksonian politics and today even its title seems prophetic: Foxes in the Henhouse: How the Republicans Stole the South and the Heartland and What the Democrats Must Do to Run 'em Out.
"The Democratic Party unfortunately moved away from working white people," Webb, the quintessential Jacksonian, said recently in a speech on foreign policy according to the Daily Caller. "It made white working people their most convenient whipping post, particularly white males."
I saw the Jarding/Saunders book as an alert, prescient guide to American politics in a world which might have been, had Democrats paid more attention to their own history and their traditional constituencies—a world that Trump successfully commandeered and took to victory. I called it a manifesto in an earlier essay; "a masterpiece of political style and sensibility and a political pathfinder's guide to rising tides in contemporary liberalism."
With a Trump presidency, and the Democratic party at loose ends, it could offer Democrats a path to fight their way back to center stage.
Indeed, it would appear that much of Trump's appeal to the working man and woman takes its lead from rural, old school, seasoned Democrats like Jarding and Saunders.
"This book was written for the millions of Americans who have been forgotten," they wrote. Rings a bell, but one which echoes in a phrase we heard throughout the long primary season not from any Democrat, but from Trump.
The working class has become a "disposable commodity" Jarding and Saunders write. Indifferent government policies have "severely undermined the American family in ways that we have not experienced in three-quarters of a century." A lack of good paying jobs, minimal if any benefits and "the general disregard for our working class fosters insecurity, hopelessness, fear, tension, and turmoil. In short, these policies tear families apart."
Trump has eaten their lunch, but Jarding and Saunders offer a path forward. "Democrats cannot afford to keep writing off the South," they wrote. "If you don't start getting a message there, if you don't start listening to people there, if you don't start spending time, energy and money there, you can say goodbye to any notion of realigning political power and instead say hello to the numbing reality that you are relegating yourself to the status of a permanent minority party."
This is the wilderness the Democrats may be finding themselves in today. The 2016 election could lead to the end of the Democratic party in influence altogether if the Jacksonian political and cultural phenomenon begins a new political age, and continues to thunder across the full spectrum of American heartland states; maybe it brings Britain and half of Europe with it, and flows into the Middle East and Asia, too.
Perhaps it is time for Democrats to listen to what Jarding and Saunders have to offer.
Disclosure: Donald Trump is the father-in-law of Jared Kushner, the publisher of Observer Media.
Bernie Quigley is a prize-winning writer who has worked more than 35 years as a book and magazine editor, political commentator and reviewer. For 20 years he has been an amateur farmer, raising Tunis sheep and organic vegetables. He lives in New Hampshire with his wife and four children.