Perfume is one of the most challenging gifts to buy. Everyone has a signature scent, but identifying it is exceedingly difficult. To make gifting simple, two new companies are creating custom scents using interactive processes.
Erika Shumate, the co-founder of Pinrose, is focused on bringing young women luxury scents based on their personality. First, potential purchasers take a Buzzfeed-inspired online personality quiz. It presents photos (some examples are pink vs. green, or a wave vs. the calm sea) chosen after Shumate conducted extensive research on synesthesia. Then, users choose from scents suggested by their results with names like "Garden Gangster" and "Moonlight Gypsy."
The testers come in small, colorful packages that are easy to slip into a gym bag or carry in a purse. Each fragrance has a matching Pinterest board. The perfumes can also be customized with an individual photograph, making it entirely personalized.
"Instead of creating designer or celebrity scents, we wanted to create a line that used science in a way that helped women find high-quality fragrances," Shumate explained. Customers can buy small wipes and test them before deciding on their signature scent. The process has been popular at Sephora, where people take the quiz in the stores.
Shumate described the fragrance industry as "old school," and "lacking innovation." Anyone who has been wearing the same scent since grade school can agree. She and her partner decided to make customizable fragrances "like Snapchat filters for their life."
Pinrose works with high quality ingredients to offer luxury perfumes, but with a simple bottle design so it's still a gift-able price. By not using celebrity endorsements (instead, they see their customers as the stars), they also save on royalties.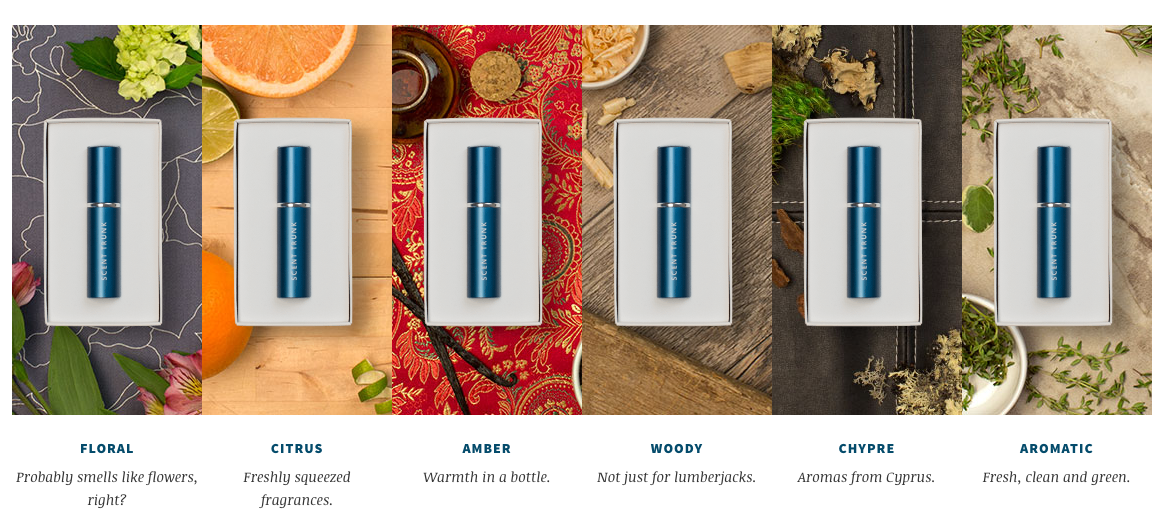 Alternately, Scent Trunk's Fit Kit is like a Blue Apron box, only for your next perfume bottle. Don't worry, though, as there's little D.I.Y. involved in the process, at least on your end. Customers buy a "Fit Kit," which gives them six samples they can rank. An algorithm then determines the right fragrance. If you're looking for a gift idea, give a pal the box when you're done, then buy them the scent that fits.
Co-founder Will Yin created Scent Trunk because he wanted to make the perfume-purchasing experience less stressful. "We were overwhelmed by a wall of scent at the department store and pressured by sales staff," Yin said.
Unlike Pinrose, Scent Trunk is a monthly experience. "Barely anyone finishes a bottle of fragrance," Yin told the Observer. Subscribers can switch their fragrances or choose the same one repeatedly.
For those contemplating a scent buy for their significant other, Yin believes Scent Trunk is the answer. "It's really hard to drag your significant other to the department store. It's even harder to figure out what they like. Most times the gifted fragrance just sits there and is never really worn," Yin said. Couples can try out the scents together and choose separate ones. Whether you're contemplating a new scent for yourself or need a gift for your cologne-averse boyfriend, both companies provide innovative ways to try new fragrances.