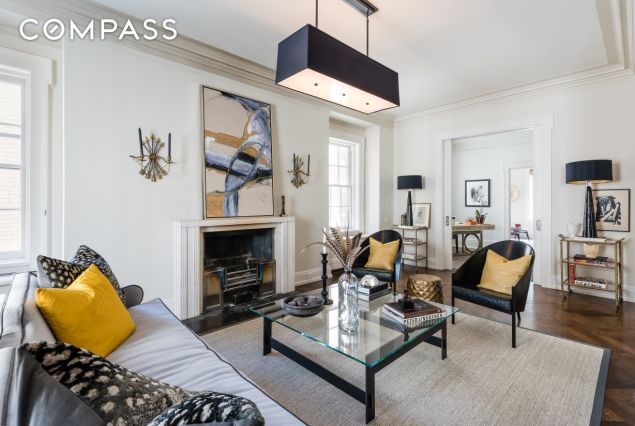 It was not particularly surprising when Uma Thurman sold her beautiful Gramercy Park duplex less than two months after it went on the market.
We must say, however, Thurman's real estate acumen is rather impressive—she managed to offload the five-bedroom, 3.5-bath co-op for $6.61 million, more than 5 percent over the $6.25 million listing price.
As the Observer noted when the home went into contract, perhaps Thurman's willingness to share her personal connection and love for 1 Lexington Avenue in the New York Times as part of the marketing plan helped bring in lots of prospective fans—er, buyers.
Thurman resided in the Gramercy co-op for more than 15 years, as she owned a different unit in the building with then-husband Ethan Hawke before she found this one and proceeded to complete a five-year renovation, which in our opinion definitely paid off—the home is gorgeous—and it seems buyer Brian Manning agrees.
The listing, which Corcoran brokers Robert Browne and Chris Kann shared with Compass brokers Kunsang Mipam Thurman (the Kill Bill and Pulp Fiction actress's brother), Adam Sikorski and Dan Bentov, declares the formal dining room is the "center piece of the home," perhaps because it's where one can step out double French doors and take in views of the Park from the terrace.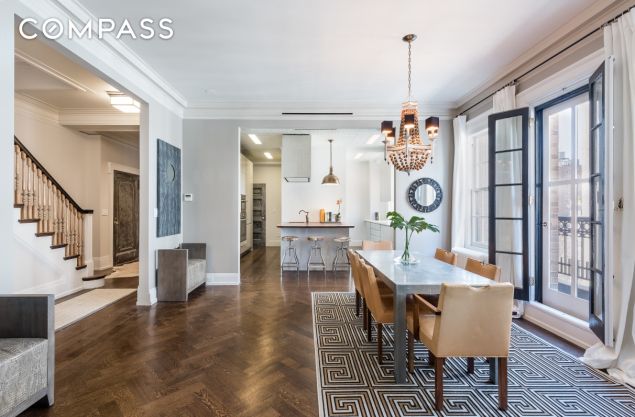 There are ten-foot ceilings, oak herringbone floors and a wood-burning fireplace in the living room. The eat-in windowed kitchen is done with marble and walnut counters, while one of the two master suites gets its own separate entrance, along with a walk-in closet and full dressing area.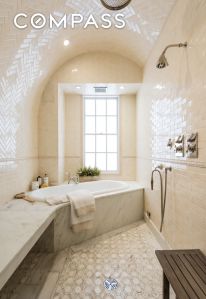 The second master suite, with another walk-in closet and the rather bold choice of horsehair upholstered walls, has one of the more elaborate marble and tile spa baths we've seen—there's a Turkish steam shower (yup, her own personal hammam) with marble floors, vaulted tile ceilings, a rain shower, cast iron tub, and a marble bench. Plus, a key to Gramercy Park. The necessities, right?
But apparently, none of these lovely attributes managed to sway Thurman when it came time to decide between Gramercy and things a bit further east: In 2013, she purchased a $10 million co-op at the uber-exclusive River House, on 435 East 52nd Street. We suppose even a hammam in one's abode doesn't hold up when one manages to gain entry into the very co-op that reportedly rejected Diane Keaton, Joan Crawford and the French Ambassador to the United Nations.