As of last week, a border patrol officer in Zurich can rest easy. "I've been traveling internationally a lot," Andy Krantz told Observer over the phone late last week. "I was coming back from our factory and was in the Zurich airport. I was selected for additional screening; it was really intense. At the end of the examination the officer said to me 'I'm sorry, it's a bit odd, but where did you get that duffle bag?'" At the time, there was no place to buy the duffle, but now Paravel has officially launched.
Available exclusively on TourParavel.com, Paravel is a direct-to-consumer brand based on an "honest price" situated in what the founders (which includes Indre Rockefeller, in addition to Krantz) saw as a blank space. Yes, that sounds like the story of every fashion startup in 2016, but the formula works. We've seen the success of brands like The Arrivals and Greats. We know how everyone wants to be a Warby Parker and disrupt their fields and yet, Paravel does have something to offer.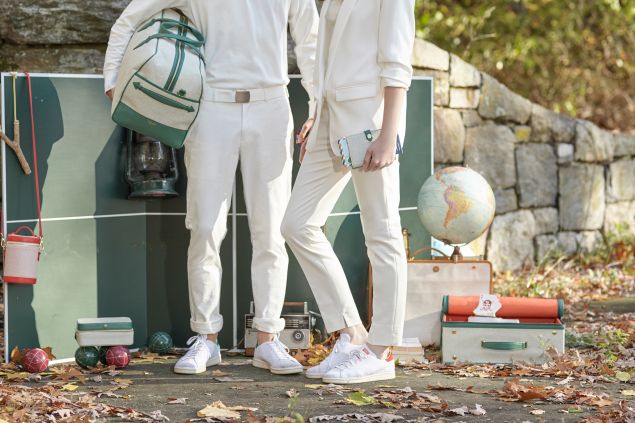 First up: the product. "We ourselves were personally frustrated by the options that were within the travel space," Rockefeller admits of the company's onus. "We felt that we were forced to choose between design and function." So the Paravel mission was simple: create a line with the aesthetic flair of a luxury brand, with the utility of a performance brand, typically delivered in a durable black nylon fabric. That problem called for the creation of the company's own signature performance canvas, which the whole launch collection is being offered in. "It's completely 'oops proof' as we call it." Rockefeller said. "That's waterproof, stain proof and spill proof. It allowed us to build a collection that acted like synthetic performance materials, but [with] the craftsmanship of a heritage product or material."
The utilitarian aspects of the collection goes beyond just the fabrication. The 10-piece launch collection features a roomy duffle that can hold up to a week's worth of items, as well as a stowaway suitcase. That latter product folds completely flat and is perfect for using as an overnight bag that can easily slip under a bed or even inside of another bag for a trip to Europe, where you might be doing a bit of shopping. The whole debut range comes in four different colors (Scout for camel, Mallard for green, Jetty for blue and Bebop for red) chosen to keep the line "optimistic and joyful."
"One of the most interesting things for us when we were looking at the travel market was how the demographics of travel are changing and how people are traveling differently," Krantz explained, referring to the launch silhouettes. "The Baby Boomer generation and older generations were typically thinking of travel as planning one big trip a year and taking a lot of baggage and doing one long haul. [For] the new wave, especially the millennial generation, travel has become an everyday occurrence. It's something that has come along with the rise of the ubiquitous weekend trip. Even people's daily commute has become a form of travel in and of itself." That all fed into the designs they landed on.
The other thing that sets Paravel apart is its founders. Between the two of them, Krantz and Rockefeller have worked in all aspects of the fashion business, logging time at Vogue (in Anna Wintour's office no less), Moda Operandi, Valentino and jointly at Delpozo. There's no doubt that with experience like that, these two entrepreneurs have a nuanced approach on how to tackle a new venture, which they are doing with both sets of eyes open.