President-elect Donald Trump said on 60 Minutes Sunday that Twitter and Facebook (META) "helped him win" the election. But there's another powerful social media weapon in his arsenal: Reddit. The subreddit R/the_Donald has actively supported Trump for months—over the weekend a Silicon Valley CEO was forced to resign after a Facebook post in which he threatened Trump was shared on the subreddit.
R/the_Donald's latest project is a "list of companies to boycott and to support" which includes a Chrome extension. Created by a redditor named WhiteChristianMan, the page aims to "drain the swamp" of any retailers or organizations which have been critical of the president-elect. The organizations to support, aside from Trump's own, include Wikileaks, the NRA, UFC (whose president Dana White spoke at July's Republican National Convention) and New Balance (an official for the shoe manufacturer said last week that "things are going to move in the right direction" during a Trump presidency).
While Trump has railed against the "biased media," several right-leaning news organizations are Reddit-approved, including Breitbart, the Drudge Report, The Daily Caller, Alex Jones' InfoWars and Sean Hannity's various shows. R/the_Donald has also endorsed vocal Trump supporters like Ann Coulter, Michael Savage, Milo Yiannopoulos and Dilbert cartoonist Scott Adams.
On the flip side, however, the subreddit also includes a lengthy list of retailers to boycott. They include Macy's (which stopped carrying Trump clothing), GrubHub/Seamless (whose CEO said any Trump supporters on staff should resign), Oreo (which moved production to Mexico), Ben & Jerry's (which supports Black Lives Matter) and Netflix (NFLX) (which counts a documentary about al-Qaeda among its streaming offerings).
Celebrities who criticized Trump are listed on the page as a "cuck to ignore." The word cuck is derived from cuckold and literally means a man who sexually submits to a woman. But the alt-right has co-opted the term to describe any person who inadequately supported or campaigned against Trump, and thus contributed to the white nationalist sentiment that the country has been taken away from them.
As such, just about every celebrity who supported Hillary Clinton (and there were a lot) has been branded a cuck, along with news organizations like The New York Times, Washington Post, Huffington Post and Salon, which broke the news of Trump's alleged misdeeds.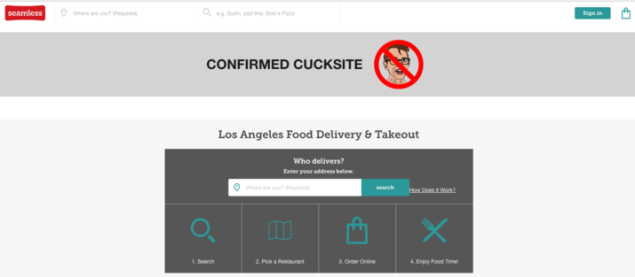 Any Trump supporter who wants such content scrubbed from their online feeds need only install Cuckblock, the so-called "cuck tracking Chrome extension." If you install the extension and logs onto a site like Seamless, you'll see a warning that it is a "confirmed cucksite."
Disclosure: Donald Trump is the father-in-law of Jared Kushner, the publisher of Observer Media.