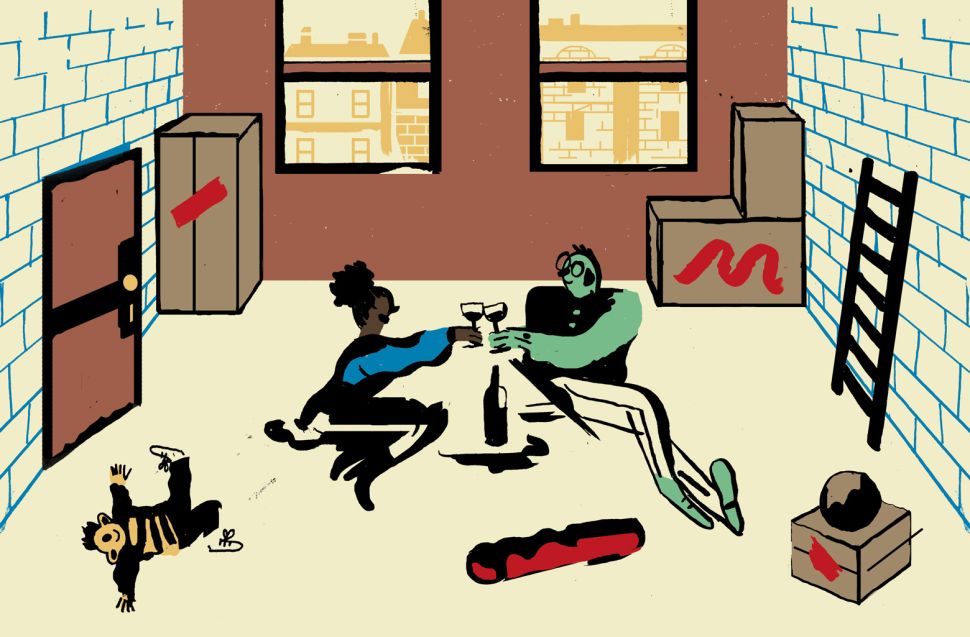 What could be more human than to search for a better home? Is it not that noble impulse that first drove us down from the trees to the grasses of the savanna (says the evolutionary biologist moonlighting as a real estate writer), that led us across the desperate tundra of the Bering land bridge to the New World?
On the other hand: Ugh. Moving is the worst. Probably no one should do it ever, and we should all just die in whatever apartment we first had when we landed in New York.
More likely, though, we'll continue to hop around. Rising rents, condo conversions, failed (or, if you're the optimistic sort, budding) relationships, kids—the reasons a person might have for moving are legion. And then there are those rare perverse souls who actually seem to like it, for which the thrill of something new is sufficient recompense for the hassle of hauling their lives about the city in a rented U-Haul.
Citi Habitats agent Angel Dominguez has been trying for years to convince a particular client to stay put and buy an apartment. She's had no luck, in large part, she said, because the man can't stop moving.
"He moves every single year," she told the Observer. "He just changes up neighborhoods because he's bored."
When Dominguez first began working with this client, he was living on the Upper East Side. Then he moved to Hell's Kitchen, looking for a somewhat livelier location, she said. Hell's Kitchen had too much construction, though, and too many tourists, and so after a stint there he moved on to the Lower East Side.
Citi Habitats agent Angel Dominguez has been trying for years to convince a particular client to stay put and buy an apartment. She's had no luck, in large part, she said, because the man can't stop moving. 'He moves every single year. He just changes up neighborhoods because he's bored.'
"Since 2012 he's moved every single year," she said. "I've been sending him [sale] listings just to let him know, 'Look at the tax breaks. Look at what you're actually paying. A mortgage would be so much cheaper.' But he's still dragging his feet. Although, he does acknowledge that the listings I sent him are pretty good."
Susannah Vila founded a company around the notion of frequent moves. Her firm, Flip, helps match people looking to leave their leases early with others looking for a new place. To her way of thinking, the trend toward freelance labor will likely increase the pool of renters for whom flexibility is key.
"They don't have to live in the same place for as long a period of time, so more people are going to want flexible lease options," Vila said, noting that the idea was inspired by her own living situation.
"I was living for a period in time in San Francisco, for a period of time in New York and then a bunch of other cities, and I came out of that at the end of my 20s and I really just wasn't ready to settle down," she said. "In New York I've had probably like 15 different apartments. I went to NYU. I went to Columbia for grad school. I lived in the East Village for a while, Brooklyn for a while. I've definitely been a frequent mover in the past few years."
Three moves a year would be her ideal, Vila said.
What might inspire such intracity wanderlust? Circumstance, of course. (In the fall of 2013, for instance, a series of exceedingly poor real estate decisions forced this reporter to move—with a toddler in tow, no less—three times in two months.) But is there perhaps some deeper psychology at work?
Sure, why not? There are a number of reasons a person might be a serial mover, said Lynn Saladino, a clinical psychologist who also serves as an in-house health and wellness consultant at Mirador Real Estate.
For instance, "New apartments often represent a fresh start. If there is something uncomfortable happening in someone's life, they likely think a geographic move will help them forget about what was bothering them," said Dr. Saladino.
"I see this a lot after significant breakups."
'Move people into the city, move them around the city and then when they've had enough of the city, we move them out of the city.'—Richard Catherall of Lift Movers
The eternal quest to impress might also be a driving factor, she suggested. "Location and apartment can equate to status for many people here. New Yorkers looking for 'the next best thing' may choose to relocate a lot in hope of constant upgrades."
Most commonly, though, people move because they have to. Life, as they say, happens.
"I would say, based on what we see every day, 90 percent of people who are moving frequently are people who are consistently searching for better rent," said Richard Catherall of Lift Movers. "Their rents get raised, they have a certain budget, and because of that they're constantly looking [for apartments where they] can pay the amount that they've budgeted into their lives."
"You have a lot of younger people who move to the city and scramble to find their first apartment because they're not used to the real estate market here in New York," said Sven Wechsler, owner of moving company Sven Moving. "Maybe they wanted to live in Williamsburg but they couldn't [afford] Williamsburg so they settled for Eastern Bed-Stuy, and then once they had a little financial footing they found a place in Williamsburg and jump to that apartment. Then maybe they didn't get along with their roommates, so they keep moving. Then they get a girlfriend and they move in with their girlfriend. Then they have a baby, and they need room for the baby. Then they get divorced…
"Move people into the city, move them around the city and then when they've had enough of the city, we move them out of the city," he said.
Citi Habitats agent Kevin Kemble has enjoyed a particular intense version of this story. Since arriving in New York nine years ago his circuit around the city has taken him from Bed-Stuy to Crown Heights to Clinton Hill to Chelsea back to Clinton Hill to the West Village back to Clinton Hill again to Windsor Terrace back yet again to Clinton Hill to, finally, Cobble Hill, where he has resided since August.
"I'm planning to stay here for at least a year," he said, which might not sound like all that extraordinary a duration but nonetheless marks a notable departure from his previous pace of a move every six months.
Roommate shadiness, romantic entanglements, injured friends, Airbnb deals gone wrong—the reasons for Kemble's many moves run the gamut. One thing remains constant, though: It's never fun.
"It takes up your whole life," he said. "It costs a lot of money. You have to pack up everything, clean everything. And it's not like you can go out to dinner when you're packing up your apartment. It's not like you can hang out with your friends when you're schlepping things up four flights of stairs."
Simplification is the key to enjoying the nomadic lifestyle, suggested Vila. "When I think of [Flip's] ideal customer, she doesn't really have a ton of stuff. She has three duffle bags of clothing that she really loves and wears a lot and two or three pieces of furniture that she loves, and that's it."
Also, Kemble said, stop moving yourself. "I've never hired movers, but I will say it right now—this last move to Cobble Hill was it. I will always hire movers from now on."
Or, instead of actually moving, maybe just enjoy fantasizing about it. (Note: This approach is unlikely to endear you to your real estate agent.)
"There are more lookers than there are people who actually move," Kemble said. "People think all of a sudden there's going to be this one apartment that's going to have everything they want and have the best lease terms. And it usually never happens like that.
"You think about a brownstone—it's just a big rectangle," he said. "You can only cut up a rectangle so many different ways, but there are people who walk into these places expecting them to have some Harry Potter spell on them to where they're going to open up into this giant loft. I'm just like, 'No, it's a rectangle. It can only be cut up so much.' "
"I don't know if I have any special insight into the psychology of the serial mover, but I think a lot of it is [people] always just sort of dreaming of that perfect apartment," Wechsler said. "And in New York, you can't get the perfect apartment because, just with the real estate market and the prices, it doesn't happen."
And even if you can move to a better place, you can't move to a better self.
Wechsler recalled certain repeat customers his company has moved over the years due to roommate problems.
"They'll say, maybe, 'These people are terrible! They're psycho! They won't leave me alone!' " he said. "But then by the third time you're moving them and they're still saying that, you're like, 'Well, you know, maybe the problem is you.' "