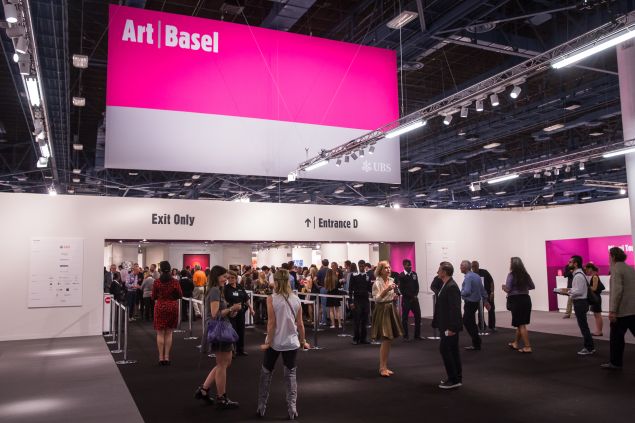 Probably every art event holds some degree of uncertainty. For the museums: Will people come to see it? For the galleries: Will collectors buy pieces? For the artists: Will I get a good review? Even for the artwork: "'Am I a masterpiece,' it must ask itself, 'or an assemblage of junk?'" as the late critic Harold Rosenberg wrote.
International art fairs embody all those concerns, and Art Basel Miami Beach probably has a lot of jitters right now. Organizers of the massive art fair, which takes place at the Miami Beach Convention Center (a day ticket is $50), certainly must be relieved that the mid-November Impressionist/Modern and post-war/contemporary art sales by the major auction houses were only rated by analysts as a bit lackluster, rather than catastrophic, considering the lead up to these sales that included the recent presidential election, the Brexit vote in the U.K., back-sliding economies in Europe and low oil prices.
Add to this, worries about the Zika virus, which the United Nation's World Health Organization recently downgraded last month from "public health emergency of international concern" to "a significant and enduring public health challenge," according to Dr. David Heymann, head of the group's emergency committee on Zika. Still, it is quite a concern.
"People are very concerned about Zika," said Helene Winer, part-owner of New York's Metro Pictures, which will have a booth at Miami Basel. "All of the younger women who work at the gallery" have expressed nervousness about going there, adding that "one pregnant staff member isn't going."
One might guess that these conversations have been taking place at galleries all over the world. "My mother is freaking out," said Laura Newman, director of James Cohan gallery in New York City, who is in her 30s. "But, what I've read is that these mosquitos are most likely to bite during the day, and I will be inside a convention center all day, so I think I'll be alright. I'll also wear unscented bug spray, just to be safe."
A spokesperson for Art Basel issued a statement of reassurance to the Observer, noting that "some guests may inevitably choose not to attend because of their personal situation," most likely women of child-bearing age, but otherwise claiming that "Art Basel is taking the situation seriously and continues to be in regular and direct contact with the City of Miami Beach's senior management, including both the mayor and city manager. City officials have repeatedly assured us that they are aggressively addressing the situation—in close coordination with the Department of Health, Centers for Disease Control and Prevention and Miami-Dade County Officials—and that the rigorous abatement measures they have collectively taken throughout the city since late summer are proving to be effective."
Certainly, the health worry has not kept exhibitors from coming. There are 269 galleries from 29 countries around the world expected to be in attendance, up slightly from last year's 267. Nor has it limited the number of "satellite" art fairs, piggy-backing on Miami Basel's huge draw, such as Aqua Art Miami, Design Miami, Ink Miami Art Fair, Lingerie Francaise, NADA Art Fair Miami Beach, Pulse Miami Beach, Scope Miami Beach, Untitled Art Fair, Miami Project, Fridge Art Fair, Satellite, X Contemporary, Art Miami, Art Beat Miami Art Fair, Context, ArtSpot Miami, Spectrum Miami, Superfine!, Technique Art Fair, Red Dot Miami, Pinta Miami, Miami River Art Fair, Prizm Art Fair and Art of Black Miami—all taking place roughly during the same group of days. "If there were real worries about how well Miami Basel would do, you would see those little fairs disappear first," Wendy Cromwell, a New York City art advisor, told the Observer.
Over the past several weeks, gallery owners have been communicating by phone and electronically with collectors and art advisors who regularly visit their booths, sending images of the artworks they expect to bring, and arranging times in the mornings or evenings to meet. These dance cards are getting filled, dealers tell the Observer.
In fact, there are reasons to believe that Miami Basel will be a quite successful art fair, perhaps indicated implicitly by the recent auctions in New York City.
"In times of market uncertainty, private dealer sales are often the safer route than public auctions, unless there is a guarantee backing the sale price, which is usually just the case for trophy works," said London art advisor Constanze Kubern. "If dealers have secured good quality works, and from what I have seen so far they have, most of them playing it safe with established names rather than speculative artists and offering clients 'investment grade' material, then I am sure the fair will be a great success."
In the gallery booths, among the other notable displays on hand at Art Basel Miami Beach are:
a series of mixed media works on paper by abstractionist Hedda Sterne at New York gallery Van Doren Waxter
a selection of 20th century works including those by Jean Arp, Marc Chagall, Max Ernst and Robert Motherwell at Munich, Germany's Galerie Thomas
a one-artist show of works by Leon Polk Smith at New York's Washburn Gallery
prints by Robert Rauschenberg and Frank Stella among others at Los Angeles' Gemini G.E.L.
photographs by Edward Weston, Manuel Alvarez Bravo and Henri Cartier-Bresson at New York's Edwynn Houk Gallery
Romare Bearden's collages and photostatic enlargements at New York's DC Moore Gallery
a selection of works by Giorgio Morandi at Bologna, Italy's Galleria d'Arte Maggiore
works by Beauford Delaney, Aaron Douglas, Norman Lewis, Jan Matulka and William T. Williams at New York's Michael Rosenfeld Gallery
David Wojnarowicz's 1988 AIDS-inspired photograph Untitled (Buffalo) at New York's P.P.O.W.
a selection of work by Betye Saar at Culver City, California's Roberts & Tilton
works by Mona Hatoum and Larry Bell at London's White Cube