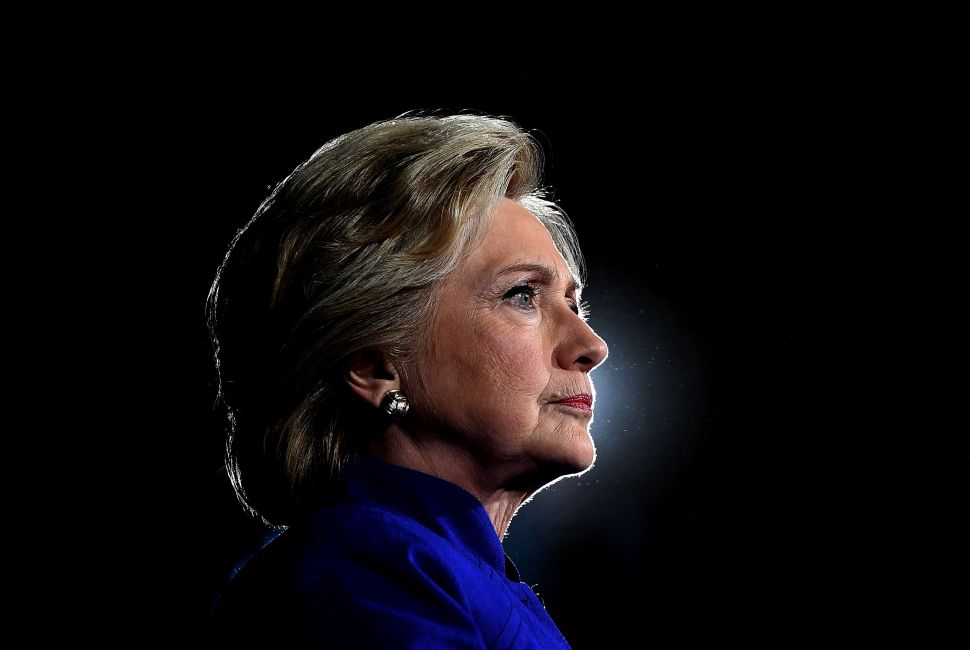 FBI Director James Comey's last-minute October surprise for Hillary Clinton—a letter to Congress stating the investigation into her emails was back on—shifted the dynamic of the entire election, at least as far as reporting and momentum is concerned.
The revelation might not turn the election over to her opponent, Republican nominee Donald Trump, but it has certainly tightened up the polls just days ahead of the election. The reliable ABC/Washington Post tracking poll two weeks ago showed Clinton with a 12-point lead. As of Thursday, she leads by only two points (though that has increased since the beginning of the week, where she and Trump alternated leading by one).
An Emerson poll on Wednesday showed a six-point shift toward Trump in Arizona in three weeks (the GOP was becoming worried they might lose the typically red state). A Monmouth poll from Pennsylvania shows Trump cutting into Clinton's lead there as well. A WBUR poll of New Hampshire now shows Trump leading there. Trump has also taken the lead in Utah, which was trending toward long-shot candidate Evan McMullin.
Other polls have shown the two tied. The Real Clear Politics average of polls now shows Clinton just 1.7 points ahead of Trump. A week ago, Clinton was up five points.
Naturally, Team Clinton and a friendly media panicked, but they had already used up their October surprise for Trump (a decade-old tape of him bragging about groping women and numerous women claiming he had sexually assaulted them). Now that was old news, and the story on everyone's minds was whether America was about to elect someone whose actions and charitable foundation were under FBI investigation.
In a desperate—and rather embarrassing—attempt to take the heat off of Clinton, several news outlets, including Slate and Mother Jones, published anonymously sourced articles alleging Trump had a secret server that may have communicated with a Russian bank. It was the Russian tie the media has been looking for over the past few months.
Sadly (at least for the authors of those articles), the story turned out to be nothing. Editors began saying they passed on the story because it didn't pass muster. The New York Times ultimately debunked the story, writing it was likely the servers were connecting over "marketing email or spam." That didn't stop Clinton from tweeting out the story along with a list of "things you need to know" about Trump's "secret server." Except that none of the things listed were true.
On Wednesday, a woman claiming Trump raped her when she was 13 was supposed to come forward during a press conference. She cancelled. Her entire story—and the people backing her—seems incredible, like some bad Andy Kaufman wannabe prank. If you want to lose an hour of your life to see how crazy this whole situation is, read this article and follow the links to other articles about this accusation.
These attempts to refocus negative attention on Trump failed. This election already seemed to be about which candidate Americans hated least. Every scandal (real or imaginary) would hurt that particular candidate, because it would remind people why they hated that candidate and put that hatred front and center.
Meanwhile, Trump has managed to stay out of his own way, just as he did in September when Clinton's campaign suffered weeks of bad polls and news. He's at rallies, but he's not saying anything that is rocking the media. He criticized a reporter on Wednesday, but no one outside of the media really noticed or cared. He's actually been sitting back and letting the news cycle devour Clinton.
So what would work for Clinton at this point? The two most explosive potential scenarios would each help Trump, such as a terrorist attack or economic downturn.
Short of Trump getting arrested or video/audio of him actually assaulting a woman turn up, it doesn't look like anything will take the heat off Clinton.
But, millions of ballots have already been cast—many before the Comey letter was sent. As Democrats like to say, the story is already "baked in" and they hope it won't hurt Clinton. I think it's going to make this race a lot tighter than we thought it would be a month ago.
Disclosure: Donald Trump is the father-in-law of Jared Kushner, the publisher of Observer Media.