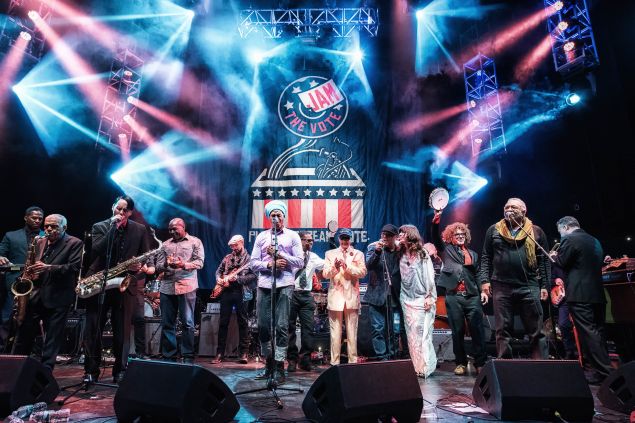 We laugh at things that make us uncomfortable, which may be why protest music has proven so ripe for parody. Taking a position on something requires putting yourself out there, and it challenges the narrative of capitalist subservience to hear someone with a platform of influence potentially alienate some fans with their views. Protesting makes an artist vulnerable.
We need to remember this when we look at the recent wave of protest music around this election, and ask ourselves if the heaps of eloquent and artistic vitriol being piled on Donald Drumpf are really emblematic of the invisible "big media" folks he mentions, the stereotypically Semitic shadows creeping into the deepest reaches of conspiratory, third-act paranoia.
Because it's much more likely that any artistic human supports multiculturalism and diversity in their creative community—that's how you set the scene for ideas to be exchanged, for mythologies to be compared, for truths to be arrived at. And though protest music has long been a progressive institution, its calls for accountability and transparency require a sense of personal agency that should cause both the elephant and the ass to take a long, sobering look in the mirror.
When I shadowed New York's jam band impresario Pete Shapiro for the Observer last month, he was in the formative stages of putting together one hell of a concert, a voter mobilization effort centered on a no-propaganda, high-vibe night of live music. Working with the voter registration organization HeadCount, Shapiro organized the all-star, streamable night to soothe the soul and called it "Jam the Vote." Three days before the election, he figured we'd need soothing. By making a promissory pledge to go out and vote on Tuesday, thousands streamed the event for free from home.
Preservation Hall embody all that beautiful multiculturalism I'm talking about because they embody New Orleans—the swapping of stories, the recognition of chops, the act of an exchange between human beings in the interest of creating something together.
Riding the train back from Port Chester after a jubilant and riotous night of New Orleans-tinged protest music from Preservation Hall Jazz Band, I realize there was no better choice to lead a jam session than Preservation Hall (and seeing them at Shapiro's supreme rock palace, The Capitol Theatre, ensured the room was hopping). Preservation Hall embody all that beautiful multiculturalism I'm talking about because they embody New Orleans—the swapping of stories, the recognition of chops, the act of an exchange between human beings in the interest of creating something together. Alas, it turns out only the stoic protest music is ripe for parody. Joy is the future.
"My parents moved to New Orleans in 1961," Preservation Hall creative director Ben Jaffe told the crowd (no relation). "In 1961 the civil rights amendments had not been passed yet, and it was illegal for blacks and whites to socialize, to play music together, to drink together, to do anything together. They opened a place called Preservation Hall, and that place was filled with so much love that it became their life's work. It's what I do every day of my life, and it's what these gentleman up onstage do every day of their life. We can't go back. There's nothing to go back to. There's only forward."
I guess I'm thinking about that moment in the night because it was such a singularity.
Alex Ebert, better known as his nom de guerre Edward Sharpe, played his hit "Home" in a New Orleans line parade reimagining, and Jaffe shared the story of how they met when Edward Sharpe and the Magnetic Zeroes brought Pres Hall on tour. Elsewhere the ties of community were strong, too—Irma Thomas, the soul queen of New Orleans, came out for "It's Raining" and "B Flat Boogie", the former mirroring the election when Thomas prayed for the rain to end. Amayo from afro-beat band Antibalas took the lead on a bouncy version of New Orleans traditional "Iko Iko", which tells the story of two Mardis Gras Indian tribes who clash when their parade routes collide.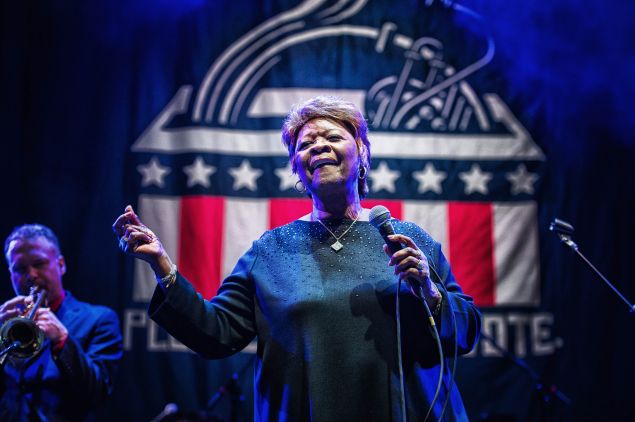 But it was good friend of the band and New Orleans transplant Win Butler from Arcade Fire, who thew a second line funeral parade with Pres Hall for Bowie after he died, that brought the classic ironies of the protest song back for me. He'd played with The Boss before, and he'd covered "Born in the U.S.A." with Arcade Fire, too. But seeing him jam on it with Preservation Hall brought a new resonance to Springsteen's sharp critique of Vietnam, which was ignorantly co-opted by the Reagan campaign in '84.
Springsteen once told NPR that Reagan's failure to read into the song's message marked "when the Republicans first mastered the art of co-opting anything and everything that seemed fundamentally American." Considering its countless misappropriations since, Win Butler's earnest, high-voiced delivery brought all the creeping paranoia and sense of infrastructural dread that pepper Arcade Fire's most topical work into the classic.
[youtube https://www.youtube.com/watch?v=C2yA3amNvO8]
"I wanna thank all the immigrants," said Butler. "I wanna thank all the Syrians who are brave enough to try and find a better life, to come to America. I wanna thank my great, great grandfather for sneaking onto a boat from Norway to try to come to America. I wanna thank the relatives of my wife's family, The Haitians, that came to New Orleans and without whom there'd be no jazz music. I wanna thank all the Haitians in Miami. I wanna thank all the immigrants of America—we need more of you. We need more. I wanna thank all the Ethiopians in Minneapolis. I wanna thank all the Irish who worked in factories. I wanna thank all the Italians. I wanna thank everyone who came to America to make it the country that it is. Thank you."
Jam the Vote was a nonpartisan effort, more interested in getting young people excited about this election than in persuading them to take a side. Nonetheless, that old adage that "reality has a liberal bias" held true.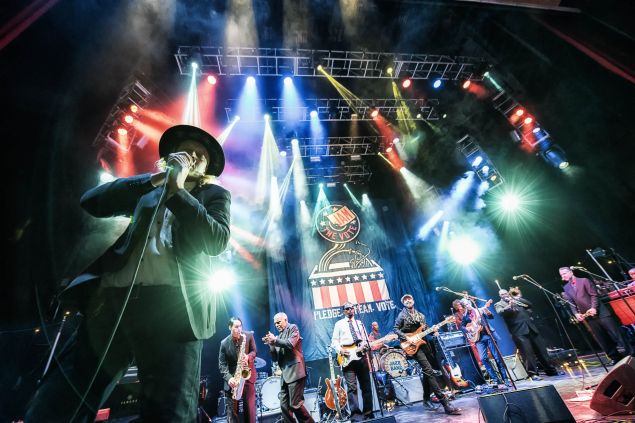 Butler made no sense of his distaste for Drumpf, and elsewhere the support of Hillary was palpable. Nicole Atkin's brilliant anti-Drumpf song, "When I Get Low I Get High", allowed her to play the role of chanteuse, embracing some of the Clinton campaign's sloganeering while getting in some good barbs about Drumpf, too. "My man stepped out, yeah you know that ain't right, took his Tic Tacs away, now he's home every night, 'cause when they go low, we go high," she crooned with with a perfect satirical blend of melody and earnestness.
Drumpf's right about one thing—there are a lot of artists out to get him, and it's the same phenomenon that's prompted ambitious projects like 30 Days, 30 Songs, which has released a new anti-Drumpf song from a prominent, respected artist every day for the past month leading up to the election.
Moby, who I chatted with about paradigm shifts in tomorrow's issue of the Observer, contributed two tracks. The Death Cab, Jim James and Franz Ferdinand tracks are also particularly solid, while the Jesu/Sun Kil Moon recorded a track that kinda functions as a Lou Reed tribute, and should really scare the shit out of Drumpf. If Mark Kozalek's got it in for you, you're a marked man.
We haven't seen this much anti-candidate music come out around an election since George Bush, but maybe Reagan's the better example. He and Drumpf were both media creations, after all. And the hatred of Reagan inspired everything from the Hardcore movement to Prince's "Ronnie Talk to Russia". Before the full impact of the evil, illegal, Manifest Destiny-high precedent set by the Iran Contra scandal, and before the failure of "trickle-down" economics could fully be objectively realized, the musicians were our political bellwether. We must recognize the validity and power of those prophecies now.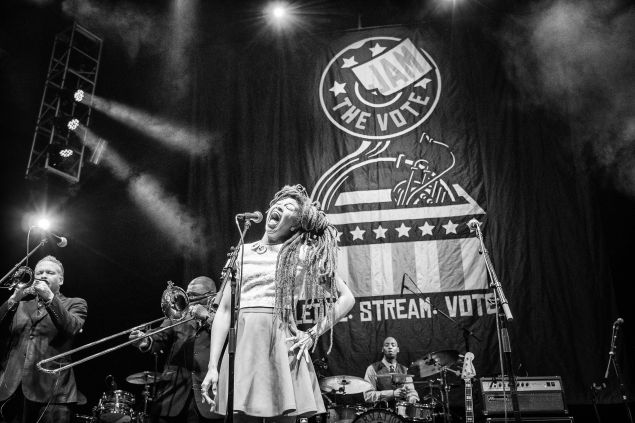 Because we ought to take solace in the fact that no matter how shitty our relationship with the government gets, good art will thrive. It's just a question of whether the work will exist in opposition to something or at peace with the world, in unity.
Though protest music made in the interest of opposition is connected to whatever triumphs of punk exist once the fashion is taken out of the equation, in troubled and violent times, music of peace becomes a powerful sentiment, too. This is the thread that connected the hippies and the punks, despite conflicting fashion ideologies. The sons and daughters of the star children grew up to sing "Nazi Punks, fuck off!"
All this rushes to the top of my dome on the train ride, including how Tom Robbins once wrote, "The function of the artist is to provide what life does not."
In times of violence, you protest with unity. In times of phony order and usurped identity, you respond with chaos. That's the difference dictating whether the train exists in my mind as a romantic, American image of parting or whether it exists as the fascist cattle cars that carted away my ancestors to the concentration camps.
Leonard Cohen famously sang, "We're ugly, but we have the music." I would amend his line to add—"and the vote." Despite these feelings-based campaigns, it's the feelings of the artists and the scoundrels who don't fit into a comfortable political narrative that really tell the story of our creative class.
And when we scoundrels include everyone in our egalitarian visions of love, the candidate who wants our support better sure as hell include everyone in their visions, too.
[youtube https://www.youtube.com/watch?v=Nes3Tz8yuMU&w=560&h=315]