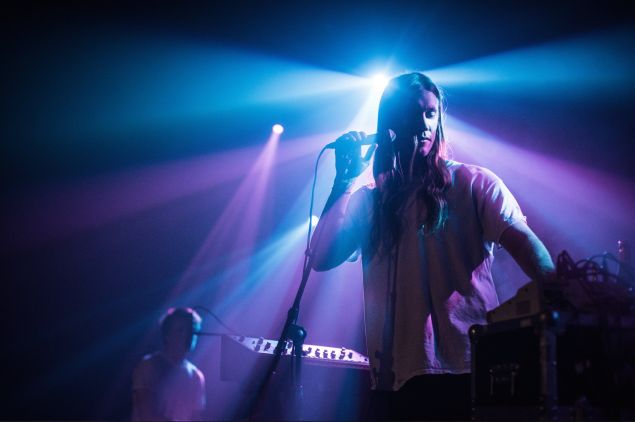 No less than a month after I first started at the Observer, my editor and I caught wind of this Finnish musician who sounded poised to conquer the world.
Jaakko Eino Kalevi's brilliant self-titled debut was a collection of smooth, psychedelic dream pop that asked big questions. While the opening track of "JEK" found the singer announcing himself over icy synth patterns and Berlin-era Bowie style short verses, the single "Double Talk" cooed and coasted with the whispers of the bedroom, and "Hush Down" grooved with the jangle of a one-night-stand at a nameless discoteque.
We at Observer Music were digging the record so hard we brought it back to our own bedrooms, where the album's unabashedly Nordic flavor soundtracked our dalliances with a haze of cold intrigue.
We made plans with Kalevi's publicist for a feature, but he never came, citing visa issues.
Organize enough arts interviews and you're bound to hit the "visa issues" wall every so often, especially when you're dealing with an independent artist who's new to the game. Sometimes it's a sordid bit of the artist's past, a youthful indiscretion come back to bite them in the ass, but sometimes it's something more arbitrary.
In Kalevi's case, I never found out—although if I'm playing the role of scrutinizing bureaucrat, the dude did look a little bit like an emaciated Fabio, the kind of guy you might discover with a secret family in his basement. Surely that flannel-wearing longhaired kid you went to college with got stopped with his guitar at the Canadian border for less. And surely this has happened time and time again.
[youtube https://www.youtube.com/watch?v=-OllGo-HvdU]
While none of that's here nor there, a new fee hike now makes it even more difficult for foreign artists to get that U.S. travel visa.
The U.S. Citizenship and Immigration Services announced last week that it would raise the fees associated with immigration applications and petitions for the first time in six years, which becomes effective in late December.
This means that the cost for touring groups from went up from $325 to $460 per act, which adds up to a lot when you're barely breaking even. And before you cite the benefits that these bands reap from stateside exposure, I'll remind you what one of my Journalism professors always said—people die from exposure.
"USCIS is almost entirely funded by the fees paid by applicants and petitioners for immigration benefits," reads the official statement about the fee hike. "This increase is necessary to recover the full cost of services provided by USCIS. These include the costs associated with fraud detection and national security, customer service and case processing, and providing services without charge to refugee and asylum applicants and to other customers eligible for fee waivers or exemptions."
You read that right—the USCIS says that it costs touring artists more money to travel here now because of national security and refugees. Tell that to your racist, piece of shit uncle when he rants about open borders at the Thanksgiving table.
"Some American promoters have a vested interest in creating a level of prestige around the American touring market, around making the tour circuit a privilege."
I'm reminded of my report on last year's clusterfuck of a CMJ festival, which was illuminated again after Marc Hogan's fantastic investigative report last night on the nefarious business dealings of the organization's CEO. (For the record, I never got the vibe he cared too much about music either.)
One of the panels that I hit, "Surviving the Windfall: Managing Large Sums of Cash for Your U.S. Campaign," now proves relevant to this discussion. After a Montreal-based label head criticized the U.S. conditions for traveling bands, citing a whole laundry list of reasons why the trip isn't even cost effective for our neighbors from the North, a domestic promoter in the audience tried to mansplain the situation.
"One American promoter named Adam was quick to shoot her down, though, claiming that young, fledgling bands from other countries come to CMJ hoping to 'get discovered' all the time, but wind up lacking the experience and the hype to entice anyone but close friends or compatriots to their shows," I remembered.
[youtube https://www.youtube.com/watch?v=VvFWGSOoMH4&w=560&h=315]
"He says the foreign bands that do well at CMJ first release a short EP or two, let some momentum build around their recordings, then plan a trajectory of showcase appearances accordingly. But in the end, Adam just winds up plugging his promotion agency. Get in touch with a stateside promoter of his stature when your artist is ready, he says, and we'll talk."
This panel taught me that some American promoters have a vested interest in creating a level of prestige around the American touring market, around making the tour circuit a privilege. And why not? That's good business.
But when the artistic community claims to value the importance of a creative exchange between cultures, when we pride ourselves in living in a city that earned its reputation through a cross-section of different identities, different walks of life and different economic realities, it's plain to see that adding another hurdle for international acts to play here is counterintuitive to all of that.
And when only the wealthy kids who can hire an agency to advocate for their passage are coming, I can't help but think that hardworking foreign artists aren't the only ones missing out on something.