On the Friday before Halloween, I met with Hannah Weiland, the bubbly blonde English designer behind the faux fur label Shrimps. Seated at a table in Dover Street Market's Rose Bakery, she was telling me how she planned on wearing one of her yellow furs later that evening to dress as Pikachu; her publicist Daisy was wearing a pink fur to transform into a flamingo (photographic evidence here). It appears that when it comes to fur coats, no one has more fun than Weiland does.
"I love the cold, it makes me feel alive," she said, confirming that she chose the correct profession as an outerwear designer. She also pointed out that the conditions outside–chilly temps, a blue sky and a shining sun–is what she and her team refer to as "Shrimps Weather." And it makes perfect sense, as there's still a cheerful note in the air, despite the gusts of wind.
"My customers really vary, because a coat can kind of take on a girl, it doesn't have to be that permanent," explained Weiland, when asked about who her customer is. "My mom wears them and she's 60, my Nanna wears them and she's 92. I'm 26 and my sister's 20, we all wear them." While her silhouettes are certainly universal (who doesn't look good in a simple mid-length coat with a proper collar?), her use of color and pattern are what make this brand stand out from the rest. An oversized check pattern is executed in smokey grey and white; an inky navy number comes with a shocking red faux sheepskin collar; a cropped #millennialpink coat features a sketchy of girl named Dory on the elbows.
As you might be able to tell, Weiland adores color. She tells me about going through phases of being obsessed with colors, like pink and red, though she's not afraid of embracing black every now and then. Right now, she's really, really into pink. If she's running late to work, she often just throws on a piece of pink clothing (usually a Shrimps coat) and runs out the door. "I can't get away from pink, it's like I've used every shade of pink there is," she admitted.
Weiland, a grad of London College of Fashion, started Shrimps when she came across a type of faux fur that she claims changed her life. "I just had this feeling I needed to do it and I stick by that quite a lot. If I have a design idea, I do it straight away, because if you hold onto it someone else will do it," she said. She wasn't aiming to make a major ethical or political statement with her brand, by choosing faux over real fur, but she does adore animals, having grown up with "hundreds of rabbits and dogs." She even gets love mail from vegans and animal rights activists; PETA has been known to send her bouquets of flowers.
The feel-good notion of her brand doesn't end there, though. Weiland recommends using your fur Shrimps coat as a pillow on a plane or bringing one of their fuzzy clutches to a party as your plus one. "When you've got social anxiety on a night out, you can stroke your bag, it's like stroking an animal and you release that cortisol-busting hormone," she deadpanned.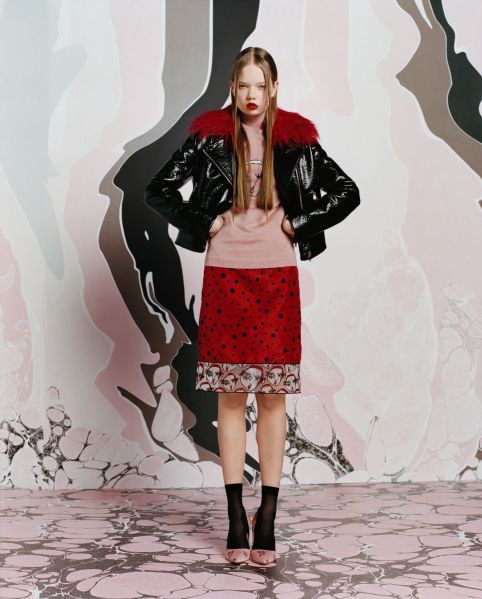 Despite being known as a go-to label for faux fur fuzz, Shrimps also has an established ready-to-wear business. Weiland introduced the range for Autumn/Winter 2016, starting off with a few easy dresses and knit pieces. It proves to be difficult to sell fur in the summer, so the addition of this category removed the seasonal stigma that a coat company can hold. Her latest ready-to-wear collection, for the Spring/Summer 2017 season, included oversized gingham dresses, illustrated PJs and a few faux sheepskin jackets. Weiland also worked on a range of Converse sneakers, covered in faux pony hair and broderie anglaise, to accompany the looks, but sadly they didn't make it to production. Fans didn't hide their disappointment that these shoes never made it to retail: there were stories published about it and Weiland is on the receiving end of many, many Twitter requests for them. But still, the shoes won't be produced.
Converse sneakers aside, you can bet that Shrimps will keep giving customers exactly what they want: colorful, fun, wearable and unforgettable coats.