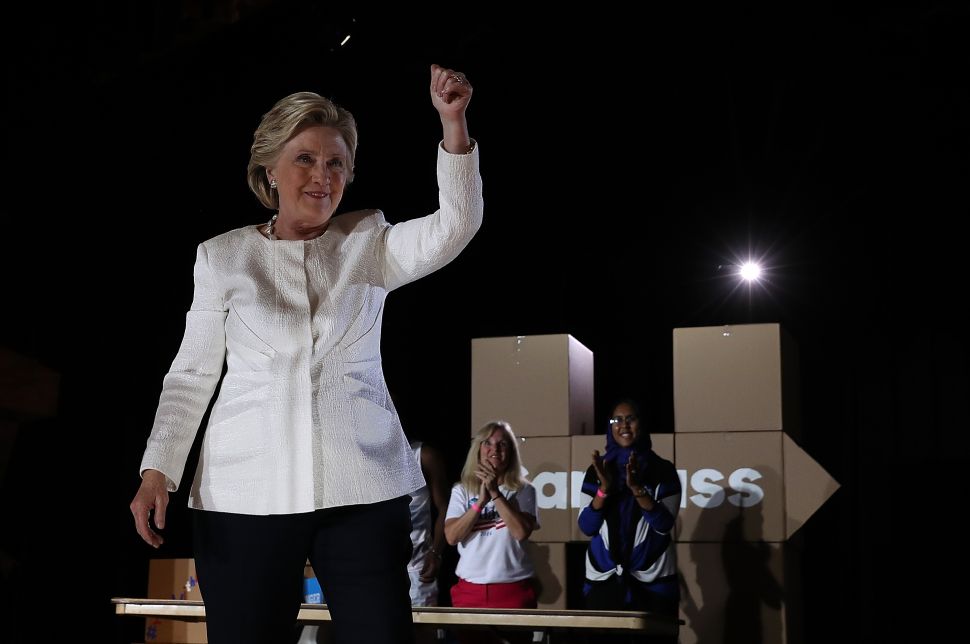 On November 1, WikiLeaks released an email from Clinton campaign chair John Podesta that provided perspective into the corrupt inner conflicts of the controversial nonprofit the Clinton Foundation.
"I cannot stress enough that if this is not handled appropriately it will blow up," wrote Tina Flournoy, Bill Clinton's chief of staff, in an April 8, 2015, email to Podesta. The subject of the email was "CHAI" referring to the Clinton Health Access Initiative.
The day before, on April 7, Flournoy noted in an email to Podesta and other Clinton staff, "do you guys know where we are—as of today—on CHAI? That needs to be discussed—but he's about to lose it if we don't wrap the call."
A 2015 New York Times article explained the tensions between CHAI CEO Ira Magaziner, and the rest of the Clinton Foundation, based on a performance review of Magaziner and by CHAI's board, an influential member of which is Chelsea Clinton. "Ira's 'paranoia' was mentioned by several board members to encompass Ira's general mistrust of the board and its intentions," the performance review noted.
Earlier in 2015, a memo was sent via email, and released by WikiLeaks, in which Magaziner claimed the overhead of the Clinton Foundation would be 39 percent of their funding if CHAI statistics were not included. Magaziner expressed several other grievances, which the Clinton Foundation staff pushed back on in the memo. The memo claims CHAI's financial mismanagement almost led to the end of the organization in 2008.  
The HIV/AIDS work CHAI conducts around the world is frequently cited in response to any criticisms of the Clinton Foundation and the conflicts of interest it poses. In exchange for offering CHAI discounted pharmaceuticals to distribute abroad, pharmaceutical companies form an alliance with the most politically powerful couple in the world. They protect their domestic high prices, and the Clintons reap the publicity benefits of the philanthropic work.
"We have always told the drug companies that we would not pressure them and create a slippery slope where prices they negotiate with us for poor countries would inevitably lead to similar prices in rich countries," complained Magaziner in a 2011 email released by WikiLeaks about comments made by Bill Clinton in regards to lowering domestic AIDS drug prices. "We were taken by surprise by President Clinton's comments on world AIDS day and wish that someone had consulted with us before he made these comments," wrote Magaziner. "As you will see when you read this memo, we think that publicly pressuring the U.S. and European AIDS drug companies to lower prices and bringing pressure to allow generic AIDS drugs into the United States will have limited if any success and could seriously jeopardize our negotiations to continually lower prices in poor countries."
Magaziner added that if the Clinton Foundation supported lowering AIDS drug prices in the U.S., it would undermine their work abroad. "We can go to war with the U.S. drug companies if President Clinton would like to do so, but we would not suggest it," said Magaziner. "I do not think it is a good idea for President Clinton to be taking one position and CHAI another."
Clinton staff grappled in 2015 emails about being contradicted by CHAI in citing their statistics as accomplishments of the Clinton Foundation. "I am worried—particularly given the meeting I'm sitting in—that we're using CHAI stats and haven't told them," wrote Tina Flournoy in a February 2015 email in which Clinton staff were working on a quote for a Washington Post article on the Clinton Foundation.
Clinton Foundation CCO Craig Minassian wrote in the same email chain, "those CHAI Stats are on nearly every public listing of CF accomplishment. I'm want to make people think twice about calls for dropping grants to CF or return the money and the HIV/AIDS work hits home in a way that other stats don't. Plus it's international work. I'm concerned about saying we used money to fund healthy schools (because we didn't use the funding for that)."
Other revelations about the Clinton Foundation have been brought to light by WikiLeaks releases. On October 26, The Washington Post reported on a memo that outlined the intersections of the Clinton Foundation, and how it helped boost Bill Clinton's personal income. Since Bill left the White House, he and Hillary have made millions of dollars partnering and networking with wealthy and corporate influencers.
"The memo, made public Wednesday by the anti-secrecy group WikiLeaks, lays out the aggressive strategy behind lining up the consulting contracts and paid speaking engagements for Bill Clinton that added tens of millions of dollars to the family's fortune, including during the years that HillaryClinton led the State Department," reported The Washington Post. "It describes how Band helped run what he called "Bill Clinton Inc.," obtaining "in-kind services for the President and his family—for personal travel, hospitality, vacation and the like."
In other emails, Clinton staff express frustration in dealing with Bill and Chelsea Clinton while trying to minimize the overt conflicts of interest the Clinton Foundation poses. "She created this mess and she knows it," Clinton aide Huma Abedin wrote in one email regarding $12 million the Moroccan government gave to the charity in exchange for access to Hillary Clinton.
Throughout the emails from Podesta regarding the Clinton Foundation, many of the criticisms against the charity have been confirmed. Rather than focusing on philanthropy, the Clinton Foundation serves as a means for the family to network and partner with wealthy interests around the world to boost the Clinton brand under the pretenses of charity.