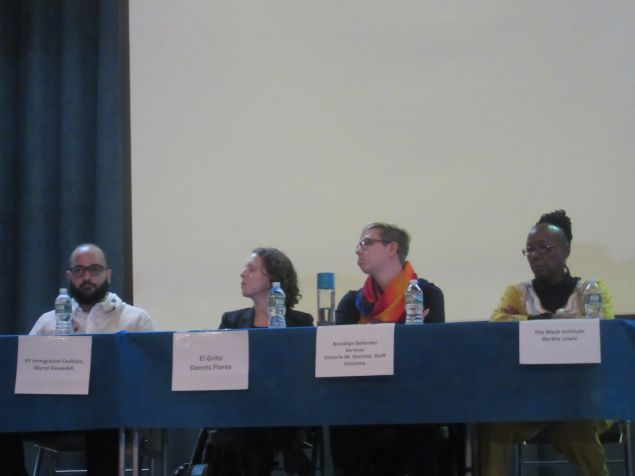 New York's top politicians may be looking to reassure New Yorkers afraid of what could happen under President-elect Donald Trump, but the Black Institute's Bertha Lewis warned last night that racial, religious and sexual minorities should "bet on it" that they will experience the worst under the incoming administration.
In an interview with 60 Minutes Sunday, the president-elect said he would deport or jail up to 3 million undocumented immigrants who he described as "criminal and have criminal records, gang members, drug dealers." He has also pledged on the campaign trail to institute aggressive stop-and-frisk policing as a national policy, and has called for a ban on Middle Eastern immigration to the United States and the creation of a Muslim registry.
"Here's what's gonna happen: there will be more inequality. Bet on it," Lewis told a roughly 130-strong audience at the civil and human rights speakout in Brooklyn organized by State Senator Jesse Hamilton. "There will be more entrenched poverty. Bet on it. There will be more segregation. Bet on it. Segregation in housing, segregation in schools. Gentrification is just another word for segregation, OK?"

Lewis—a once-fervent supporter of Mayor Bill de Blasio turned constant critic—said that there will be "more violence against women" and that the Supreme Court's Citizens United decision, which ruled caps on election spending by outside groups unconstitutional, will stay standing. She also attendees to expect Trump to prioritize and favor the wealthiest individuals in the country.
"You will be taxed more and your tax dollars will be given away to rich, wealthy people," Lewis continued. "You know why? 'Cause your president is a billionaire."
She added that she lived through the Ronald Reagan years in which he fired more than 11,000 striking air traffic controllers in 1981 who did not submit to his order to return to work and Richard Nixon's Watergate scandal in the 1970s. Lewis said the key is to "resist, resist, do like Nancy Reagan, 'just say no.'" Lewis asserted the importance of knowing and understanding the past.
"We've been here before," she said. "Let's not keep repeating this mistake over and over. White people organize white people. Don't talk to me about some red states or somebody hiding in a barn in rural America and they just creeped out on Election Day. C'mon, stop it!"
Lewis—known for bluntly expressed opinions—told the Observer before the panel discussion kicked off to be prepared for her to "say anything."
And she certainly did. When introducing herself to the audience, she said she was happy to be part of the panel but that she's "pissed off" about the country's current state affairs. She said she had informed Hamilton that she wasn't planning on following the official agenda, which stated she was supposed to speak about criminal justice.
She quickly told the audience they all know the problems and that they all know the War on Drugs needs to end. All they need to do is "just go see the film Rikers," she said.
"I broke the rules when I was invited here because our senator here tried to do some kind of agenda," Lewis said as attendees' laughter accompanied her every word. "Going to tell everybody what their topic is and what they gonna talk about and I just said, 'I don't care about none of that. I'm not talking about what you want me to talk about. I done lost my mind. I don't know what I might say.'"
She also warned the audience that there are far more dangerous forces than Trump himself, referring to Vice President-Elect Mike Pence (who, as Indiana governor, signed stiff anti-abortion legislation and a "religious freedom" law that enabled discrimination against gays), former New York City Mayor Rudy Guiliani (who is a leading candidate for the secretary of state)and Trump for President CEO Stephen Bannon, whom the president-elected recently appointed to be his chief strategist and senior counselor. (Bannon was once charged in a domestic violence case in 1996 and ran Breitbart News, far-right website that flirted with racism and anti-Semitism.)
"Also recognize who is truly wicked," Lewis said. "His name is Mike Pence. Trump is just a teaser. Steve Bannon, Rudy Guiliani, all of these people around him, pay attention."
Lewis was the CEO of Association of Community Organizations for Reform Now, or ACORN, before its dissolution amid controversy in 2010. She is also a co-founder of the labor-backed Working Families Party.
Her comments came in the aftermath of Trump's incendiary and fiercely anti-immigration campaign—which earned him the support of prominent white nationalists—and of numerous incidents of neo-Nazi vandalism across the city, state and the nation following his victory.
Brooklyn Brough President Eric Adams said that many people said they would leave the country or tear up their passports if Trump won the election and that the country "has gone to the wasteland."
But he pointed out that the very forces that brought Trump into office were the same people "who had hateful thinking and mindsets" and were frustrated by Obama's accomplishments.
"That was not a few days ago, that was in 2008," Adams said. "Don't think for one moment that those who voted for Trump back in 2008 wasn't angry, rejected and in pain. There were parts of America that were upset that Obama integrated the White House for the first time and they swore not to allow it to happen again."
Hamilton said the speakout—which featured images of various civil rights icons and played songs by Michael Jackson, Black Eyed Peas and Harold Melvin & The Blue Notes—stemmed from calls he got about fears over what could come with a Trump presidency.
"We were inundated with calls, and people were concerned, they were angry, there was a lot of despair, and we said, 'Let's turn this despair into action,'" he said. 
Disclosure: Donald Trump is the father-in-law of Jared Kushner, the publisher of Observer Media.