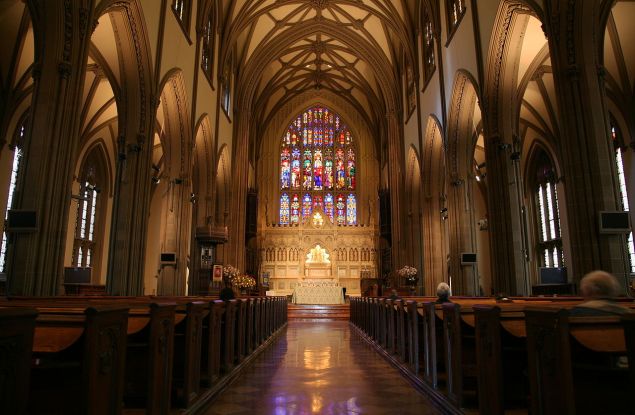 Politics will probably come up during your Thanksgiving dinner discussion this year, which means there's a chance you'll say something you regret. You can always apologize to the offended family member, but what if you want to get help from a higher power?
A Catholic archdiocese in Scotland just answered your prayers with The Catholic App. Archbishop Leo Cushley of the Archdiocese of St Andrews and Edinburgh unveiled the app yesterday at the Vatican during a ceremony complete with bagpipes.
Created by Edinburgh-based mobile developer Musemantik, the app allows Catholics to find the parish that is closest to them on an interactive map (and without reading sarcastic Yelp reviews). It also lists mass and confession times at nearby churches, and offers diocesan news along with Bible quotes for "spiritual inspiration."
Many apps specifically aimed at Catholics are already on the market—even Pope Francis has his own app. But Maciej Zurawski, founder and CEO of Musemantik, said The Catholic App went a step further because it focused on the whole Catholic experience, rather than just mass times or inspirational sayings.
"There are already plenty of apps for optimizing your physical health and mental well-being, but we believe that much more engaging apps are necessary for spiritual well-being," Zurawski said in a promotional video.
While it doesn't involve swiping, several British media outlets are still referring to The Catholic App as "Sindr." But according to Zurawski, this Tinder comparison is shortsighted.
"That name might be catchy, but this app is not about sinning but rather about keeping 'spiritually well,' like Fitbit helps to keep you physically well," he told the Observer in an email.
The Catholic App will go live in Scotland in early 2017, but any diocese in the world can sign up on the app's website on a "first come, first serve" basis, which means that hopefully by next Thanksgiving you can take advantage of it.